This recipe for Slow Cooker Sausage Casserole is of the 'chuck it in and leave it to cook all day' school of cooking. Almost no prep - just some chopping and mixing. Little enough to do in the morning before leaving for work.
Two categories of Slow Cooker/ Crock Pot recipes
1. Chuck it in and leave to cook all day
These are work-day meals when you don't have much time in the morning for preparation but you want to come home to something ready to eat.
These dishes are also ideal for families that want to eat at different times. Your teenage children can help themselves and you know they're getting a decent meal even on days when you will be late back. Just make sure they know it's not all for them!
2. Weekend slow cooker recipes
These recipes often don't need a full day's cooking, but they're great when you're out for the afternoon and want dinner waiting for you when you get home.
They often need more preparation, e.g. browning the meat and softening the veg. Browning can improve the flavour of the meat as it seals in the flavour, and some ingredients, like mushrooms and onions, are definitely better if they are cooked a bit before putting in a casserole.
Why use a Slow Cooker?
For me, the slow cooker is a way to make life easy, not an alternative to my oven.
I read a comment about a CrockPot recipe book complaining that all the recipes were just modifications of ordinary recipes - there was nothing new. Well, yes! The point of the slow cooker is to enable you to have a meal ready at the end of the day that hasn't needed any attention while you've been out.
There are a very few recipes where a long slow cook is what's required for a particular dish, and you don't necessarily need a slow cooker for that. But if you have one...
Common problems with Slow Cooker dishes:
1. The dish turns out too watery.
The liquid doesn't evaporate at the low temperatures in the slow cooker, so you have to add less, or make sure it's thickened somehow.
For this recipe, I use a tin of baked beans and a tin of chopped tomatoes with only a little extra water.
If your tomatoes are watery, you probably won't need extra liquid - in fact, you may need some tomato puree to thicken it up. I've tried so many brands of tomatoes, looking for one that isn't full of thin liquid. It can be a bit of trial and error to find a good one. My current favourite brands of tomatoes are Tarantella and Napolina, which I buy by the dozen as I hate to run out
2. Vegetables aren't cooked
Vegetables actually take longer to cook than the meat in your Slow Cooker The trick here is to slice them very thinly.
Slower cooking is actually a good thing - otherwise, you would have mushy potatoes and carrots in your casseroles. You just need to be aware of the process. Here, I use potatoes, thinly sliced, so that they cook well.
This Slow Cooker Sausage Casserole is very forgiving. I leave it cooking for 10 hours on LOW and it's as lovely as 5 hours on HIGH. You could add some frozen peas, but the beans and potatoes are technically enough.
How do you make Slow Cooker Sausage Casserole gluten-free?
Buy gluten-free sausages - easy to find in most supermarkets
Check your Worcester Sauce label. If it's gluten-free it should say so. Biona make a GF Worcester Sauce.
Can you use vegetarian sausages?
Readers have successfully made the casserole with Linda McCartney vegetarian sausages (see comments below). They brown the sausages first to give a better texture.
Can I freeze the leftovers from Slow Cooker Sausage Casserole?
You definitely can. I often make twice as much and freeze the rest for a day of no cooking.
What else can you cook in a Slow Cooker?
Apart from meals, I make Chicken or Turkey Stock in the slow cooker and then make an easy Vegetable Soup.
In the winter we have Mulled Wine when we entertain - so easy to keep it going all day or evening!
On Christmas Day I cook Red Cabbage in the Slow Cooker and forget about it while I sort out the turkey and the rest of the trimmings.
I can't really be bothered with cakes and puddings (apart from Rice Pudding) or anything that takes only a couple of hours.
What equipment do you need?
If you like this...
...Why don't you try:
Pin for later
Hover over any picture on the page and hit the Save button to pin the image to one of your Pinterest boards.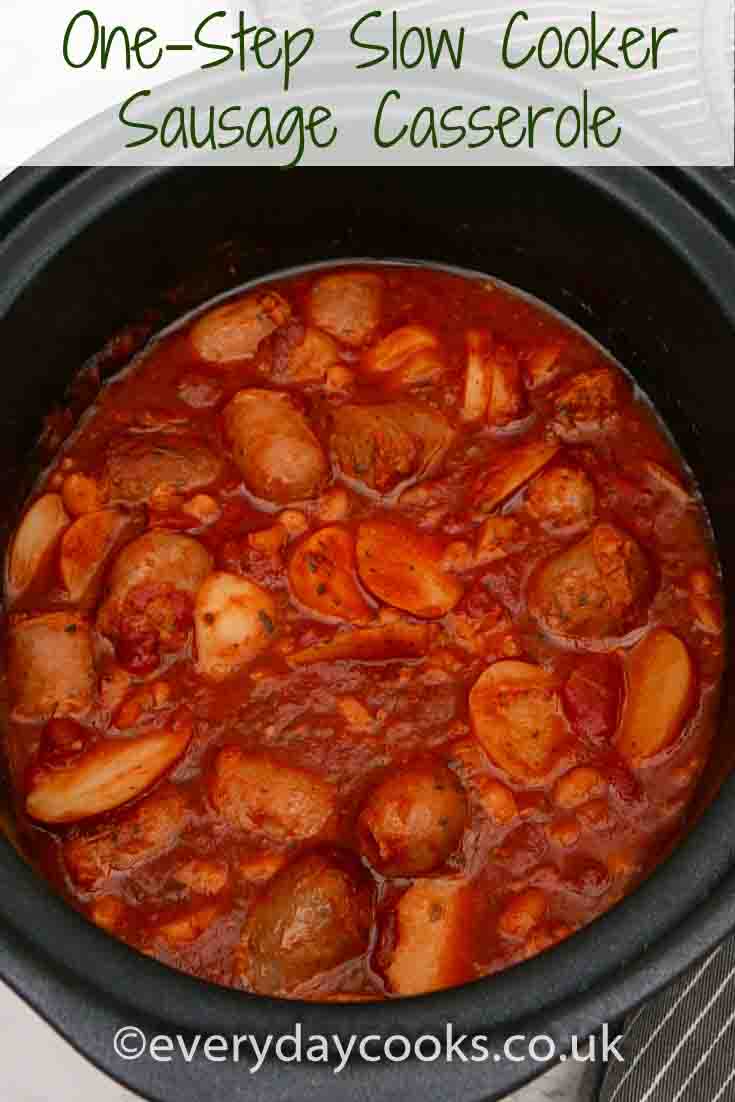 Recipe