Christmas Vegetable Soup is a meal from nothing - leftover Christmas dinner vegetables and ready-made stock (or make your own stock from the turkey bones).
At other times of the year use any veg you have and buy stock or make it from a chicken carcass.
After Christmas, my energy is always low. This is when the SAD really kicks in and by January I only want to hibernate. I know I'll feel okay again by March, but that's two months away which feels like an eternity.
Actually, it's not quite true that I only want to hibernate. I also want to eat. Lots of sweet, carb-y sorts of foods that I know from experience will only make me feel worse in the long run, but they are so tempting.
Having Christmas Vegetable Soup in my freezer helps. This soup is thick, rich and satisfying. With a hunk of decent wholemeal bread, I can have a good lunch that keeps my energy stable and doesn't pile on the pounds.
Key Ingredients in Christmas Vegetable Soup
Leftover vegetables from Christmas Dinner
Using leftovers means less effort too. Whoever prepares my Christmas day vegetables may think we're doing far too much for one meal, but my hidden motive is my soup. So tip all the vegetables left in the dishes on Christmas Day into one big container and put in the fridge.
When you're ready to make the soup you'll just be tipping your large box of cooked veg into the pot
Uncooked vegetables
If, like me, you overbuy veg, you can use those up too. Prepare them and chop them. You can cook them in the stock for 15 minutes before you add the cooked vegetables.
Use up sauces and gravy
Add any leftover gravy, bread sauce, cranberry sauce maybe (but better used for Cranberry Chicken Casserole) or almost anything not finished on the day.
Stuffing can go in too, and if you bought too much cream, that can go in at the end.
If you can't make the soup straight away, just freeze the vegetables and gravy all in together and get them out when you've got some time. Best within the month though, or they start to lose some flavour.
Stock - homemade or not?
The best stock for soup is the one you make yourself using the turkey carcase (or whatever bird you had for Christmas).
It's easy to make Slow Cooker Stock but if you prefer, either buy ready-made stock or use a good bouillion powder or cube. My favourite is Marigold Swiss Vegetable Bouillon. You can get it at most supermarkets or from Amazon.
Freezing homemade stock
Make the stock as soon as you've taken the meat off the bones and freeze if necessary or freeze the bones to make into stock later.
Don't leave them a whole year in the freezer though, as I once did, or you'll just be throwing them out in November when you frantically try to make room in your freezer for the pre-Christmas cooking.
Cream
To serve, add a swirl of cream to make it even more luscious. If your cream needs using up, you can stir it all into the soup for a creamier finish.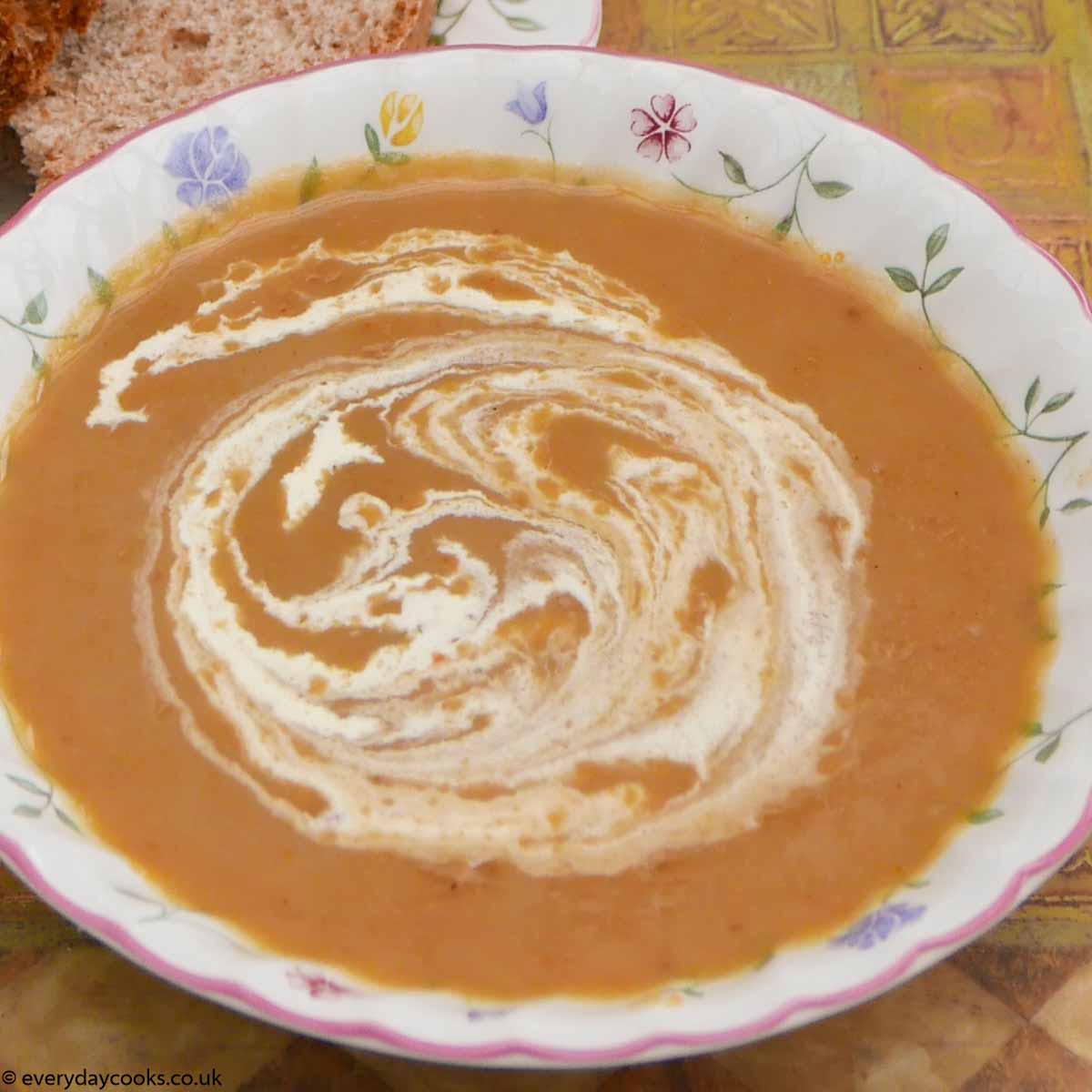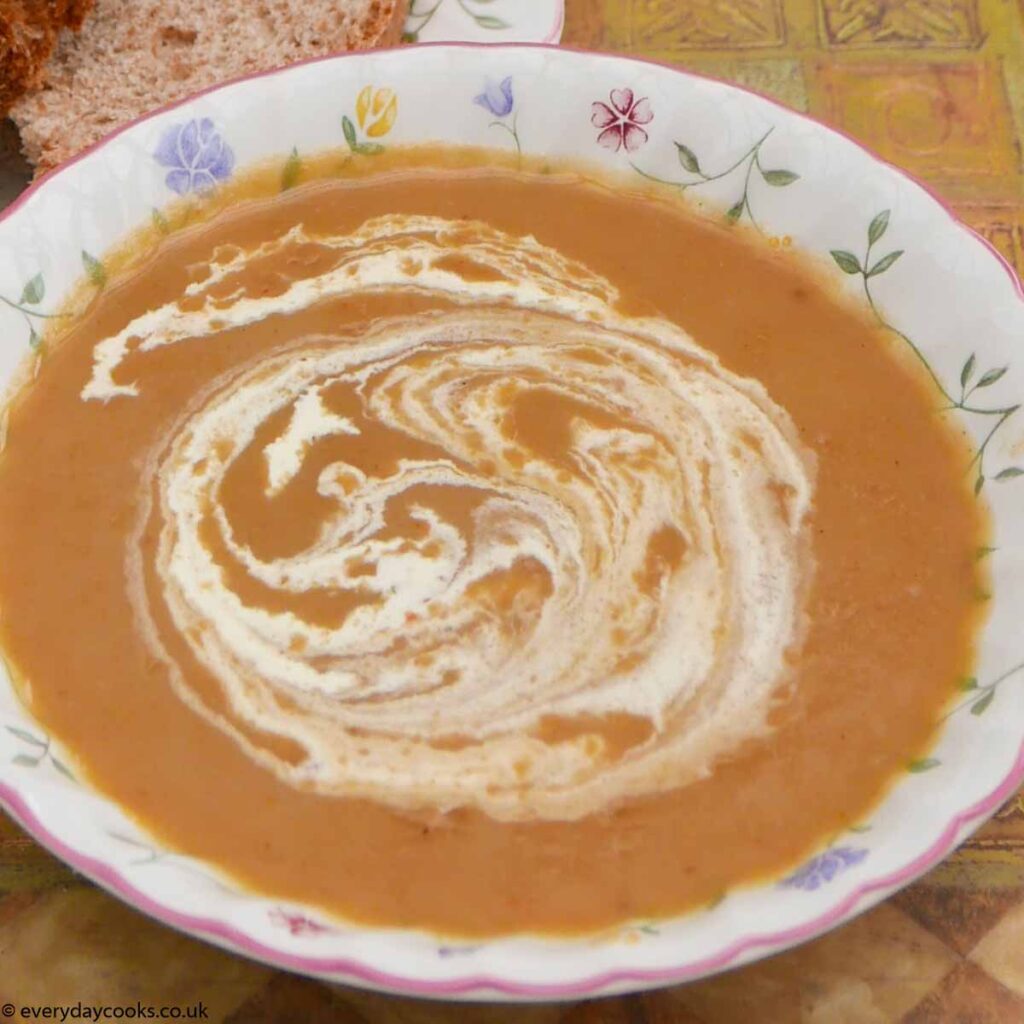 Freezing Homemade Vegetable Soup
Soup freezes easily and keeps well. I have eaten it a year later, but it's best within 3 months.
Freeze in portions. You may need to dilute a little when it's defrosted. Heat from frozen, or allow to defrost in the fridge or kitchen.
Secrets of Success
Really, you just chuck everything in a pan, heat, blend with a stick blender or in a food processor, reheat and eat (or freeze). The real secret is to make it before the end of December, or freeze all the ingredients and make it in January.
What else do you need to make Christmas Vegetable Soup?
Stick Blender - You do need some piece of equipment to puree the vegetables and a whizzer like this is an essential piece of kitchen equipment. You can also make Foolproof Cheese Sauce with it
Magimix Food Processor - Of course, any processor will do, but I can recommend the Magimix, having had the same one for 25 years. It's needed a couple of new bowls and lids in that time, but the motor is still going strong.
If you like this...
...Why don't you try some more basic recipes:
Pin for later
Hover over any picture on the page and hit the Save button to pin the image to one of your Pinterest boards.
Recipe