An easy recipe for Cherry Scones that doesn't need an egg. Serve with butter (or cream and jam) for a teatime treat for the whole family.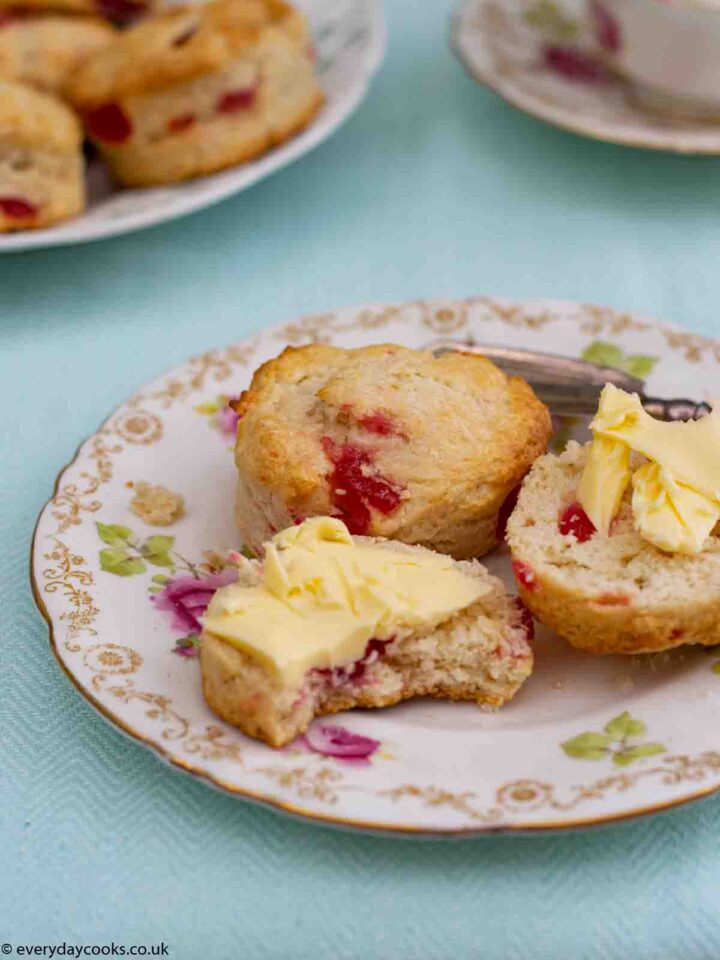 One of the best things about homemade scones is that they are so quick and easy to make and taste delicious straight from the oven. Even those, like these Cherry Scones, that are individually cut out, only take 20 minutes at most.
And of course, I love cherries, so a Cherry Scone recipe is a perfect addition to the cherry bake collection.
Key ingredients in Cherry Scones
Cherries
Although I usually use dark cherries, this time I could only get red ones. The taste isn't really different and the colour is pretty. My only warning, as always, is to check for natural dyes if you have children as E127 isn't recommended for them.
No egg
Some of the scone recipes I make use eggs (usually if they use whole-wheat flour, e.g. Wholemeal Fruit Scones), but most don't. It's always useful to have some egg-less recipes for those times when you've run out but still want cake.
Salt
Is salt a key ingredient? Well, yes, I think so. A little salt enhances flavour, especially useful with something fairly plain like a scone - even if it does contain cherries.
Although we're bombarded with messages about reducing salt, that's mostly because there's loads of it in ready-made food. (If you're interested, read Salt, Fat, Acid, Heat by Samin Nosrat for more information)
Ring the changes
Use raisins or other dried fruit instead of cherries to make fruit scones.
Secrets of success
Use frozen butter
I now use frozen butter in scones and grate it. Top tip: grating around the outsides is easiest as the centre is pretty solid. If your butter isn't frozen, use it straight from the fridge and cut into small chunks.
Why use frozen butter? Two reasons: first, the dough keeps cooler; second, (and more importantly for me) it makes the rubbing-in process quicker because the butter is in smaller pieces.
Don't roll-out the dough
You want to handle scone dough as little as possible, so don't roll it out. Just form into shape and pat the top level.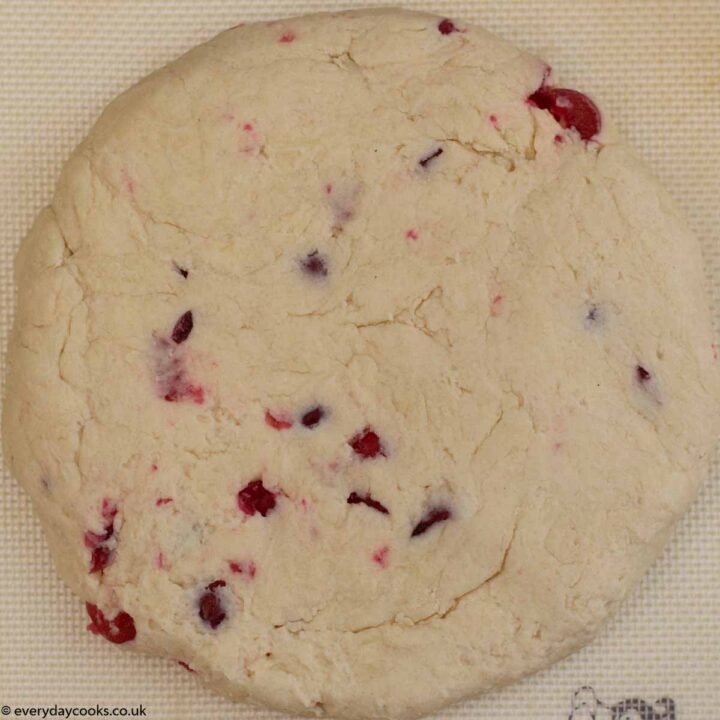 Make the scones thick
Keep the dough at least 2cm (1 inch) thick, which will make about 10 scones. Ideally make it a little thicker and make 8 scones.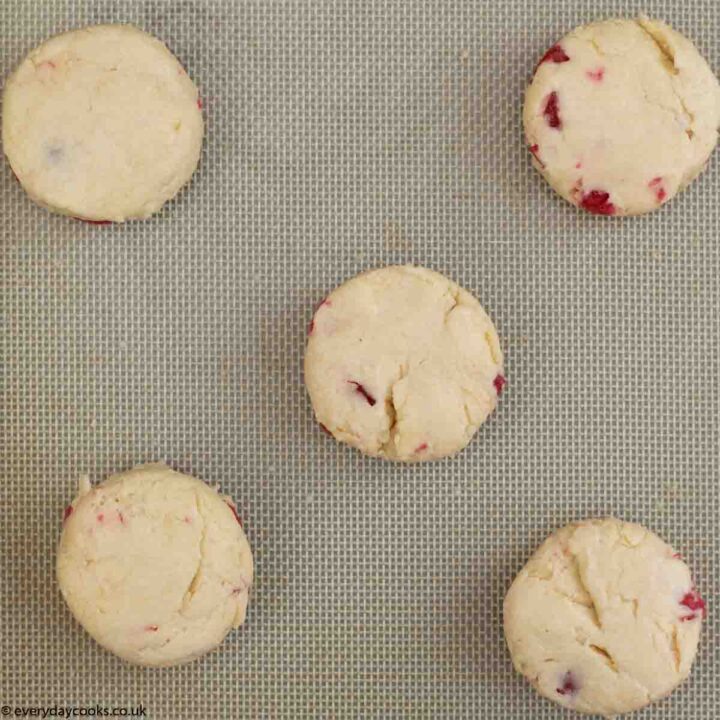 How long do scones keep?
All scones are best eaten on the day they're made. They will keep for a couple of days in an airtight container in the fridge. Refresh in the oven for 4-5 minutes or the toaster for a minute.
Can I freeze Cherry Scones?
Scones freeze well for up to a month. Best frozen on the day they're made.
What equipment do you need?
You'll need a 5-6cm round cutter (about 2 inches across). I use a plain cutter because the cherries can snag on a fluted cutter - but that's a personal preference.
A baking sheet is also needed - if you cut the scones a bit thinner you'll probably need two baking sheets
If you like this...
...Why don't you try:
Pin for later
Hover over any picture on the page and hit the Save button to pin the image to one of your Pinterest boards.
Recipe