When you need bread in a hurry and the shop has run out, make your own with everyday ingredients in your store cupboard. You don't need yeast or bread flour.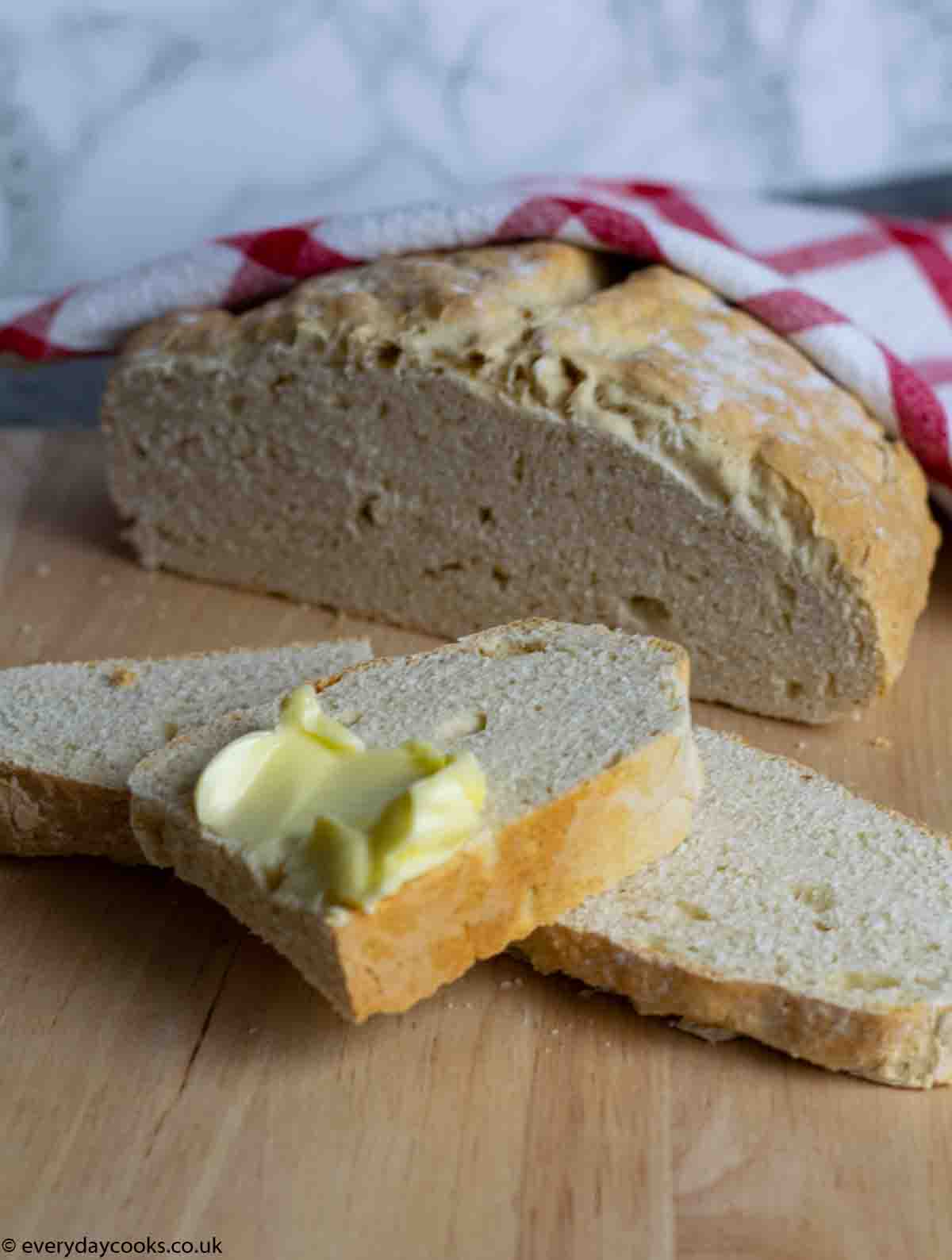 This emergency loaf is a variation on Soda Bread that doesn't use bicarb and buttermilk. Storecupboard ingredients like baking powder and plain/all-purpose flour are all you need. It's quick and easy to make and there's no need to let it rest or rise.
What's in no-yeast bread?
Essentially, flour, baking powder, milk and salt.
What sort of flour do I need?
Bread usually needs special flour - strong flour, also called bread flour. It contains more gluten than cake flour, which makes the bread rise with a better texture. (Find out more about different flours here.)
For this bread you need ordinary plain/all-purpose flour - the sort you use for cakes and probably have in your cupboard.
Is self-raising flour okay in bread?
In a word, no. Self-raising flour contains about 5 teaspoons of baking powder in 500g. To make bread you need 2 teaspoons of baking powder, so you would get a lighter, cake-y texture.
Don't you need yeast for bread?
For ordinary bread, yes you do need yeast. This bread uses baking powder to help it rise.
What if I don't have any milk?
You can use yoghurt diluted with water - about half-and-half. If you have milk powder, make it up according to the packet.
Secrets of success
Pre-heat the oven with the baking sheet or stone in. This helps the bread cook through.
Mix the dry ingredients first
Mix in the milk with a spoon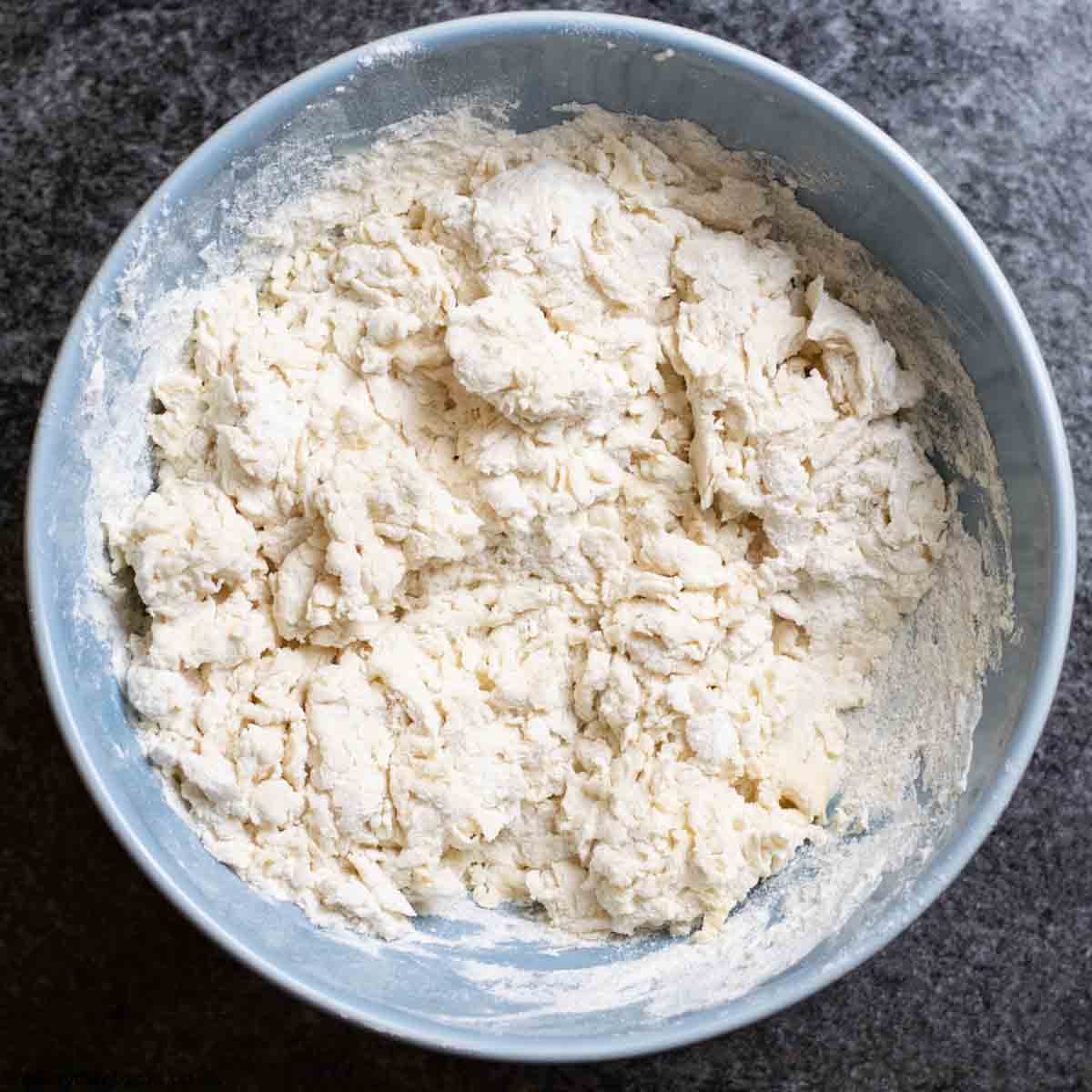 Use your hands to pull the dough together
Knead lightly to allow the gluten to develop:

Put the dough on a board and squash a bit.
Use the heels of your hands to pull alternate edges in and push down and slightly away
Turn the dough round a little every few times so a side moves to the top or turn it over.
Maximum 5 minutes

Form the dough into a ball with your hands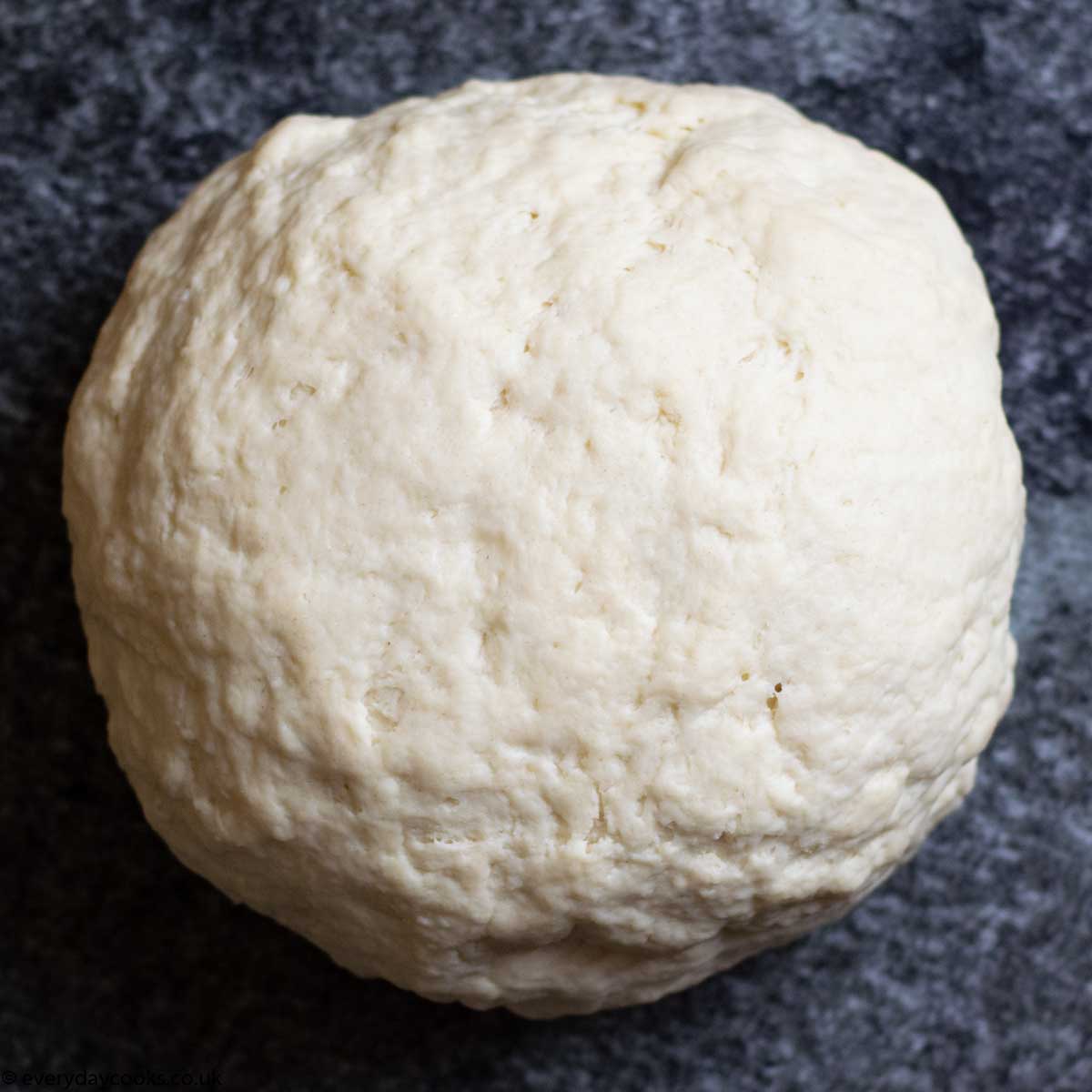 Flatten the dough to 2-3cm (1-1.5 inches) high. This is the important bit. If it's too thick it won't cook through. (If that happens you can eat the outside and toast the insides.)
Make a deep cross with a sharp knife and move to the pre-heated baking tray or stone
Cook for 35-40 minutes.
Can you make a vegan no-yeast loaf?
You can. Use any milk you like with a tablespoon of lemon juice mixed in
How long does Easy No-Yeast Bread keep?
All bread is best eaten on the day it's made. This bread will keep for 3-4 days wrapped. If you aren't going to eat it all in that time, freeze some.
Can I freeze a no-yeast loaf?
Definitely! The bread will keep for up to a month in the freezer. Freeze a whole loaf or quarters as soon as possible after making and cooling. Wrap securely, preferably in clingfilm.
If the bread is a couple of days old, slice it first so you can take out what you need. If the bread seems a bit dry, just toast it.
Equipment you will need
The main thing you need is a baking sheet or a baking stone/pizza stone. If you use a baking sheet, select the heaviest one you have. You will pre-heat the sheet so the bread cooks from the bottom and the top to give a nice crust both sides.
If you like this...
...Why don't you try:
Freshly baked wholemeal loaf in 45 minutes. No yeast, no kneading, no proving. This loaf is half-and-half white and wholemeal.
Cheese Scones made with half-and-half white and wholemeal flour and a touch of spice.
Pin Easy No Yeast Bread for later
Hover over any picture on the page and hit the Save button to pin the image to one of your Pinterest boards.
Recipe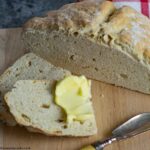 Print Recipe
Easy No Yeast Bread
Emergency loaf, made with everyday ingredients in your store cupboard. You don't need yeast or bread flour. Ready in under an hour.
Ingredients
500

g

plain/all-purpose flour,

not bread/strong or wholewheat/wholegrain

2

teaspoons

baking powder

(10ml)

1

teaspoon

salt

(5ml)

320

ml

milk,

preferably whole, but see Note
Equipment
Instructions
Preheat the oven to 200°C/ 180°C fan/ gas mark 6/ 400°F. Put a baking sheet or a baking/pizza stone in the oven to heat

Mix the dry ingredients. Stir in the milk, then bring the dough together by stirring the ingredients until it forms a dough. It's easiest to do this with your hands

Turn the dough out onto your work surface and knead briefly until the dough has a uniform consistency.

See post above for kneading instructions

Shape the dough into a round disc about 2-3cm thick (1-1½ inches). Score the top with a deep cross. 

Don't make it thicker or it won't cook in the middle

Bake on the hot stone or baking sheet for about 35 minutes until light brown. Remove the bread and tap on the bottom - if it sounds hollow, it's done. If not, leave for another 5 minutes.
Notes
If you don't have milk you can make some up with powdered milk or half-and-half yogurt and water.