Slow Cooker Salt Beef is one of the easiest recipes I make, relying only on a good quality joint and a long, slow cook to produce tender, tasty meat. Use an online specialist butcher like Swaledale Butchers for the best quality meat.
I love salt beef but I'm not faffing around salting my own when you can buy excellent joints - if you find a good supplier. However, I do want to cook it myself to enjoy it hot for dinner on the first day, and then cold in sandwiches throughout the week.
By the way, this is called Corned Beef in the US, but it's definitely not the corned beef that comes in tins that was a staple of my UK childhood.
Slow cooking is the ideal treatment for a joint that wants a long slow cook - and I just love an easy meal that I've prepared in the morning or the night before.
I've cooked this in the same way as Slow Cooker Gammon and I like to eat salt beef with carrots, broad beans and mashed potato. On the second day, I often eat it cold with Macaroni Cheese.
Jump to:
Ingredients in Slow Cooker Salt Beef
Beef silverside
I've been thinking about cooking a joint of salt beef for some time but I'm very picky about meat, and finding the right supplier is important to me. Coincidentally I was contacted by Swaledale Butchers, who offered to supply some meat for me to cook.
I checked out their website and felt it was a perfect match. Grass-fed, traditional, slow-growing breeds. What clinched it was their use of silverside for providing a joint of salt beef. I used to make Boiled Beef and Carrots with silverside and I'm reminded of how much I enjoyed it.
Flavourings
Onion, carrot, celery, dill and peppercorns add some flavour to the salt beef joint
See recipe card for quantities.
How to make Slow Cooker Salt Beef
This is the easiest recipe:
Prepare the vegetables
Put everything in the slow cooker
Cook
Remove and slice.
No expertise needed.
Variations
You can use brisket instead of silverside if you prefer - and you can find a good supplier.
Equipment
A Slow Cooker/ crockpot is all you need to make Salt Beef. I like a Digital Slow Cooker like the 3.5l Morphy Ricards version. If you have a large family or you like to cook extra for the freezer, I'd suggest a 6.5l version.
If you're thinking of buying a slow cooker and don't know where to start, take a look at 5 Points to consider when buying a Slow Cooker. It will give you an overview of the features available and help you decide what to consider before you buy.
Storage
Wrap in foil and keep in the fridge for up to a week.
Freeze leftovers as a piece for a month or two. Or slice and freeze the slices, wrapping in foil and in a plastic box or bag for up to a month. If you keep it too long the texture will deteriorate a bit, so deforst and chop in a food processor to add to mince for a Bolognese Sauce or cottage pie.
Top tip
Don't cut down the cooking time. An extra couple of hours is not a problem, but a shorter time won't give such a tender joint.
Other recipes you might like
...Why don't you try: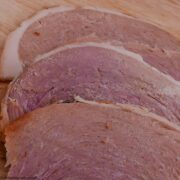 Slow Cooker gammon or bacon has to be the easiest way to cook these joints. It produces tender, succulent gammon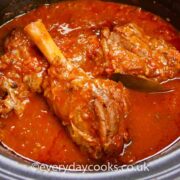 Slow Cooker Lamb Shanks in Red Wine is a simple hearty dish, great for supper guests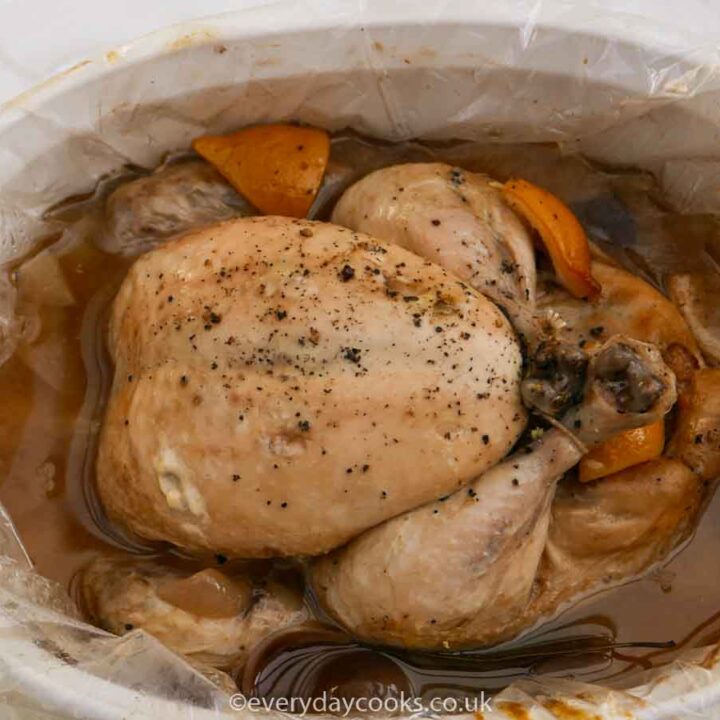 Slow Cooker Whole Chicken. A one-step crockpot recipe.
Pin for later
Hover over any picture on the page and hit the Save button to pin the image to one of your Pinterest boards.
Recipe
Print Recipe
Slow Cooker Salt Beef
Slow Cooker Salt Beef has to be the easiest way to produce a tender, succulent piece of meat.
Ingredients
1

kg

salt beef joint

1

onion,

peeled and quartered

1

carrot,

scrubbed and trimmed

1

stick

celery,

washed and trimmed

1

handful

fresh dill

12

peppercorns

750

ml

hot water
Instructions
Boil the kettle. Prepare the vegetables

1 onion,,

1 carrot,,

750 ml hot water,

1 stick celery,

Put the salt beef joint, vegetables, dill and peppercorns into the slow cooker. Pour the water over. You want it to be hot but not boiling

1 kg salt beef joint,

1 onion,,

1 carrot,,

1 stick celery,,

1 handful fresh dill,

750 ml hot water,

12 peppercorns

Put the lid on and cook on LOW for 7-8 hours.

It's fine to let the joint stay in the hot cooker for a few hours afterwards - it won't spoil.
Notes
Everyday Cooks tips:
For a 2 kg joint, use 1.2 litre water and cook for 12 hours on LOW
Serve with:
Mashed potato, carrots and broad beans