A traditional and easy recipe for coconut and oat Anzac Biscuits, which originated in Australia and New Zealand and are now enjoyed everywhere. Make them chewy or crunchy - whichever you prefer. Slightly larger than a digestive biscuit and very more-ish, these biscuits don't last long in my house.
This classic Australian recipe is the one that my extended family in Adelaide has used for years. They like a large chewy, slightly bendy biscuit and eat them all year round, but especially on Anzac Day.
This is for Rosie the newest member of our family, born in Adelaide in 2022.
What's the history of the Anzac Biscuit?
ANZAC stands for Australian and New Zealand Army Corps. Anzac Biscuits were originally called Soldiers Biscuits and were sent to soldiers in Gallipoli by family and friends during the First World War.
Celebrated on 25th April since 1916, Anzac Day is now a day of remembrance in Australia and New Zealand for soldiers who died in conflict. For more information see https://www.army.gov.au/our-heritage/traditions/anzac-day
Key ingredients in Anzac Biscuits
Soft brown sugar - I prefer the light brown sugar which has less flavour than dark brown but use whichever you have. You can use caster sugar
Desiccated coconut - Even if you don't like coconut much (and I don't) this essential ingredient adds texture and subtle flavour
Porridge oats - You want rolled oats, not the instant kind and not oatmeal (which are unrolled oats, used in traditional gingerbread)
Plain flour - Don't use self-raising for this recipe
Butter - For the best flavour use butter
Golden syrup - Sweet and sticky, used in lots of oat-based cakes and biscuits
Bicarbonate of soda/Baking soda - This is the raising agent. Dissolve in boiling water
Salt - A pinch of salt brings out the flavour of the other ingredients
Secrets of Success
Combine the dry ingredients in a 2-litre bowl
Mix with the wet ingredients
Shape a heaped teaspoon of mixture, space on the baking sheet and cook for 10-12 minutes
If you prefer larger biscuits (RIGHT) use a heaped spoon
Make-Ahead
If you're going to be short of time, measure the dry ingredients into a bowl or plastic box with a lid. I use a pyrex bowl with a lid so I can mix the biscuits in it.
Top Tip
Leave plenty of space between the biscuits on the baking trays - they spread!
Substitutions and Dietary Preferences
If you don't have soft brown sugar, you can use caster sugar
Make gluten-free Anzac Biscuits
I often cook for a coeliac in the family and there are two ingredients you need to consider to make a gluten-free Anzac Biscuit:
You need to use GF flour - I like Dove's Farm because it's a mix of non-wheat flours and I have good results with it
Although oats are gluten-free, if you're cooking for a coeliac you need to check that the oats you use weren't prepared in an environment with products containing gluten. The brand I use is Nairns gluten-free oats
Make vegan Anzac Biscuits
Anzac Biscuits are naturally vegetarian. To make vegan biscuits, replace the butter with block margarine or coconut oil.
Variations
Chewy or crunchy?
My family says definitely chewy and referred me to a survey which backs up their preference for a chewy, bendy biscuit.
The difference is really in the baking time. If you prefer a crispier biscuit, cook for an extra 3-4 minutes. You could also try using coconut oil instead of butter, which gives more of a crunch.
Add a pinch of powdered ginger?
This is my extra ingredient, not in the original Australian recipe, and entirely optional and not authentic, but I always add it to Flapjack as it gives a little flavour without tasting like ginger.
Equipment
To make the biscuits you will need:
2-litre mixing bowl
Small cup for the baking soda
Saucepan to melt the butter and golden syrup
To bake:
2 baking sheets
Optionally, magic liner or silicone baking mats. (Brilliant because you don't need to grease the tray which stays clean. The mats go in the dishwasher or use a bowl of hot soapy water)
Storage
How long will do Anzac Biscuits keep?
At least a week in a biscuit tin.
If you like this...
...Why don't you try some more oat biscuits: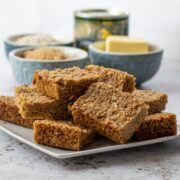 The ultimate flapjack, soft and chewy or crunchy - your choice - with a lovely buttery taste, and ready in half an hour. Perfect teatime treat and great for lunchboxes.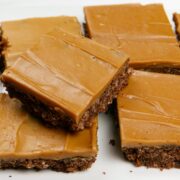 Mocha Squares have a chocolate oat base with coffee icing.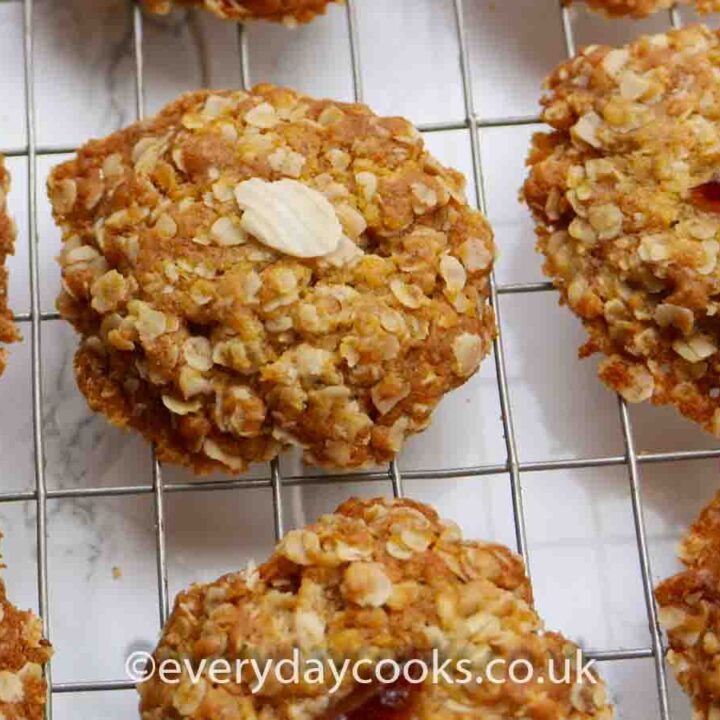 Oaties are semi-sweet oat biscuits that can be made soft or crunchy.
Pin for later
Hover over any picture on the page and hit the Save button to pin the image to one of your Pinterest boards.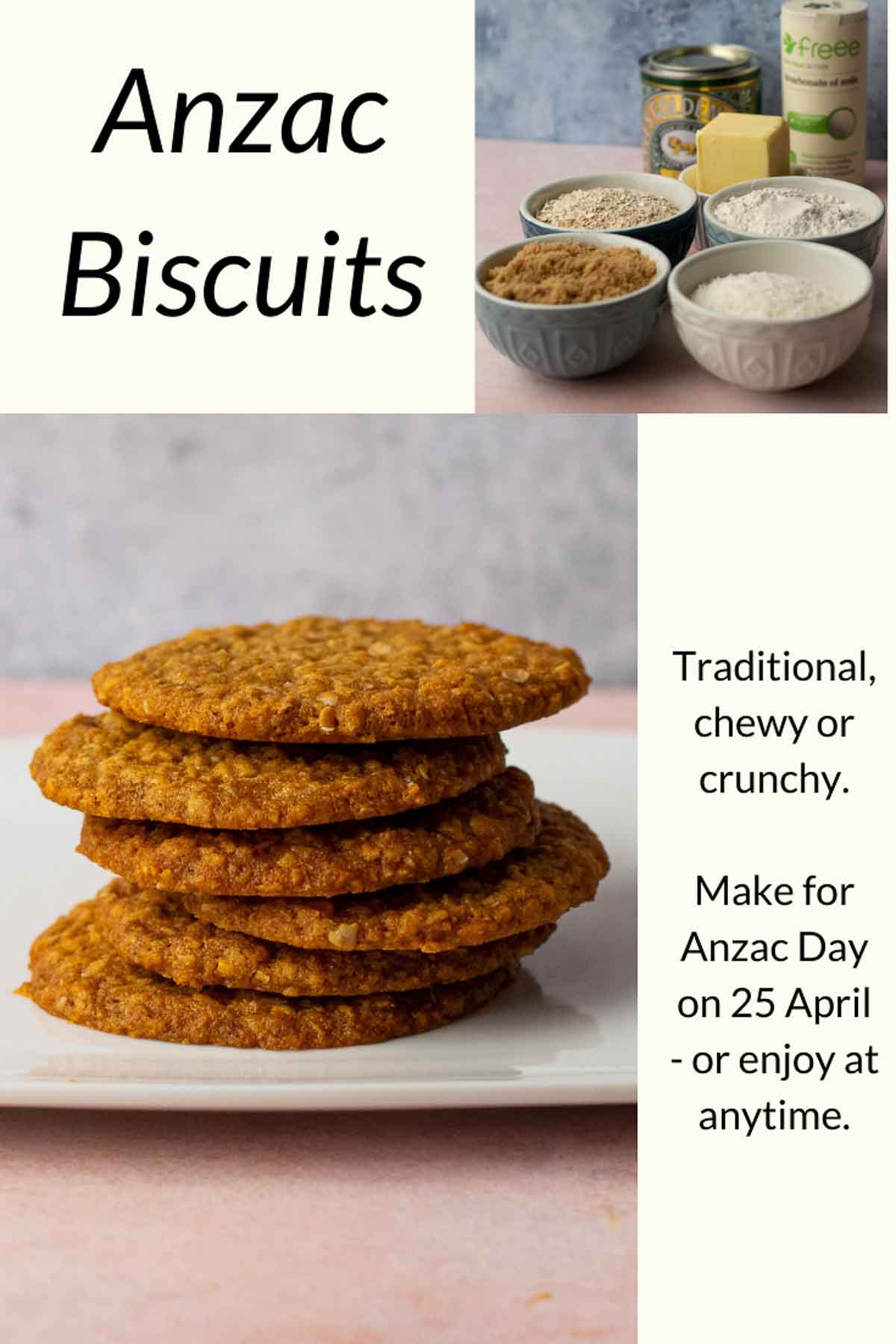 Recipe
Print Recipe
Anzac Biscuits
Traditional large, chewy Australian oat and coconut biscuits to celebrate Anzac Day.
Ingredients
100

g

rolled oats

150

g

plain flour

150

g

light soft brown sugar

75

g

desiccated coconut

Large pinch of salt

125

g

butter

120

g

golden syrup

1

teaspoon

bicarbonate of soda

(5ml)

60

ml

boiling water
Equipment
1 Large mixing bowl
2-litre
Instructions
Preparation:
Preheat the oven to 180°C/ 160°C fan/ gas mark 4/ 350°F

Put the bicarb in a small bowl or cup

1 teaspoon bicarbonate of soda
For the Anzac Biscuits:
Put the butter and golden syrup in a small saucepan to melt on a low heat. Remove when melted

125 g butter,

120 g golden syrup

Add boiling water to the bicarb then add to the melted butter mixture, mixing well. The mixture may fizz again

1 teaspoon bicarbonate of soda,

60 ml boiling water

Mix oats, flour, sugar, coconut and salt in a large bowl

100 g rolled oats,

150 g plain flour,

150 g light soft brown sugar,

75 g desiccated coconut,

Large pinch of salt

Make a well in the centre of the dry ingredients and stir in the liquids, mixing well

Put large teaspoons of the mixture into your hands, shape into balls, place on the prepared baking sheets and flatten a little.

Space them about 5cm/2in apart to allow room for spreading. You will make 20-24 biscuits depending on size

For chewy biscuits, bake for 10 to 12 minutes or until light golden. For a crunchier biscuit, increase cooking time to 12-15 minutes

Leave on the baking sheet for 10-15 minutes to harden a little then transfer to a wire rack to cool