Semi-sweet Oaties are perfect with a cup of tea - just the thing for an everyday biscuit.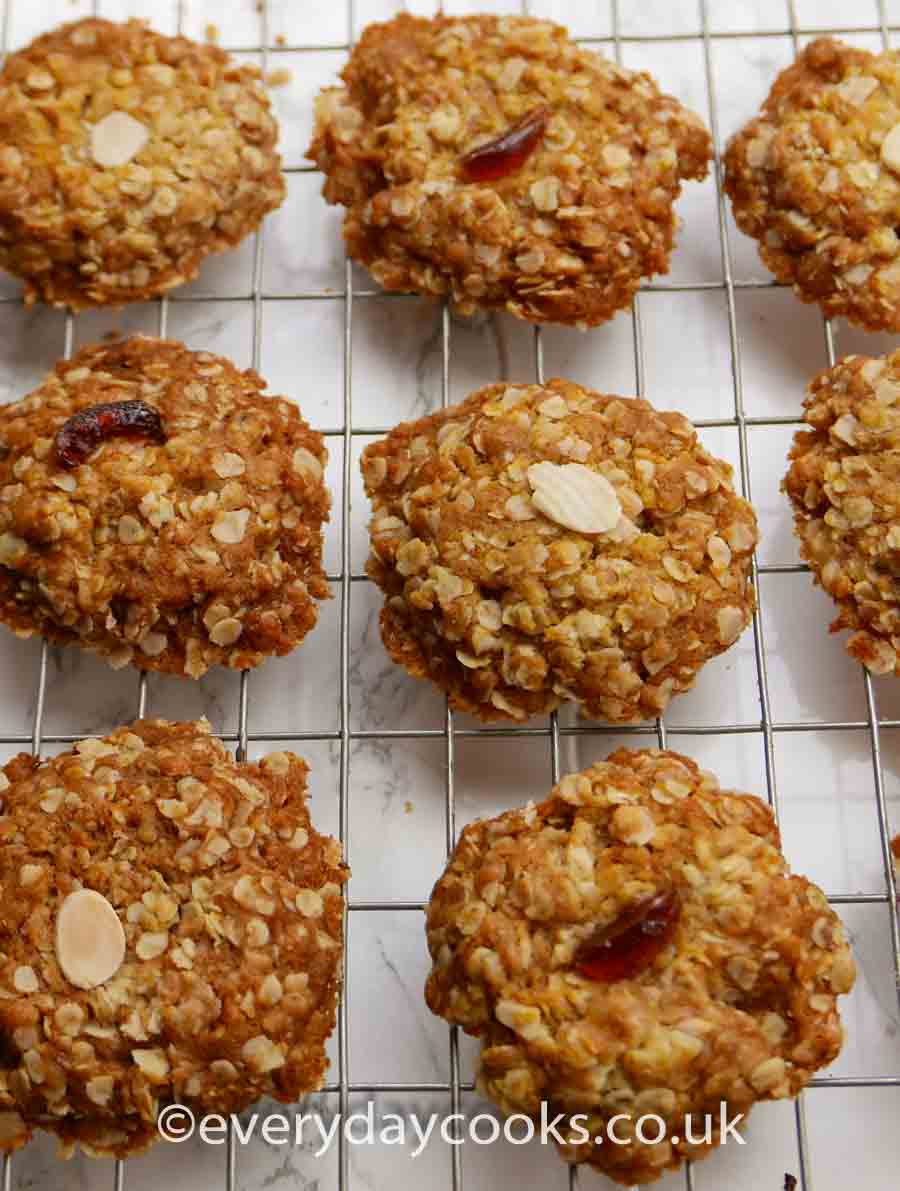 Although I love cake, sometimes what I want is a biscuit that isn't rich or creamy and Oaties fit the bill. Quick and easy to make with store-cupboard ingredients, you can easily make these little biscuits after work, or at the weekend, to last you through the week.
Oaties use store-cupboard ingredients
If you bake, you probably have flour, caster sugar, butter and bicarb in your store cupboard or fridge all time. I use quite a bit of golden syrup, which, as it's a sugar derivative, keeps very well so it's always in the pantry. It doesn't matter if it goes a bit grainy at the bottom - it's just crystallising - and if you're going to heat it anyway, it will all dissolve. I also always have porridge oats. One of my favourite comfort foods as a child was oats, golden syrup and milk. I do have it occasionally now, but with a lot less syrup!
Does a pinch of ginger make a difference?
Actually, it does, so if you have some don't leave it out. Bicarbonate of soda can have a bit of a taste that needs masking - it's usually used in cakes with a strong flavour like ginger cakes. Here, the pinch of ginger doesn't make the biscuits taste of ginger, but it does add something.
Why add salt to a sweet biscuit?
Salt is a flavour enhancer, and stops food being bland, so even sweet food benefits from that. Here, that pinch of salt just adds to the flavour without being able to taste it.
Helpful Tools
Magic Liner or a silicone baking mat - You don't have to grease either of them as they're totally non-stick and you clean them in the dishwasher or in hot, soapy water in the sink. The silicone mats are used over a baking sheet. Magic liner comes on a roll and you cut it to size to fit your tins. I have both and use them every time I bake, because there's less mess and I don't need extra oil or butter to stop food sticking.
If you like this...
...Why don't you try:
Recipe