Melting Moments are crunchy biscuits coated in rolled oats or coconut and topped with a cherry. It's a good recipe for children to make.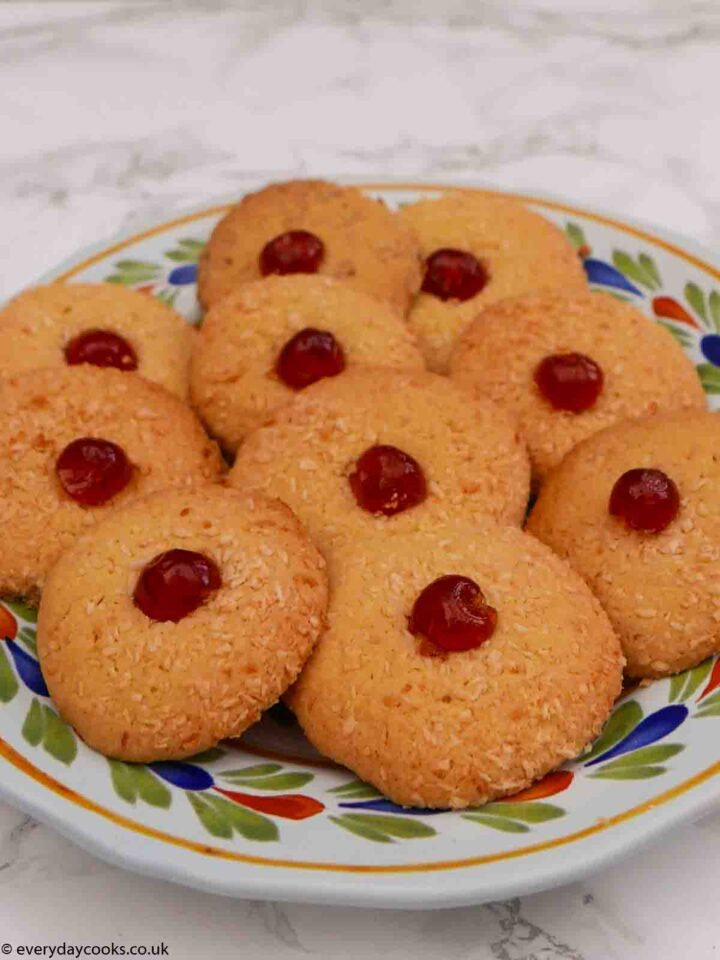 I don't know why they're called Melting Moments, but these biscuits have been around for a long time. I like to make them for lunch boxes or for travelling - or just for afternoon tea.
An egg - or not?
Be-Ro recipe book
When I decided to make these Melting Moments, I first looked in my BeRo recipe book, issued to all the girls at school when we started cookery lessons. I then consulted the Oracle - my mother's handwritten recipe book to see what she said.
The two recipes differed, my mother's being the one I'm using here. The difference is in the use of an egg. Probably because the BeRo book used smaller quantities and would have needed something like a quarter of an egg.
I did make the recipe without an egg to see what it was like, and it's pretty good, so you could use either, depending on how many biscuits you want to make. I have to say I prefer Mum's recipe though, and since these biscuits keep for a few weeks, there's no harm in making up the larger quantity.
Oats or coconut?
Melting Moment recipes always give you the option of coating the biscuits in oats or in desiccated coconut. At home we always used oats, and I'm not a big fan of grated coconut anyway, (for example, I don't like Bounty bars) so I've never used it. For some reason, though, I had a packet in the cupboard.
So half the biscuits are covered with coconut. I was pleasantly surprised and I'm beginning to wonder why I don't like coconut.
Secrets of Success
How big do you make the biscuits?
I made the first batch a bit too big I think. The original BeRo recipe said it made 20 for about a quarter of the quantity. I made about 30, so they must have been considerably bigger. Partly, I suppose we really do eat bigger portions these days, but really they must have been so small.
So the conclusion is that it depends how big you want them to be. I reckon you can make between 30 (as I did) and 50. They last well, they're good for packed lunches as they don't melt and they aren't too sweet, so 50 isn't necessarily too many.
And now I think it might be time to try a Bounty bar.
How long do the biscuits keep?
Melting Moments keep for 3-4 weeks in an airtight box.
What equipment do you need?
Magic Liner or a silicone baking mat – both reduce the washing up as they go into the dishwasher. You don't have to grease them either as they're totally non-stick.
If you like this...
...Why don't you try:
Pin for later
Hover over any picture on the page and hit the Save button to pin the image to one of your Pinterest boards.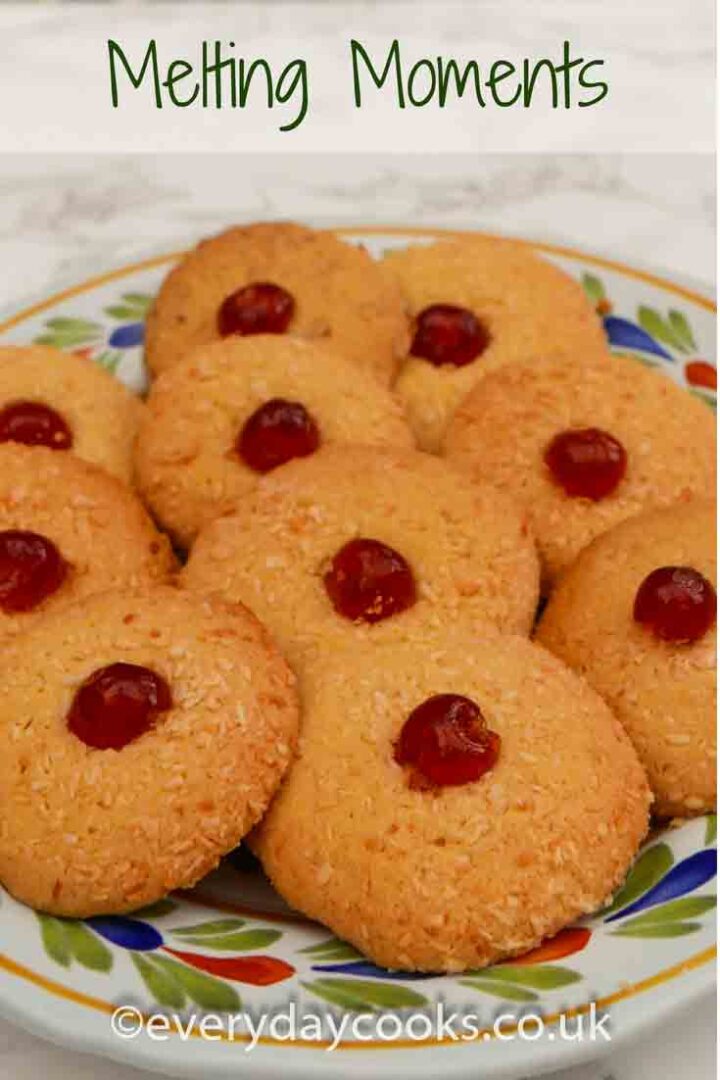 Recipe