Cherry Shortbread biscuits are a big favourite with all ages, and they're always one of the first to disappear from the biscuit plate. Shape the dough into a log and slice for minimum effort.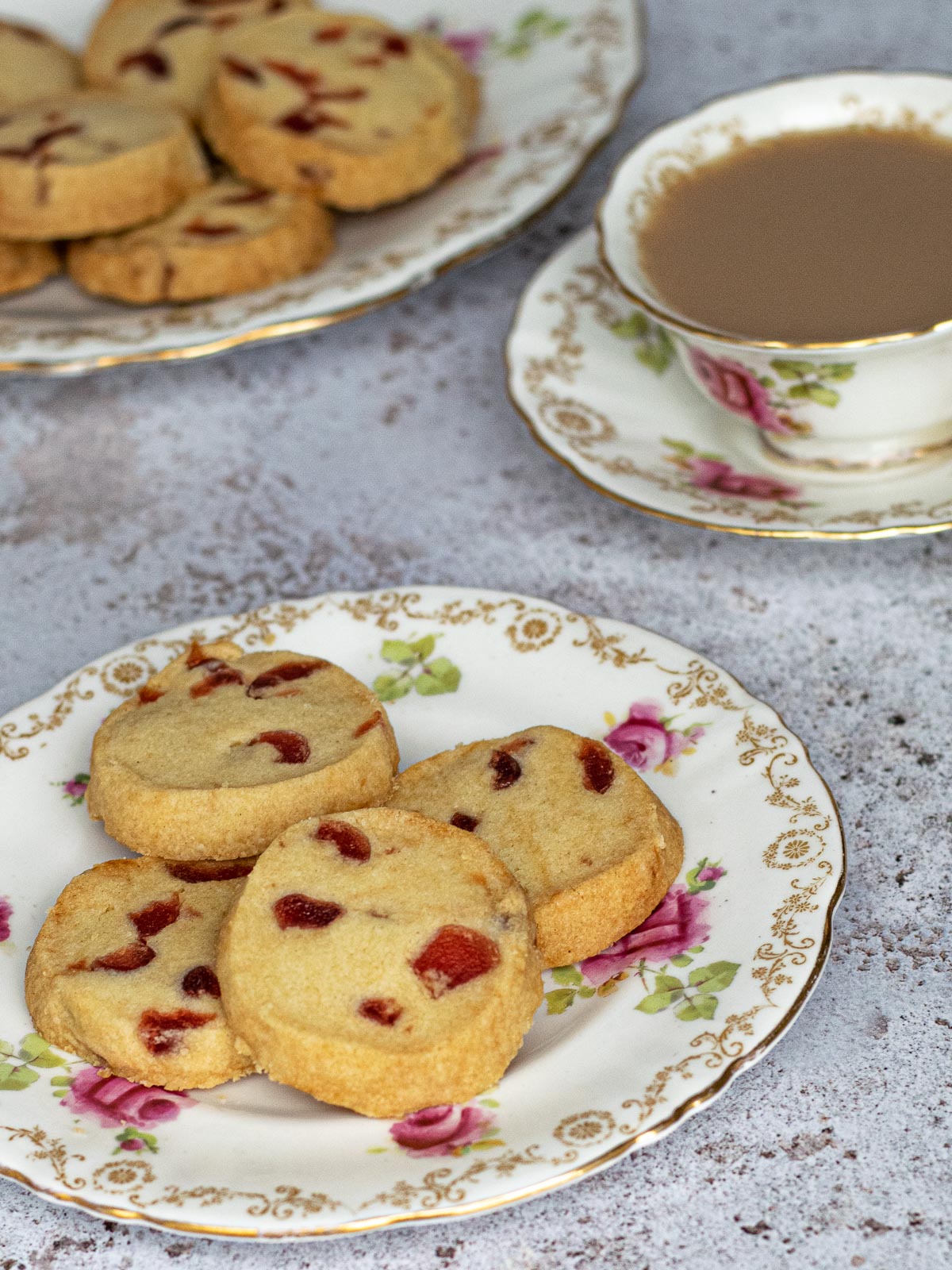 Cherry Shortbread is a combination of two favourite teatime treats - and another recipe from my collection of cherry cakes and bakes.
Key ingredients in Cherry Shortbread
The classic, traditional shortbread recipe uses 1 part sugar, 2 parts butter, and 3 parts flour. This recipe for Cherry Shortbread sticks with the basics, just adding chopped glacé cherries.
Ring the changes
Change the texture of shortbread biscuits
You can substitute 50g ground rice or semolina for flour to give a crunchier texture or 50g rice flour to give a softer texture.
Make square biscuits
Press the dough into a 20cm (8-inch) square tin and cook for 30-35 minutes. Mark into squares when you take the tin out of the oven and cut up when cold.
Make golden shortbread biscuits
Use soft light brown sugar instead of caster sugar for a golden coloured biscuit.
Secrets of success
Refrigerate the dough
The most important thing to remember with shortbread is that the more you handle it the warmer it gets and the butter will turn oily. By chilling the dough in a sausage shape and slicing it into rounds instead of cutting it out, you will avoid this problem.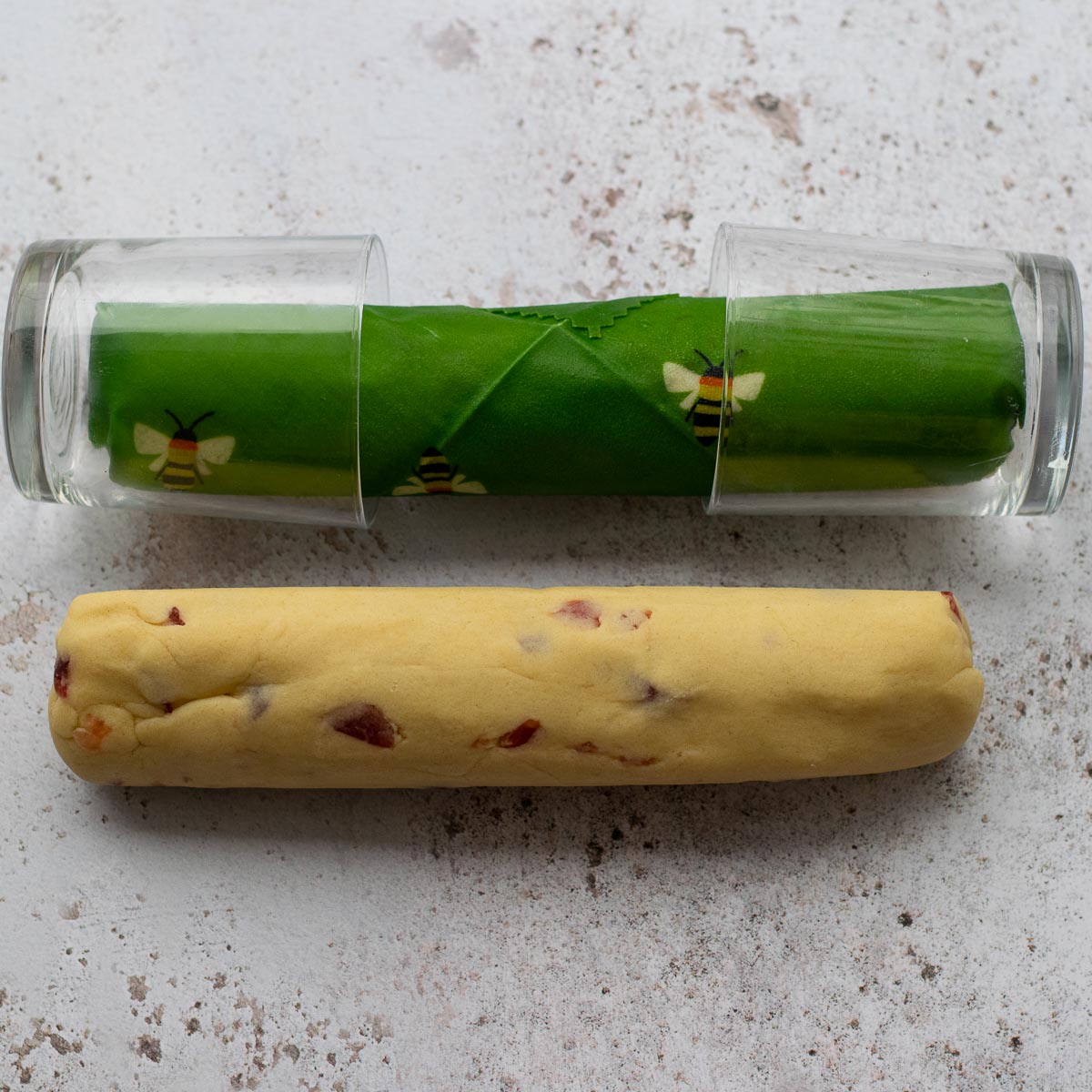 Wrap the dough sausages in clingfilm or beeswax wraps and put the ends into tumblers so that they keep their shape.
The biscuits won't spread very much in cooking if they are cold when they go in the oven. These are about 4cm in diameter and 5mm thick.
Make-ahead tips
Make the dough a few days early
Make the dough and shape it into logs before refrigerating for up to 3 days. Or you can keep the prepared biscuits in the fridge for a day before baking. Best to put the biscuits on a silicone mat or liner. If you refrigerate the baking tray the biscuits take longer to cook.
Freeze the dough
You can freeze the dough logs for a month before using them. Defrost only until you can easily slice them. The shortbread biscuits may need a few minutes extra cooking time - but check as usual.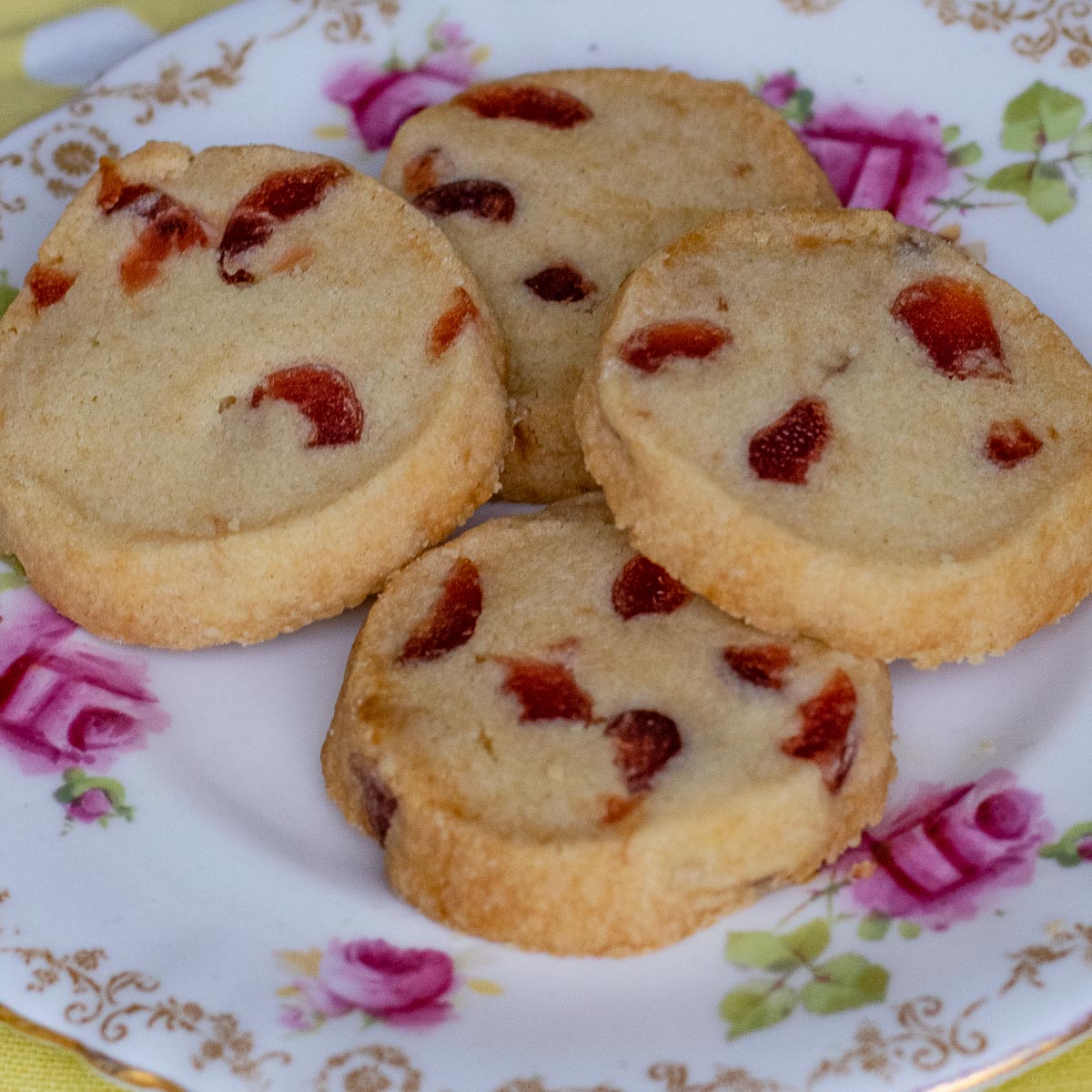 How long do Cherry Shortbread biscuits keep?
Like most biscuits and cookies, shortbread keeps for at least a week in an airtight box or tin.
What equipment do you need?
You will need two baking sheets, which I like to line with a silicone baking mat or magic liner to prevent sticking.
If you like this...
...Why don't you try:
Pin for later
Hover over any picture on the page and hit the Save button to pin the image to one of your Pinterest boards.
Recipe