A quick and easy fruity oat bar snack for lunch boxes for the whole family. Apricot Oat Bars are ideal for taking on walks or a journey.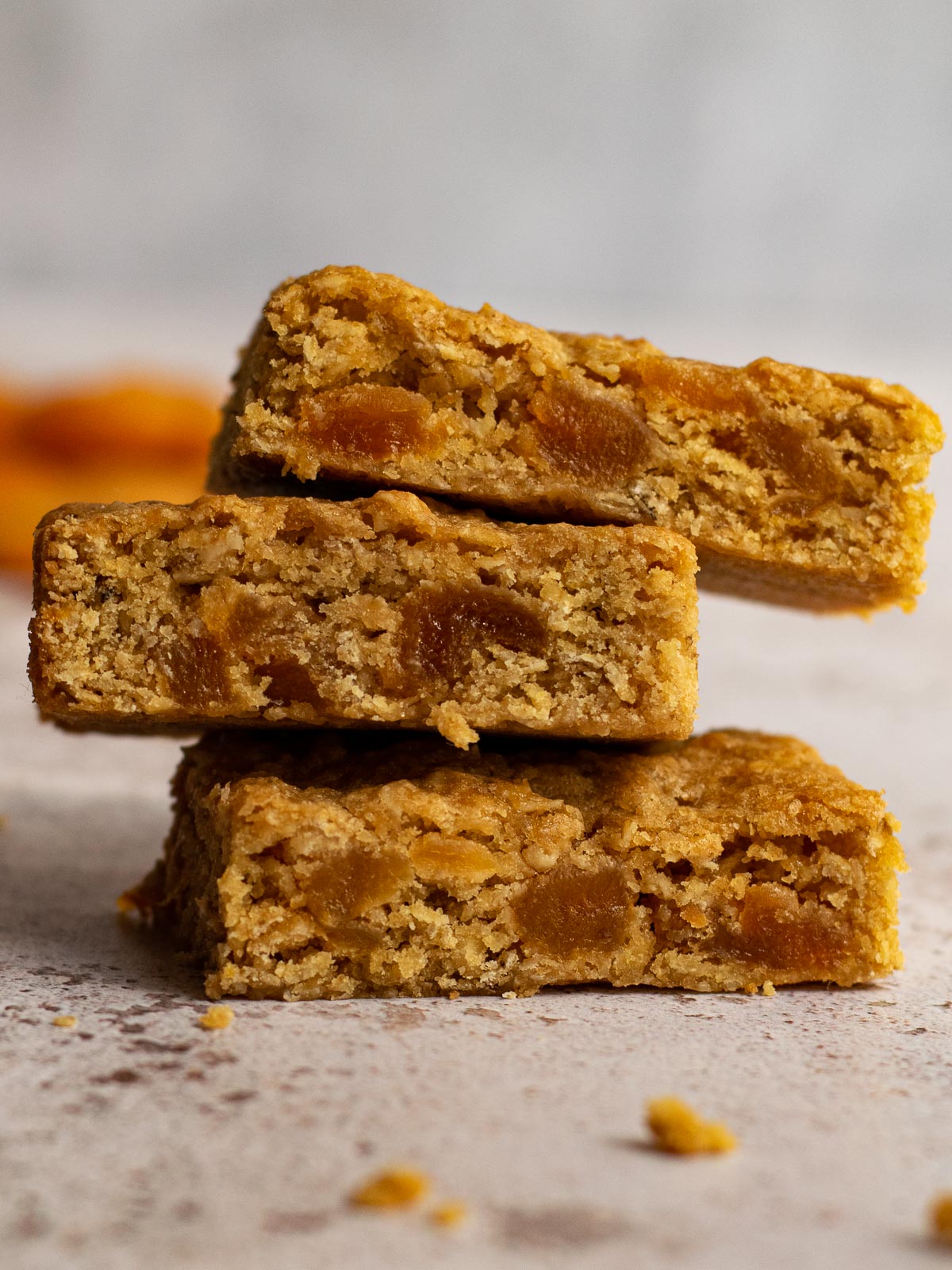 Recently I found myself buying packs of cereal bars recently to take on walks. They were very tasty, but reading the ingredients list made me a bit less keen. Also I wanted something a bit softer than the bars I was buying. This fruit oat bar is a bit more cake-y and doesn't crumble easily.
Key ingredients in Apricot Oat Bars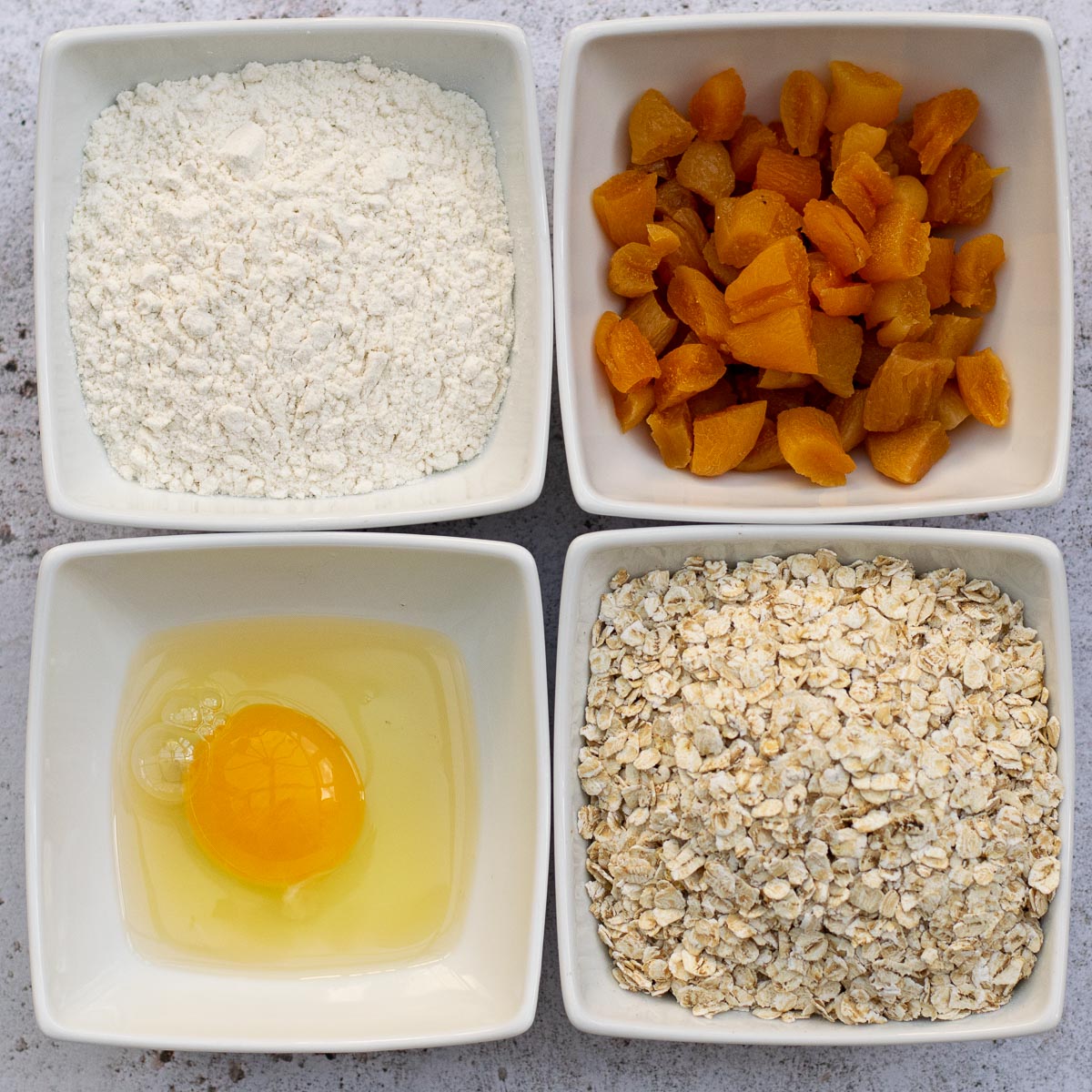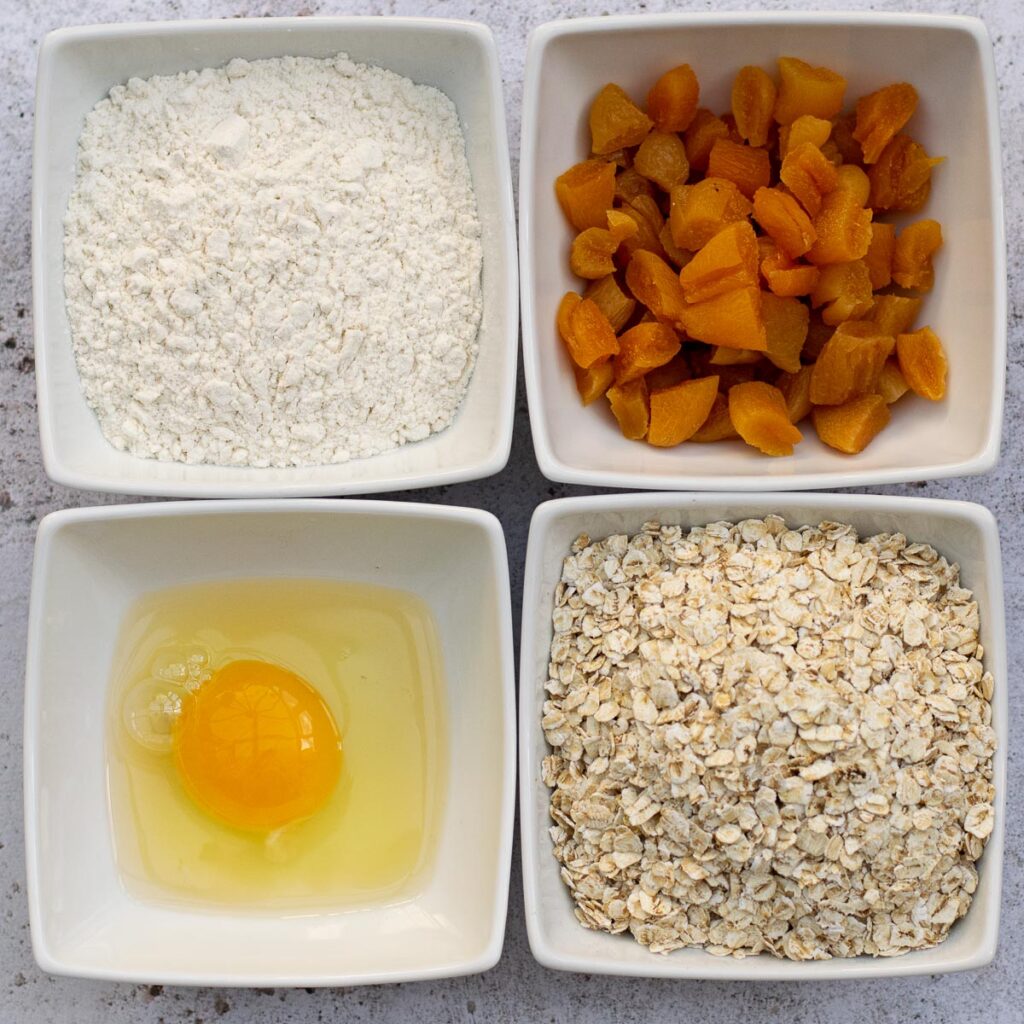 Dried apricots
I find the semi-rehydrated apricots work best in this recipe. They're often sold as soft apricots. Traditional dried apricots are still fine, although you probably want to cut them up a bit smaller as they are chewier (especially if, like mine sometimes, they've been hanging around a bit).
Porridge oats
You need rolled oats for this recipe - not jumbo oats, which don't stick together so well and definitely not instant oats. If you have some oats left, there are plenty of other delicious cakes and bars to make, e.g. Flapjacks, Mocha Squares, Oaties, Cherry Flapjacks.
Salt
Don't omit the salt! Oats don't have a lot of flavour and a pinch of salt makes all the difference to this recipe, enhancing the flavours not making it taste salty.
Powdered ginger
A pinch of dried ginger powder adds flavour without being 'gingery' - you shouldn't be able to detect what spice it is. We're not making Ginger Biscuits here just adding subtle flavour.
Ring the changes
Use maple syrup instead of golden syrup for a slightly different, less sweet flavour
Substitute 25g chopped walnuts or almonds for some of the apricots for a fruit and nut bar
Use half wholemeal flour instead of white. You will need to add ½ level teaspoon baking powder and a little extra liquid, such as milk.
Secrets of success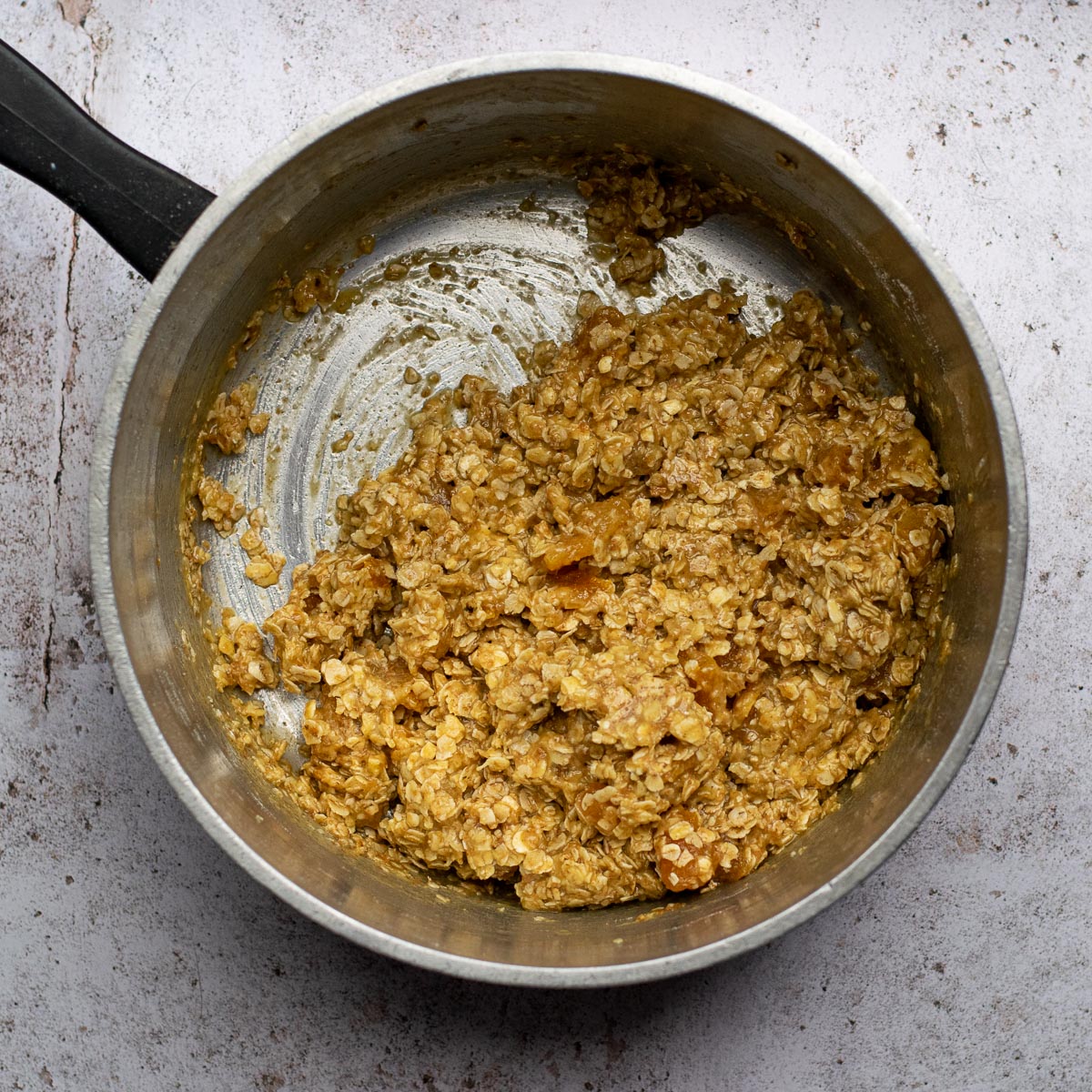 This recipe is one of the simplest I've made. The secret here is to have the tin and the ingredients ready before you begin cooking
The tin lined with baking parchment
The butter and golden syrup weighed into a large saucepan
The dry ingredients (flour, sugar, oats, salt, ginger) mixed in a bowl
The apricots cut up and ready to go
The beaten egg in a small bowl.
All you do is gently melt the butter and syrup, then take the pan off the heat and stir in the rest of the ingredients before pouring into the tin and cooking.
Top tips
Two tips for oat bars:
Use scissors to cut up the dried apricots
To weigh golden syrup: Weigh the tin and zero the scales. Spoon out the syrup until the scales show the correct amount has been removed. Use the same spoon for mixing the ingredients so that you use all the syrup.
Make Apricot Oat Bars gluten-free
You need to pay attention to three ingredients to make this recipe gluten-free:
Use gluten-free self-raising flour
Check the porridge oats packet label to make sure that the oats were not packed in a factory also packing gluten products. (Most supermarket oats are not suitable for coeliacs).
How long will they keep?
The oat bars will keep for at least a week in a plastic box in the fridge.
Can I freeze oat bars?
Oat bars freeze well but are sometimes a bit crumblier when defrosted.
What equipment do you need?
If you like this...
...Why don't you try:
Pin for later
Hover over any picture on the page and hit the Save button to pin the image to one of your Pinterest boards.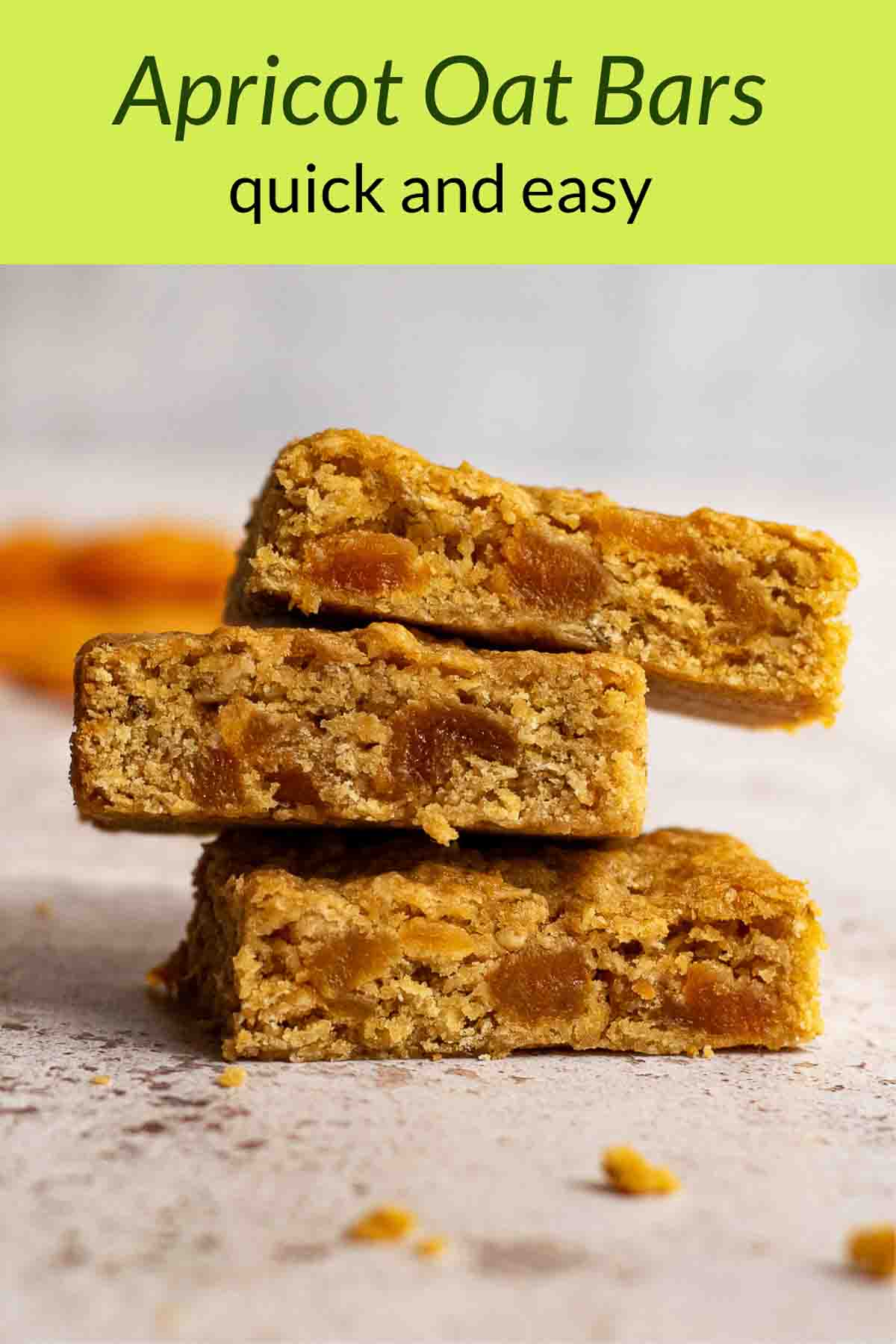 Recipe