Flapjack + cherries = Cherry Flapjack - two of my favourite things combined. Cook it to be soft and chewy or crisp and crunchy - you choose!
Quick and easy
Well, let's be honest, most homemade cake or biscuits or tray bakes are amongst my favourite things. I've always loved sweet things and the occasional piece of homemade cake or flapjack isn't the worst thing in the world,  although I do try to curb my natural inclination to eat the whole plateful.
This flapjack is ready in 30 minutes from the time you start.
Key Ingredients in Cherry Flapjack
Rolled oats
For flapjack you want rolled oats - the normal-sized ones.
You do not want:
- Jumbo oats, which are too big and your flapjack won't stick together properly
- Coarse oatmeal/pinhead oatmeal
- Instant oats.
Glacé cherries
Any colour - I've used darker red cherries, but whatever you have is fine.
Secrets of Success
Easy to cook - even on a bad day
What I especially like about flapjack is that it's hard to get wrong - unless you overcook it. On a bad day, whatever I decide to cook doesn't seem to work. I weigh the ingredients wrongly, I add too many eggs, I forget to set the timer. You name it, I've done it. I can usually guarantee that whatever I cook won't turn out right on those days.
Set the oven timer
Flapjack - or in this case Cherry Flapjack - is one of those things that's harder to screw up than most. Probably because there's so little to do that you don't need a very long attention span - just remember to set the oven timer.
If, like me, you prefer your flapjack to be chewy rather than crunchy, you don't want to overcook it. 20 minutes is enough. On the other hand, if (like my mum) you like it a bit crunchier, give it an extra 5 minutes.
Other than that, what can be messed up? Well, you could burn the butter instead of melting it if you put it on a high heat. Don't do that, or you'll have to start again.
Don't wash the cherries
I don't even wash the cherries for this recipe. I just make sure I stir them about a bit in the melted butter/sugar/golden syrup to separate them and dissolve the cherry syrupy stuff.
Is Cherry Flapjack gluten-free?
It depends on where your oats are processed. Oats are gluten-free, but they are often processed in factories that also handle items with gluten in, so the manufacturer won't guarantee that your oats haven't been contaminated.
If you are cooking for someone who's coeliac, you will need to read the labels and find guaranteed GF oats.
What equipment do you need?
To make the washing up easier, I always, always use baking parchment or magic liner to line the tin. I hate washing up and I don't like putting tins in the dishwasher. If they're good quality I feel they should be cherished. If they're not, the dishwasher is too harsh for them and will eventually damage the surface. Another thing I wish I didn't care about, but I do, so there we are.
If you like this...
...Why don't you try:
Pin for later
Hover over any picture on the page and hit the Save button to pin the image to one of your Pinterest boards.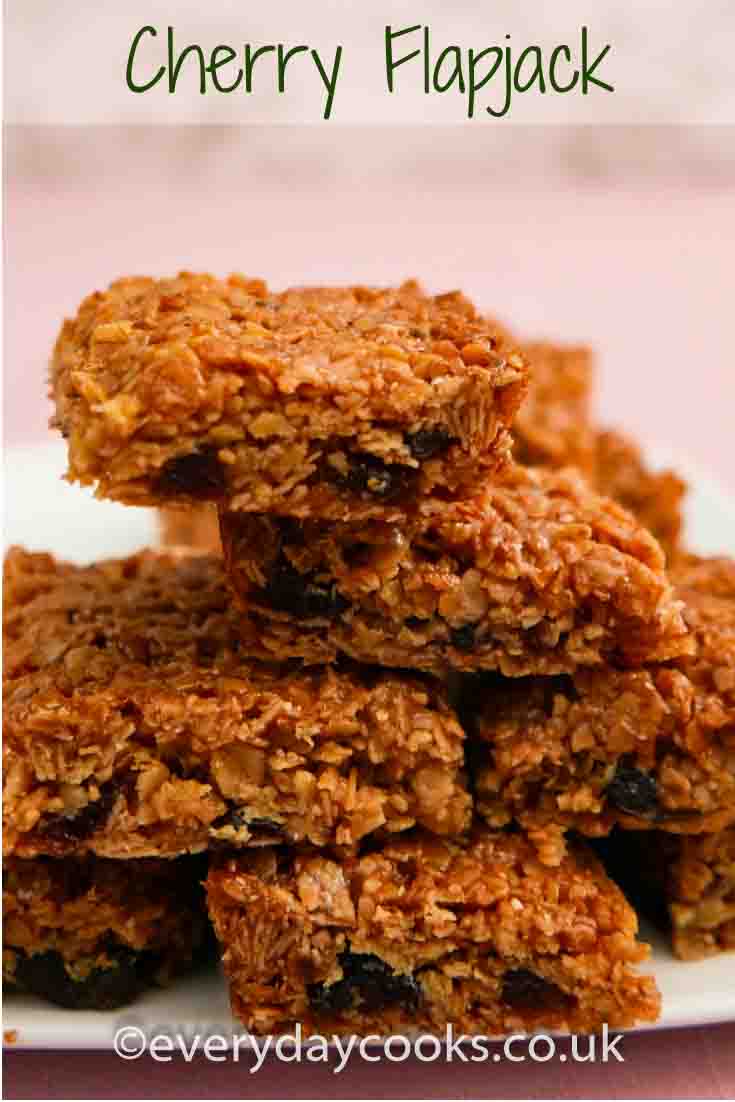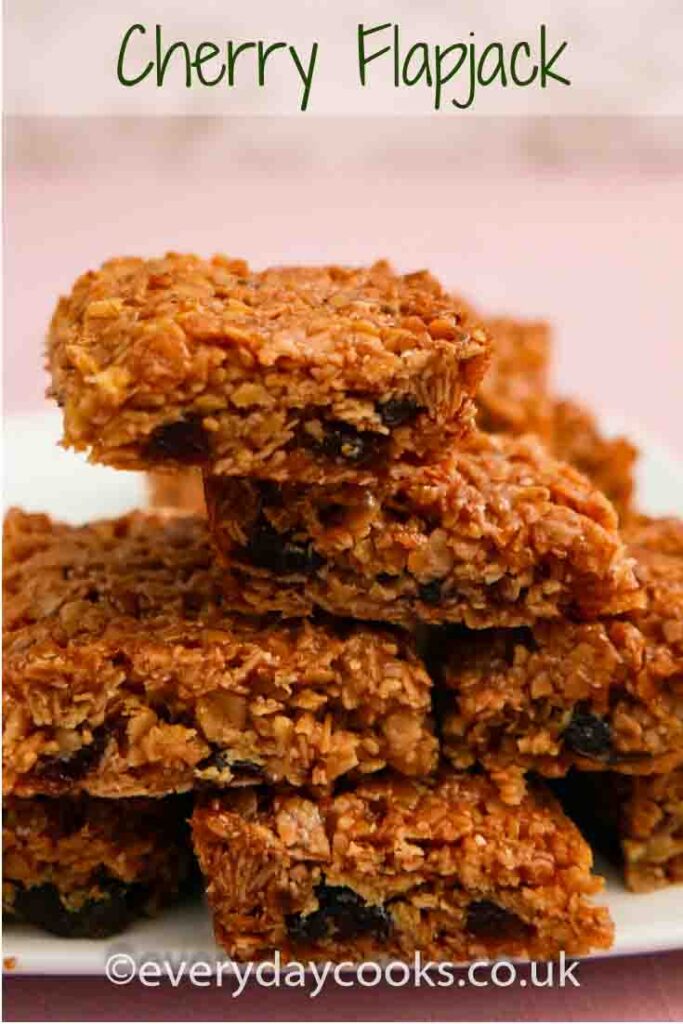 Recipe