Quick and easy, Mocha Squares have a chocolate oat base with coffee icing. Teatime or coffee break favourite.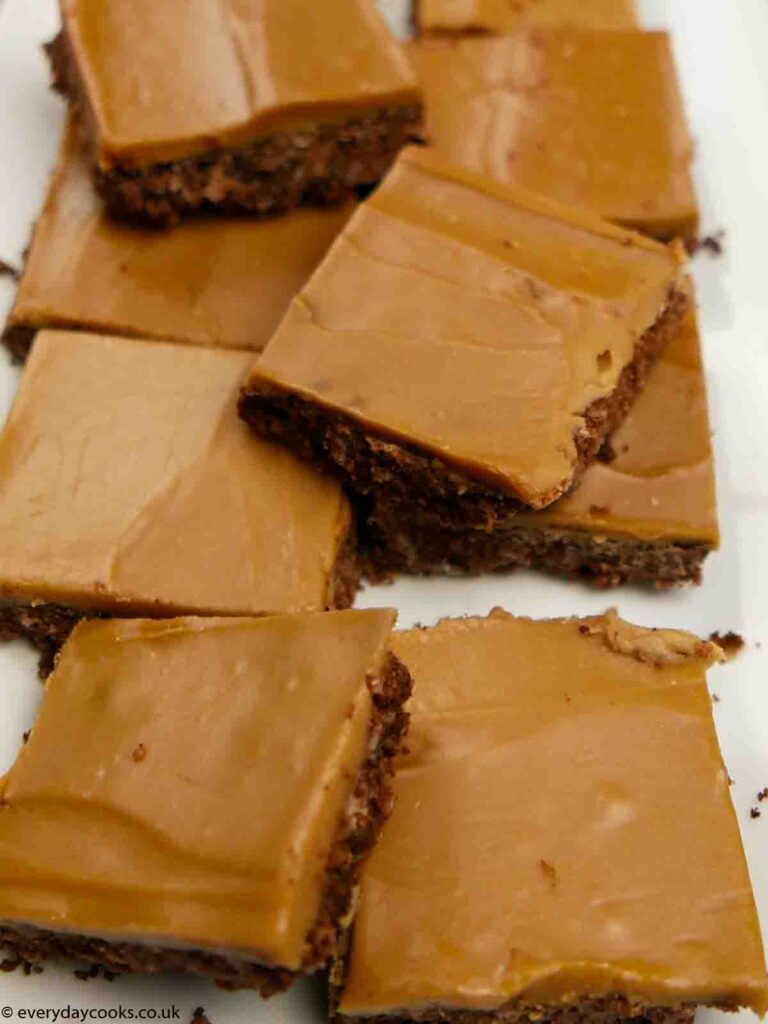 This is another of my mother's recipes that I've made for years, although not so much recently - so I was pleased to re-discover it.
All the traybakes I mention below are great for feeding crowds, e.g. if you're making something to cater for an event. They're also an easy way to provide something sweet for a party or family gathering - much less fiddly than icing individual cakes if you're in a hurry.
Cocoa vs Drinking Chocolate
The base of the Mocha Squares are made in a similar way to Flapjack, but with a lot of cocoa to give a good chocolate flavour. When you're making chocolate cakes, traybakes or biscuits, you need to make sure you use what the recipe calls for.
Drinking chocolate is cocoa with added sugar and usually milk powder, so the chocolate flavour is diluted and sweetened. Fine for a drink, but no good for baking. I use Green & Black's as a good quality cocoa, but not the most expensive, and you get a good chocolate flavour.
If I'm using a brand that doesn't seem as strong, I might add extra cocoa and correspondingly less flour. Of course, you can adjust your proportions yourself if you have a preference for more or less of a chocolate flavour.
Helpful Tools
Magic liner – Cut to fit the traybake tins and roasting tins you use most. You wash it every time. Nothing sticks and it doesn't need greasing
If you like this...
...Why don't you try:
Recipe