For me, the ultimate Chocolate Brownies are crisp on the outside, squidgy on the inside and have a nutty crunch - in this case walnuts. Add to that, quick and easy to make. Well, what's stopping you?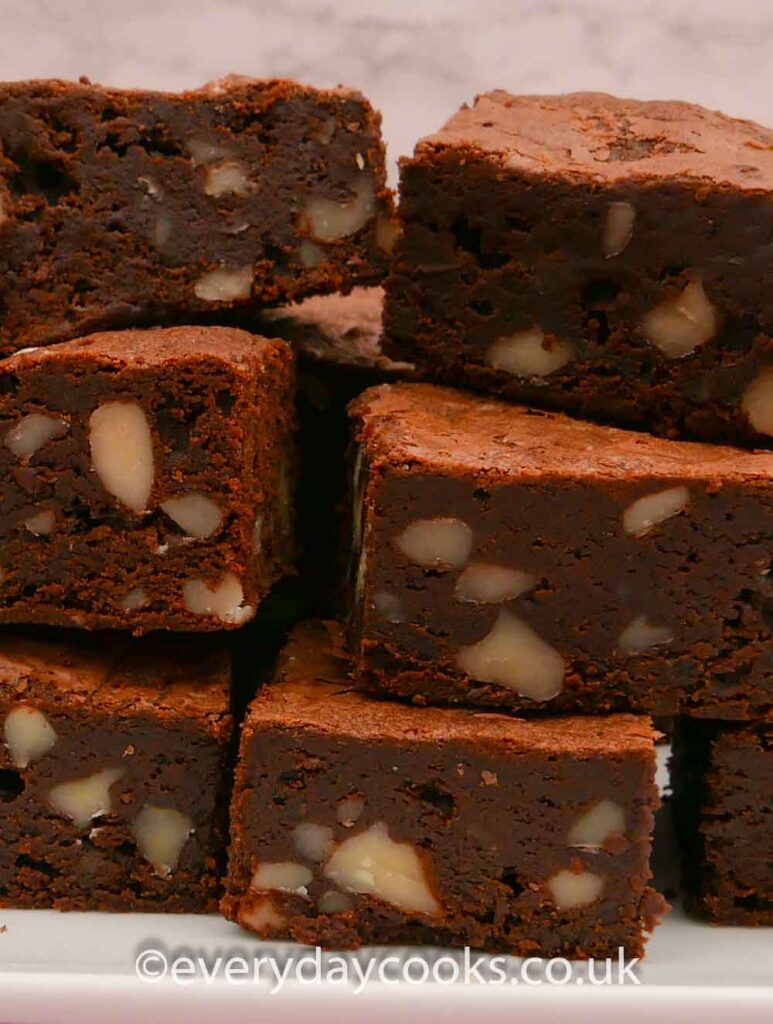 Sometimes only chocolate will hit the spot. I've made these Chocolate Brownies for many different occasions - birthday teas, family lunches, even a funeral, once. And sometimes I make them just because I want chocolate.
This brownie recipe uses walnuts but you can use pecans, which I often do. That's partly because walnuts can have a bitter taste but, in a recipe like this, they are perfectly fine.
Secrets of success with Brownies
Brownies are quite easy to make, although they have a reputation for being difficult, so pay attention to ingredients and cooking time to ensure a successful outcome:
Good quality ingredients
70% plain chocolate. Why isn't ordinary dark chocolate good enough? Because it typically is under 40% cocoa solids. When you put it with the other ingredients, it just isn't chocolatey enough. But it doesn't need to be desperately expensive. A good supermarket version is good.
Butter. This is not a recipe for margarine. If you aren't going to use butter in this recipe, I'd rather you made something else. Having said that, any butter should be fine. I don't get fussy about unsalted. Salt is a good thing (in its place).
Nuts. Use walnuts or pecans as you prefer. They are going to be chopped so buying broken nuts is fine - not too small though.
Vanilla Extract. Not essence which may be synthetic, you need extract. If all you have is essence, use twice as much (and buy extract next time - it's made from vanilla pods. The real deal.)
MELTING THE CHOCOLATE
I wrote a whole post about How to Melt Chocolate so if you want a step-by-step guide, take a look. Using a pan of hot water is the safest method. The microwave is quicker, but if you're too impatient you will crystallise the chocolate and have to start again!
Cooking Time
The other crucial point is not to overcook the brownies. Keep in mind that they keep cooking in the tin once they're out of the oven. About 20 minutes is right but do look at them after 15 minutes in case your oven runs hot. When they're done the top will be a pale brown speckle and the centre will be soft.
Leave in the tin until cool or they will squidge all over the place!
What equipment do you need?
20cm x 20cm traybake tin - This is the smallest of the three sizes of traybake tin I use most often. It makes enough so you don't feel gorged on cake
Magic liner - I have this cut to fit all the traybake tins I use most. You wash it every time. Nothing sticks and it doesn't need greasing
Baking parchment squares - Use these if you don't have a liner to fit the tin. They are great for all square baking tins - 20cm or 23cm.
If you like this...
...Why don't you try:
Recipe