No-bake Easter Rocky Road is a seasonal twist on a modern favourite. Full of all your favourite Easter sweets and chocolates and easy to make.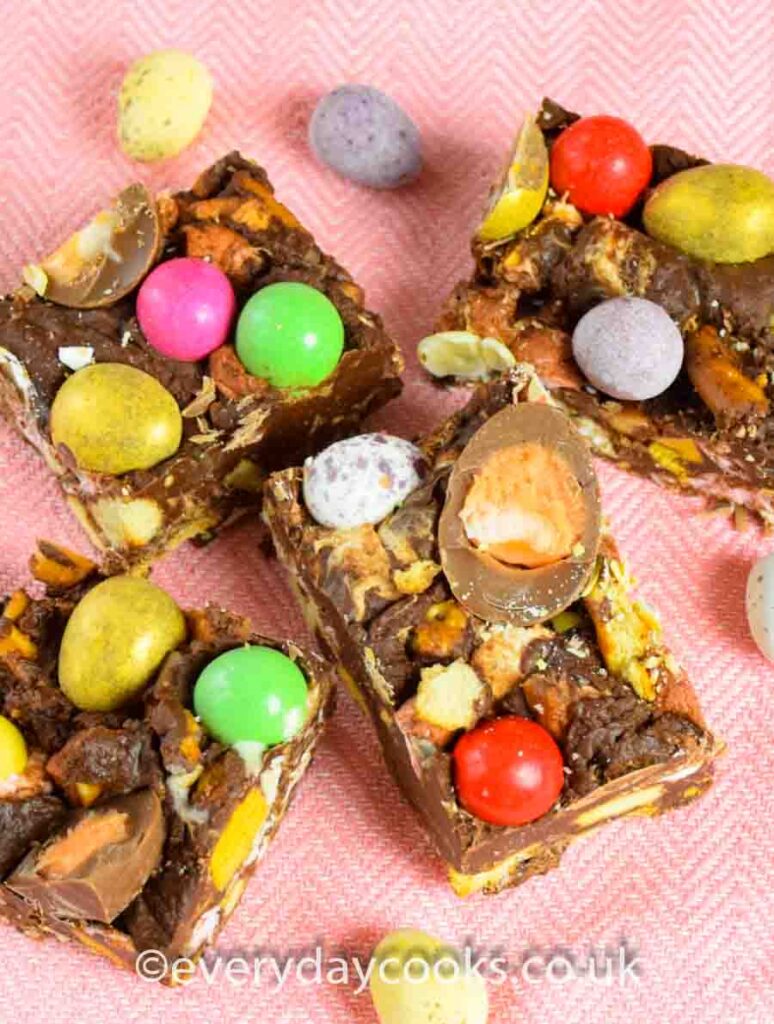 Who doesn't love Rocky Road? Although a relative newcomer to the UK we have embraced all its candy yumminess and love an excuse for making and eating it.
Easter Rocky Road is all about bling
You can be subtle about making Easter Rocky Road with eggs that are chocolate or that look like eggs, or you can be blatant about it and use Smarties eggs in bright colours and Galaxy gold eggs. Sometimes more is more.
Why add biscuits when you want chocolate?
One of my girls used to be (still is?) a bit Rocky Road fan and has made plenty. I asked her if the Rich Tea biscuits were necessary - surely it's all about the chocolate? Her reply was that it made it marginally less sickly so you can eat more. I'm not sure it makes much difference to me. And this is something I will only make at Easter because it is just too tempting.
Use your favourite sweets
So browse the supermarket shelves for your seasonal additions, I used Galaxy Golden Eggs, Cadbury Mini Eggs, Cadbury Mini Creme Eggs, Milkybar Mini Eggs and Smarties Mini Eggs and stuffed as many on as I could.
How do you make Rocky Road gluten-free?
You can make any Rocky Road gluten-free by using GF rich tea biscuits e.g. from Dr Schär, which I've used and which work equally well.
Also check the ingredients on the mini egg packets. In particular, you don't want malted sweets like Maltesers. All the above were GF when I used them.
Helpful Tools
Magic liner – Cut to fit the baking tins and re-use. You can wash it in the dishwasher. Nothing sticks and it doesn't need greasing
Baking parchment squares – Use these if you don't have a liner to fit the tin. They are great for all square baking tins – 20cm or 23cm - and I also put one at the bottom of a plastic storage box before putting cakes etc in.
If you like this…
…Why don't you try: