White Chocolate Brownies are crisp on the outside and squidgy on the inside with a nutty crunch. Eat for afternoon tea or a make-ahead dessert.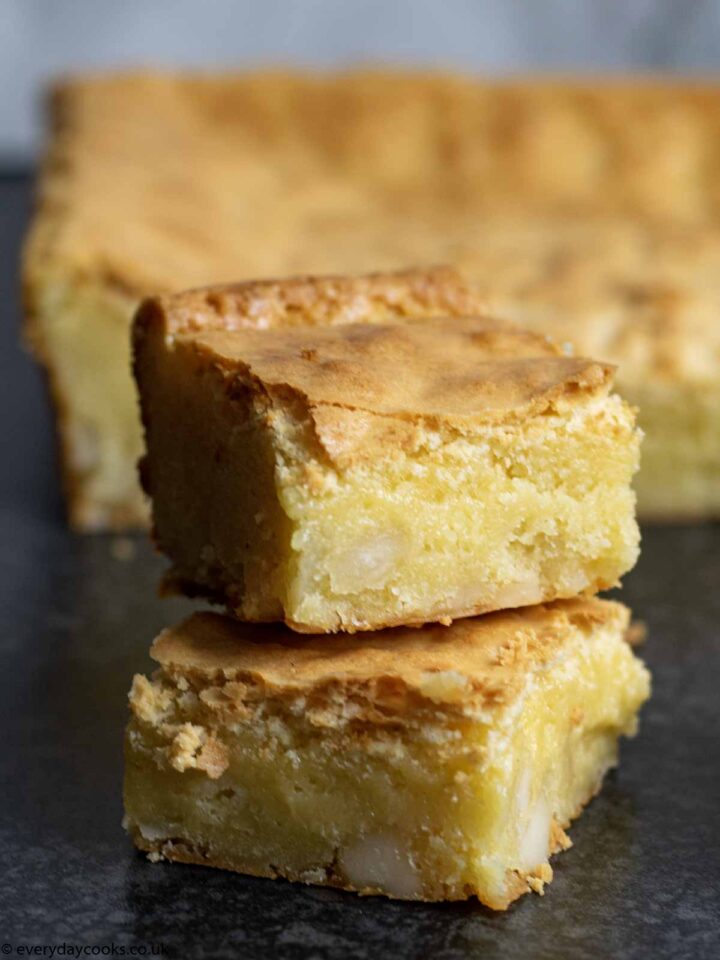 What is a White Chocolate Brownie?
Making Brownies with white chocolate changes the emphasis of flavour. Instead of rich, dark chocolate, you get a sweeter, vanilla custard flavour. They're best served cold from the fridge - delicious if you want a white chocolate dessert to make ahead.
Are White Chocolate Brownies the same as Blondies?
Opinions vary. I believe that originally Blondies had oats in them. It does seem the ideal name for a lighter coloured version of a classic Chocolate Brownie, but not everyone agrees so I'm sticking to White Chocolate Brownies (even though it sounds like a contradiction).
Key ingredients in White Chocolate Brownies
White Chocolate
White chocolate does vary in quality and I really prefer something like Menier Swiss White Chocolate. I also use a supermarket own brand Belgian White Chocolate, which is absolutely fine. TBH, I just prefer eating the Menier.
Macadamia Nuts
There's something special about the combination of macadamia and white chocolate that less dense nuts don't have, but really it's a personal preference.
Vanilla Extract
I always use extract, not essence, as the flavour is better. In white chocolate recipes, the vanilla flavour really comes through, so it's worth using the best you can find.
Ring the changes
If you don't have, or don't like, macadamia nuts, use what you do like. Pecans would be fine. Walnuts might be a touch bitter for the more delicate tones of white chocolate.
Secrets of success
Melting the chocolate
Melting chocolate isn't difficult but you need to be patient and use a low heat. The two golden rules for melting chocolate ina bowl over a pan of hot water are:
Don't let the bowl touch the water (use a large bowl)
Don't let the water boil
Top Tip: Use a clear glass bowl so that you can check that the water isn't boiling.
For step-by-step instructions see How to Melt Chocolate.
How do you know when the Brownies are cooked?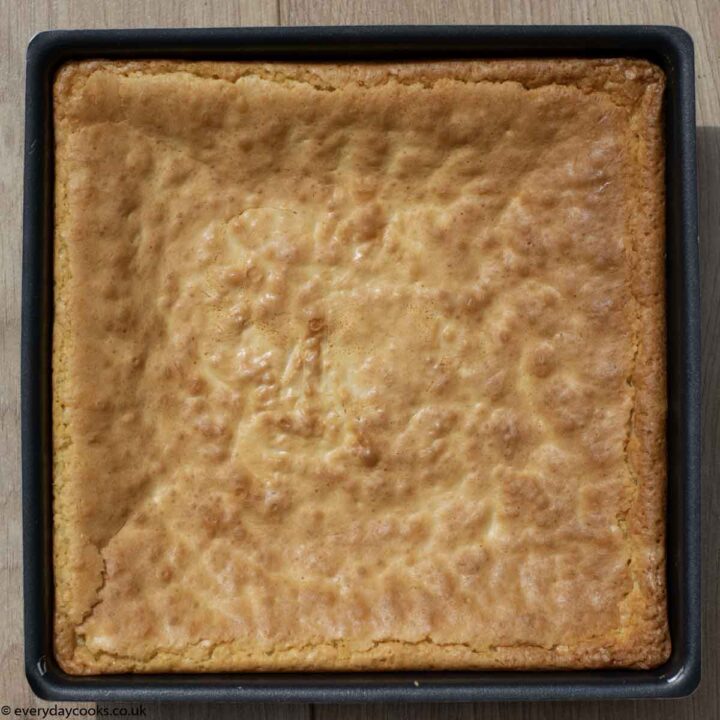 This is the only hard part about making all the different types of Brownie. Bear in mind that the cake will go on cooking in the tin when it's out of the oven and you will be leaving it to cool in the tin, so err on the side of slightly under-done. Look out for the following signs that the cake is cooked:
The top is golden with a speckle
The sides of the cake begin to come away from the edge of the tin
I've tried cooking this Brownie recipe for different amounts of time. 20 minutes gave a very squidgy middle, 35 minutes meant the edges were slightly too cake-y. Partly it depends on your oven and partly how you like your Brownies. For me, the slightly under-done 20 minutes was the most delicious - perhaps too moreish though!
How do you store White Chocolate Brownies?
This is definitely a cake to keep in the fridge and serve cold. The Brownies will keep for a week or two in a plastic box, especially if you keep your fridge very cold (2-3°C).
What else do you need to make Brownies?
A 20cm (8-inch) square traybake tin is one of my favourites and I use it in many of the recipes you'll find here
Baking parchment squares are brilliant for lining tins like this as you only have to run a knife round the edges to get the cake out of the tin easily
Alternatively, I use magic liner for my most-used tins. You cut it to fit, then keep it in the tin to re-use. It washes easily in hot, soapy water or the dishwasher.
If you like this...
...Why don't you try:
Pin for later
Hover over any picture on the page and hit the Save button to pin the image to one of your Pinterest boards.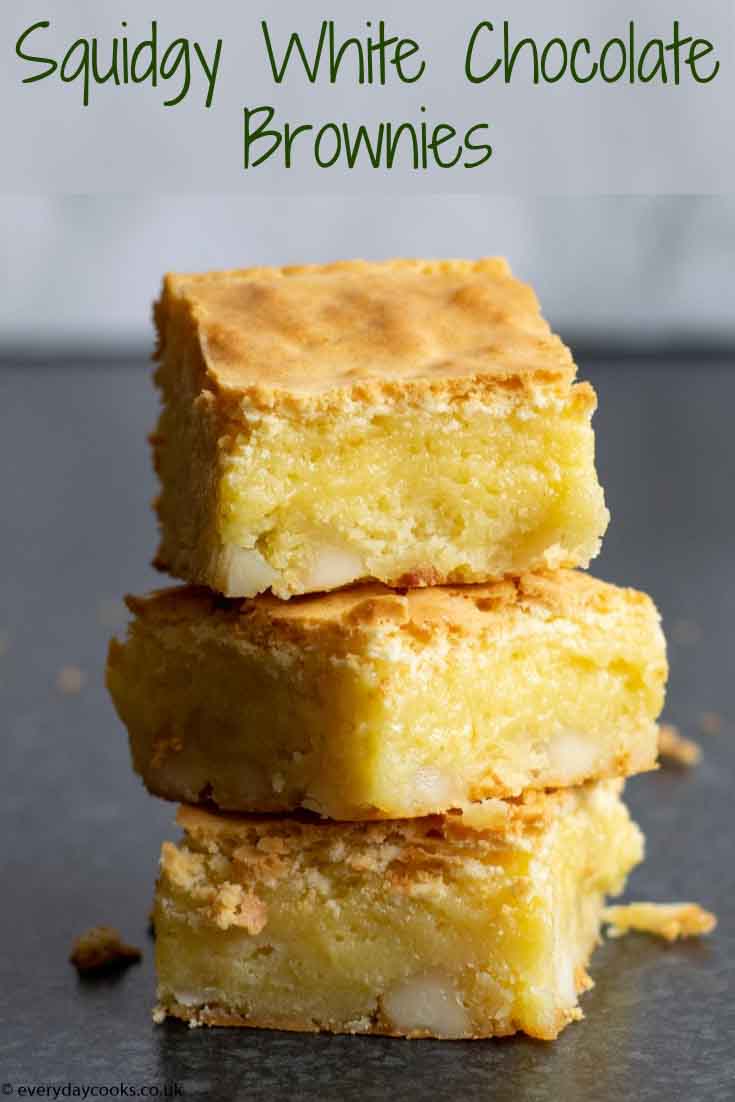 Recipe