When you need a dessert that looks good but is quick and easy to make, try this Easy Strawberry Cheesecake. Only 5 ingredients plus strawberries to decorate, and it's a hit with all ages.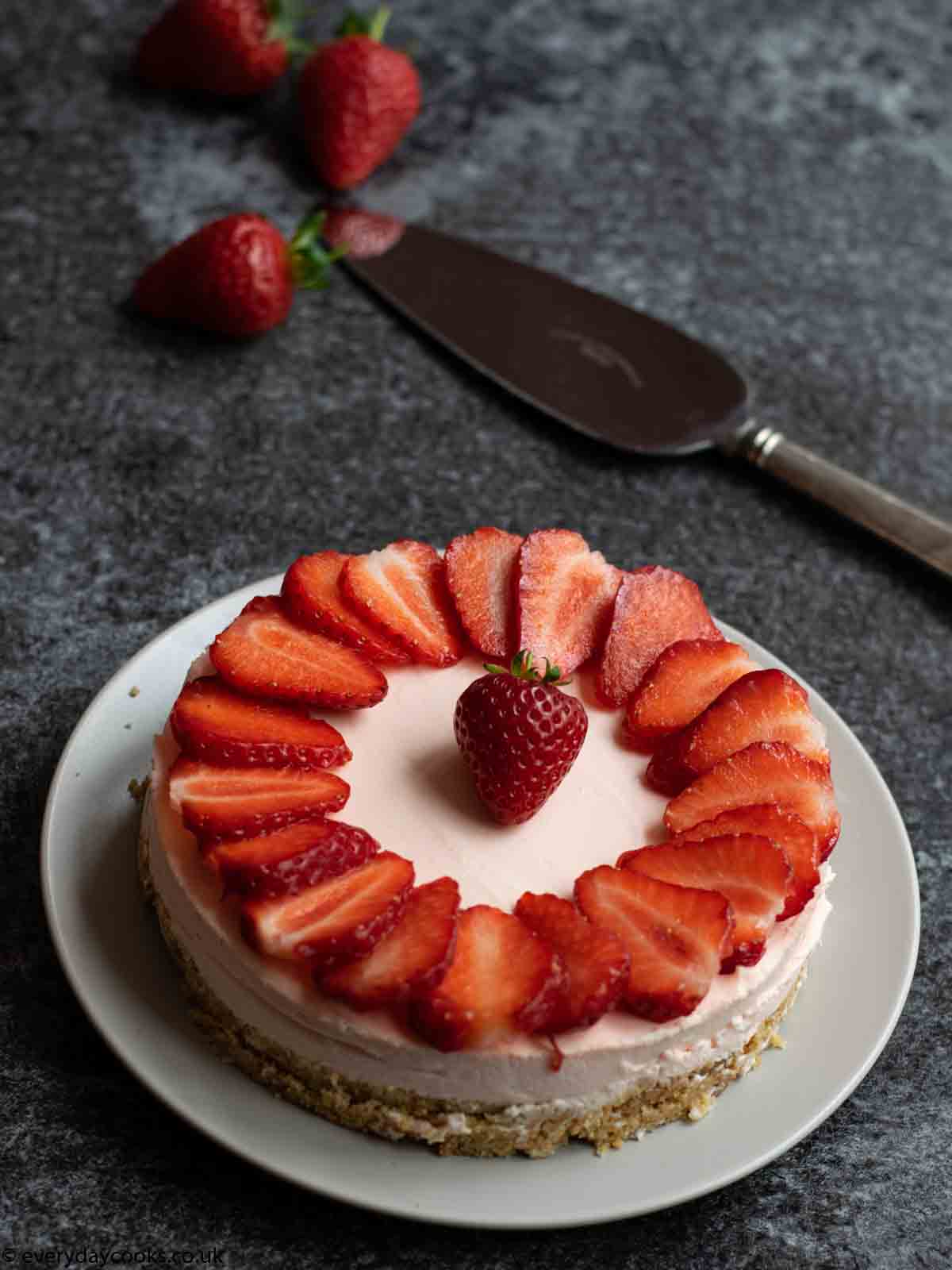 This is a variation on my Easy Lemon Cheesecake recipe, which I love, but suddenly I couldn't buy a lemon jelly. With lots of strawberries in the shops, a Strawberry Cheesecake seemed like the perfect, pretty, pink solution.
Key Ingredients in Easy Strawberry Cheesecake
Strawberry jelly
Yes, this is a cheating recipe. No faffing with gelatine or worrying about whether it will set or not. These days most jellies use natural colourings and don't taste as violently synthetic as they used to.
I don't use low-sugar jellies or crystals, so I don't know how they work. As I don't like the taste of anything low sugar I work on the principle of having smaller portions of the real thing.
Full-fat cream cheese
Yes, It does have to be full fat or you won't get the right texture. If you're looking for a low-fat dessert, a cheesecake is not the answer, I'm afraid.
Ring the changes
Change the flavour of your cheesecake
If jelly flavours are limited, try raspberry. In fact, any flavour would be fine. Lime jelly with kiwi fruit in the winter would be lovely.
Change the size
The original recipe from a friend's mother was for two 15cm/6-inch cheesecakes, which is ideal for the buffet table or for eating on different days. For a small pudding, you could halve the ingredients and just make one.
I often make one 20cm/8-inch cheesecake for friends or family to dinner. Both sizes are equally successful.
Secrets of success
One of the delights of this Easy Strawberry Cheesecake recipe is that it really is easy! There are two points to note:
How much should you bash the biscuits?
First, crushing the biscuits. You want the biscuit crumbs to be quite small so that they absorb the melted butter and stick together BUT you don't want the biscuits to be powdered. Using a rolling pin or meat hammer will give you a variety of sizes and a mix of powder and small pieces (as long as you don't get carried away).
How set should the jelly be?
Second, adding the jelly to the cream cheese/cream mixture. It's easy to leave the jelly to cool too long so it sets. Recently I've only waited for the jelly mixture to be lukewarm. As long as it isn't heating the cream mixture, it's fine. Just chill it for a bit longer once made.
What to do if the jelly has set
If your jelly has started to set, a few seconds in the microwave will help.
Make a gluten-free Strawberry Cheesecake
Gluten-free digestive biscuits work well in this recipe and are available from most supermarkets. Just do a straight substitution. Check that the jelly you use is GF - although I've never come across any that aren't.
Make-ahead tips
You can make just the biscuit base, or the whole cheesecake, the day before. Decorate on the day you're serving so the fruit stays fresh.
How long will it keep?
Keep for 2-3 days in the fridge, but best eaten within 24 hours.
What equipment do you need?
A meat hammer or rolling pin is ideal for bashing the biscuits to make the base
You will either need a 20cm/8-inch shallow round cake tin or 2 15cm/6-inch tins. I do recommend a tin with a loose bottom for cheesecake as it's easier to get out
Lining the tin with a baking parchment circle stops the base sticking without having to grease the tin. If your tin isn't loose-bottomed, do line the base - even if you have to cut out the circle from greaseproof paper or baking parchment.
If you like this...
...Why don't you try:
Pin for later
Hover over any picture on the page and hit the Save button to pin the image to one of your Pinterest boards.
Recipe