Eton Mess is a glorious and colourful mix of meringue, whipped cream and summer fruits. A summer celebration dessert for any time of day.
Although Eton Mess can seem like a nursery pudding, it's a perfect end to a summer lunch. Even better eaten outside in the sunshine.
Key ingredients in Eton Mess
A mixture of berries
At the risk of sounding flippant - you can use whatever you like. My favourite is a combination of raspberries, strawberries and blueberries but you could add blackberries or cherries - or anything that is soft and doesn't leach (like oranges would).
Meringue
The meringue used here has to be crisp and dry, unlike the meringue used in a Pavlova, which is soft in the middle.
If you don't want to make your own, you will find meringue bases in most supermarkets.
Secrets of Success
Eton Mess is so easy to make it hardly needs a recipe - except for the meringue.
What sort of meringue is best in Eton Mess?
There are many types of meringue, although I only use three: a soft meringue for topping puddings, such as Easy Baked Alaska, a Pavlova meringue which is soft in the middle and crisp outside (see Mini Pavlova Nests), or this hard meringue, which is crisp all through.
How long do you cook meringue?
For this type of meringue, you really want to dry it out rather than actually cook it. The best result would be a perfectly white, cooked meringue. My mother used to achieve this by cooking the meringue overnight in a very low oven with the door slightly ajar. Of course, that wasn't a fan oven, so the heat wasn't being blasted straight out into the kitchen.
I compromise for most recipes by cooking meringue on a low heat - 100°C - for about 3 hours (more if needed). The meringue will be very slightly coloured, but I think that's okay. However, if I were making small meringues to be sandwiched with cream, I would set the oven lower and leave the meringues for a lot longer to keep them white. I have to say, though, that mostly I don't go to that much trouble.
How much do you whip the cream?
Tricky, tricky! If you overwhip cream you will get butter. Great if you're 6 and that's the point, not so great for Eton Mess. I do use an electric whisk for cream and I'll start on high, but as the cream starts to thicken I turn the speed down, and down until it's on the lowest setting by the end.
You want the cream to hold its shape, but be soft enough to fold in the meringue and fruit without being so solid that it won't gently coat them. I would call that slightly stiff.
Rescuing overwhipped cream
If the cream starts to go grainy you can often rescue it by adding a couple of teaspoons of milk or unwhipped cream - more if you have a large volume of overwhipped cream - and carefully stirring it in with a spoon.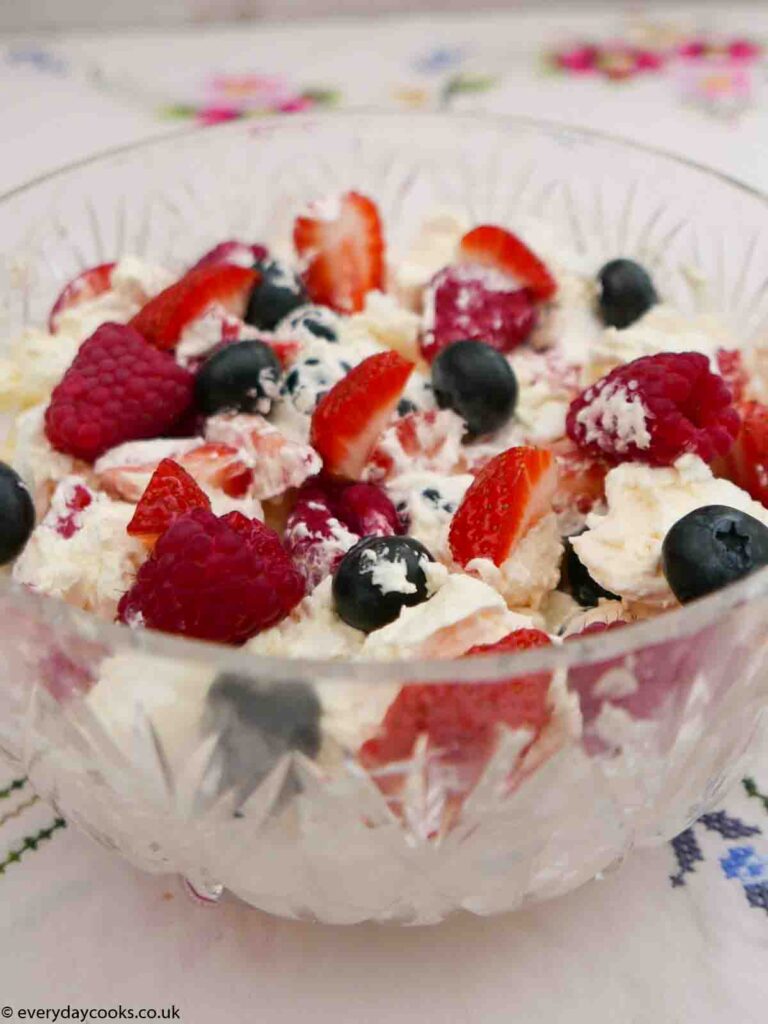 What equipment do you need?
Silicone baking mat - I have recently discovered these mats from Seraphina's Kitchen - and bought a pack of three, which I'm about to repeat as they are so useful. They're non-stick mats, which go in the dishwasher and I've used them for biscuits, pastry and now meringues. No mess, no sticking, no greasing. Brilliant!
If you like this...
...Why don't you try:
Pin for later
Hover over any picture on the page and hit the Save button to pin the image to one of your Pinterest boards.
Recipe