Easy Lemon Cheesecake is a hit dessert at any time of year. On a buffet table, at a party or for a family lunch. Make-ahead for an easy, special no-bake cheesecake.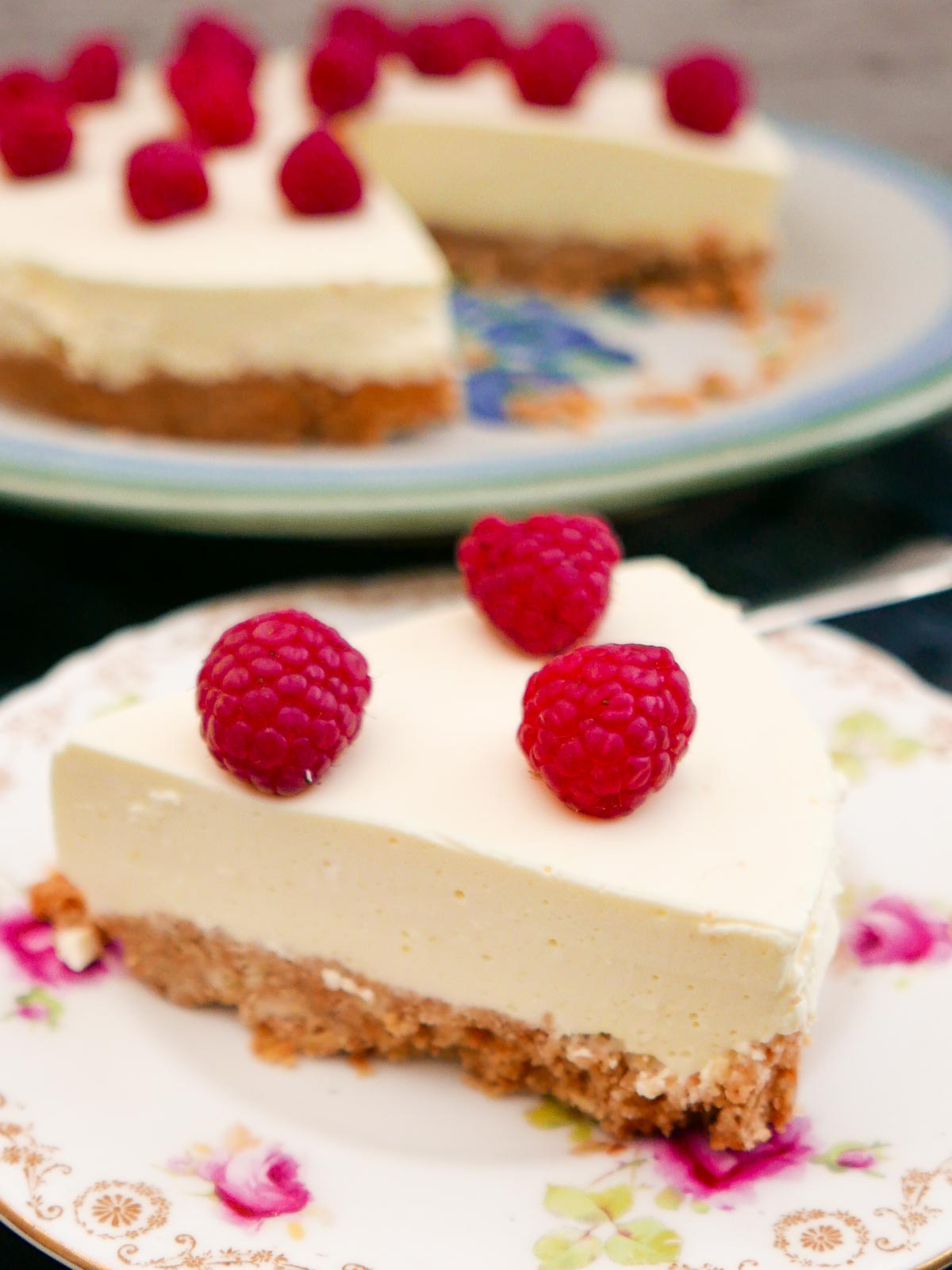 A hit for lunch or dinner that's quick and easy to make!
This easy no-bake Lemon Cheesecake recipe was given to me by a boyfriend's mother - Milly - and in our house, it's always called Milly's Cheesecake.
I'm afraid the original had cherry pie filling as a topping, which was quite the thing at the time, but 30-odd years on I think fresh fruit is a better option.
Key Ingredients in Easy Lemon Cheesecake
Digestive biscuits
The base for this cheesecake is just digestive biscuits and butter. The biscuits need bashing with a rolling pin or meat hammer - a very satisfying excuse for working out any pent-up aggression.
What sort of cheese is in a no-bake cheesecake?
My original recipe gave a choice of cottage cheese, curd cheese or cream cheese. I have tried all three over the years and they're all good, but very different.
Cottage cheese
Using cottage cheese will give a different texture to the cheesecake. I was going to say lumpier, which sounds unpleasant, but isn't. It's the texture of creamy cottage cheese really.
Curd cheese
Curd cheese is hard to get hold of these days. It's lighter in texture than cream cheese, and less creamy, but it's actually my favourite version of this cheesecake.
Cream cheese
Cream cheese is what I mostly use though because it's easy to find and the texture is wonderful.
Lemon jelly
The recipe is simple and quick. It uses a lemon jelly to help it set  - nothing sophisticated there.
If you want to faff about with gelatine (and I don't much anymore), this isn't what you're looking for. If you want a quick and easy lemon cheesecake to please friends and family, look no further.
Using a vegan jelly
Vegan jelly mixes are usually in crystal form, rather than as a slab. They set much more quickly, so only mix up the crystals after (or immediately before) you beat the cream cheese and cream together.
If you find the taste a bit weak and sweet, add the juice of a lemon to the jelly.
What's the best topping for a Lemon Cheesecake?
Raspberries are a beautiful contrast to the pale, lemony cheesecake and in summer they're my favourite.
Blueberries always look good, especially if you can find large ones.
In winter, you could use slices of kiwi fruit or cape gooseberries (or physalis) - those orange berries in a papery case - for decoration.
Secrets of Success
Three things to bear in mind:
Don't let the jelly set. You want it to still be liquid, but not hot. If it starts to st you will get a granular texture - not the end of the world but not as good as smooth
Only make the jelly up to 300ml
You have to use full fat cream cheese - it's a cheesecake.
If you want 2 smaller cheesecakes
The original cheesecake recipe says Makes 2 (in 6-inch tins). I either use a 20cm (8-inch) tin and make one big one, which serves about 10, or I  use 15cm (6-inch) tins to make two.
If you make 2 and you like a thick base you could use 250g digestive biscuits and 125g butter for the base. It's a bit too thick for the larger single cheesecake though.
For this recipe I made a single 20cm lemon cheesecake, so you can get an idea of the size.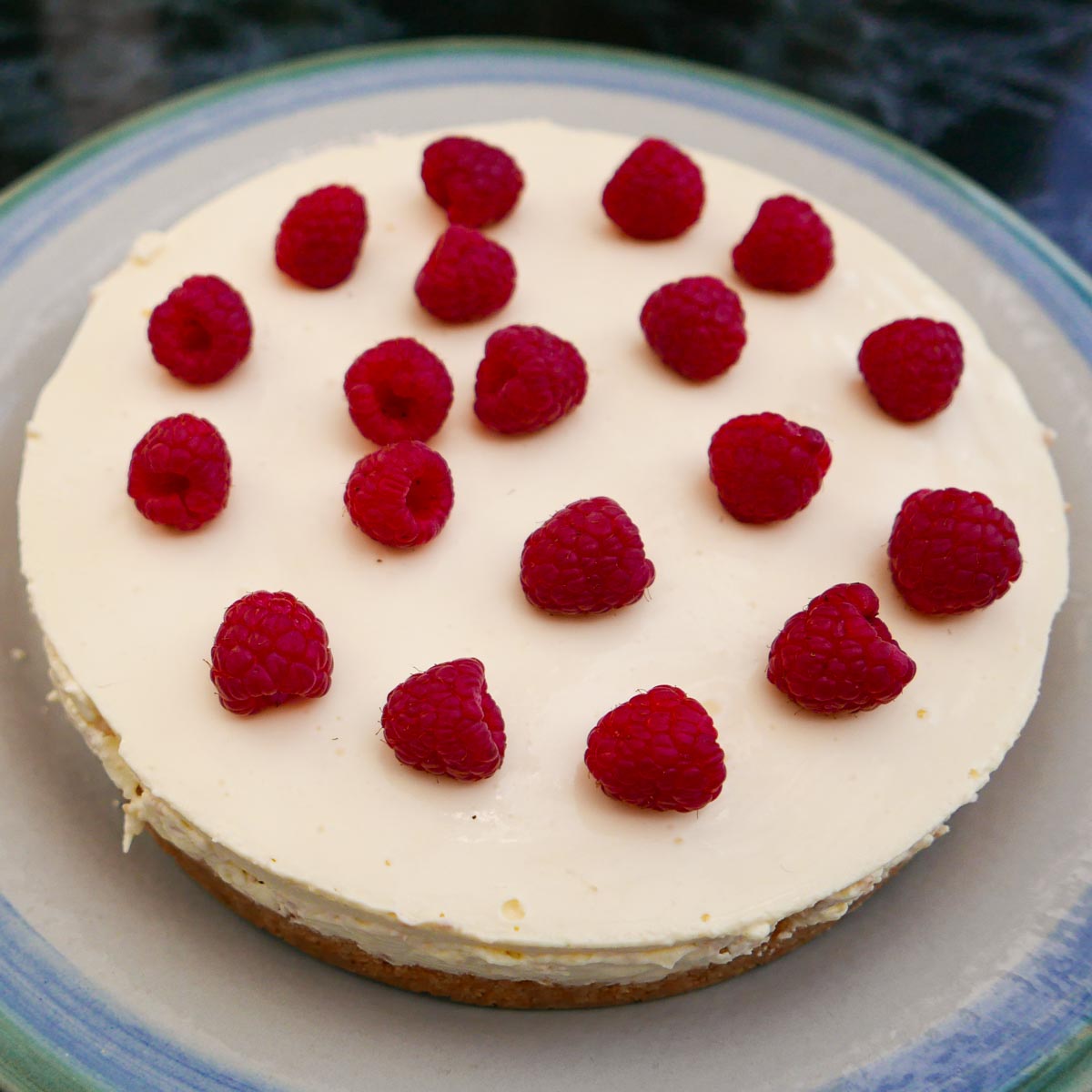 How much can you make ahead?
You can make just the base, or the whole cheesecake, the day before you want it. Just add the fresh fruit on the day.
How do you make Easy Lemon Cheesecake Gluten-Free?
You can make the base with gluten-free digestives which work well if you have someone with coeliac to feed.
Buffet warning - don't let it linger in the heat
As with all such desserts, this cheesecake is full of cream and soft cheese, so don't leave it on a buffet table for hours in the heat. It's better to bring it out just before you want to eat it.
What else do you need to make Easy Lemon Cheesecake?
20cm shallow round cake tin - Useful for cakes or puddings, I prefer one with a loose bottom - so much easier to get this cheesecake out!
Baking parchment circles - Line the tin with this and the base doesn't stick plus there's less mess. I bought a pack in mixed sizes some years ago and it's still going strong.
If you like this...
...Why don't you try:
Pin for later
Hover over any picture on the page and hit the Save button to pin the image to one of your Pinterest boards.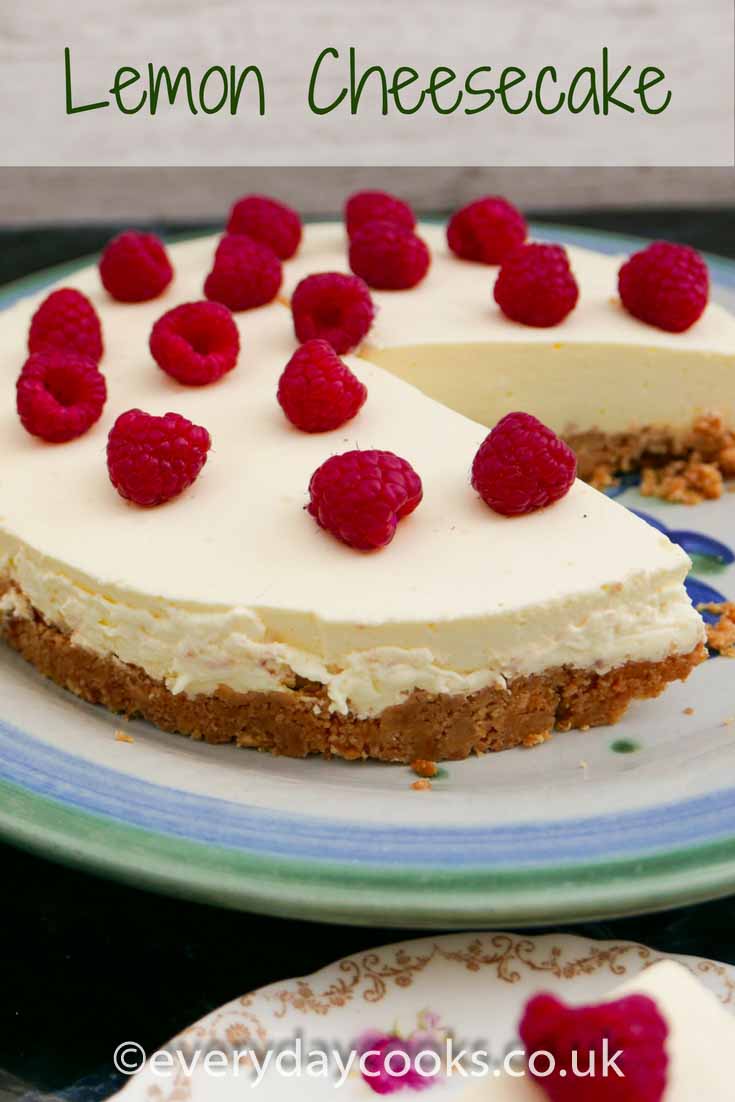 Recipe