Homemade Custard using a food processor or blender is a revelation. It tastes delicious, it isn't difficult to make, and it isn't bright yellow! Modern kitchen tech banishes lumpy custard forever.
Custard is one of those basic recipes that most of us have either never made, or have forgotten how to make. This easy custard recipe is almost foolproof, unlike the custard or crème anglaise recipes of my mother's day.
I grew up eating custard made with Bird's Eye custard powder, although I didn't particularly like it. Once I realised that the real thing is mostly milk, eggs and sugar, and that a simple stick blender removes any lumps, homemade vanilla custard became a regular fixture in my repertoire.
Versatile custard
You can eat custard hot or cold. You can make a thick custard to spoon out or keep it thinner for a pouring custard. Once you've mastered the basic technique, branch out and make your own egg custard for a Sherry Trifle or as the basis of a Christmas Ice Cream Pudding.
Key ingredients in Custard
Whole Milk
For the creamiest custard, use whole milk. Semi-skimmed will work too, but the flavour and texture won't be quite as luxurious. For an extra creamy custard substitute 50ml cream for milk.
Medium or large eggs?
In the UK medium eggs weigh 53-62g in the shell and large eggs are 63-72g. I use the largest medium eggs I have, or the smallest large eggs (and yes, I do weigh them).
Cornflour
If you're a purist you wouldn't use cornflour, but this is about making a tricky recipe easy. The cornflour helps with thickening and binds the eggs and milk to prevent curdling.
Ring the Changes
This recipe is for vanilla custard, but you can add rum or brandy for a special accompaniment, e.g. with Christmas Pudding.
Although I wasn't fond of custard with other desserts as a child, my favourite pudding was Banana Custard - just slice 1 banana per person into the custard.
Serve it cold
If you want cold custard for a pudding such as a trifle, you need to cool the custard enough to pour or spoon it into the dish. You don't want the custard so cold that it sets and breaks up as you spread it.
The easiest way to cool the custard is to put it into a large bowl in a sink of cold water. It will take about 15 minutes. If you want it to set, put it in the fridge for an hour.
Secrets of Success
How to thicken custard
You thicken custard by heating it in a saucepan, which sets the eggs. There are two secrets of success:
Don't heat it too quickly. Start with a LOW heat and turn it up to find the setting that works for your hob.
Don't be afraid of increasing the heat if it's not thickening. I once spent half an hour waiting for it to do nothing. You should only need 2-3 minutes for pouring custard, 4-5 minutes for thick custard at the right heat.
BUT, if the custard cooks too quickly it will clump and be lumpy.
Keep stirring. Otherwise, the custard will set at the bottom of the pan and be lumpy.
However, lumpy custard is not the end of the world:
How to fix lumpy custard
Lumpy custard is a doddle to fix with any sort of kitchen whisk or blender. I prefer a stick blender for this, which protects the saucepan and removes lumps from white sauce as well as custard. It transforms this: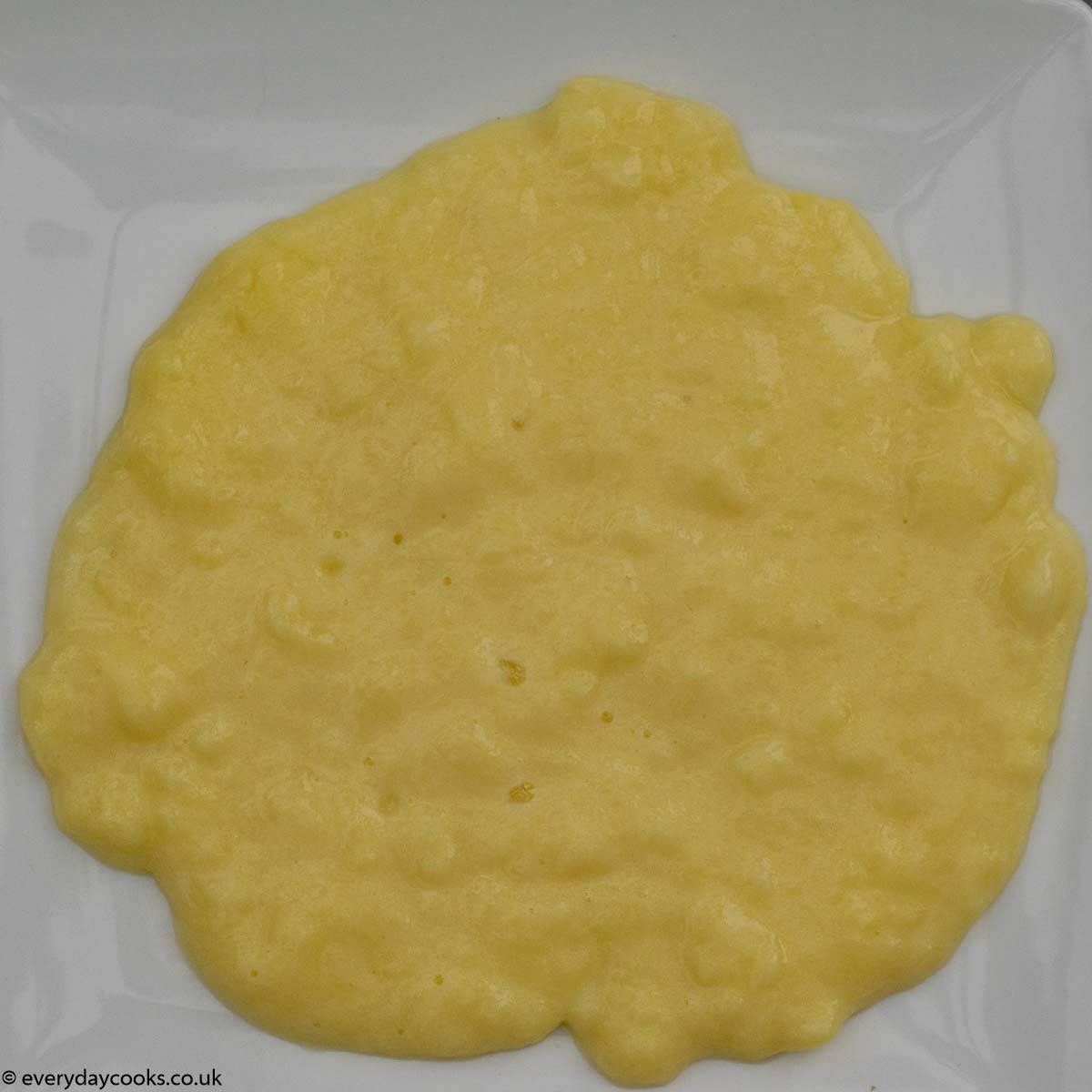 Into this: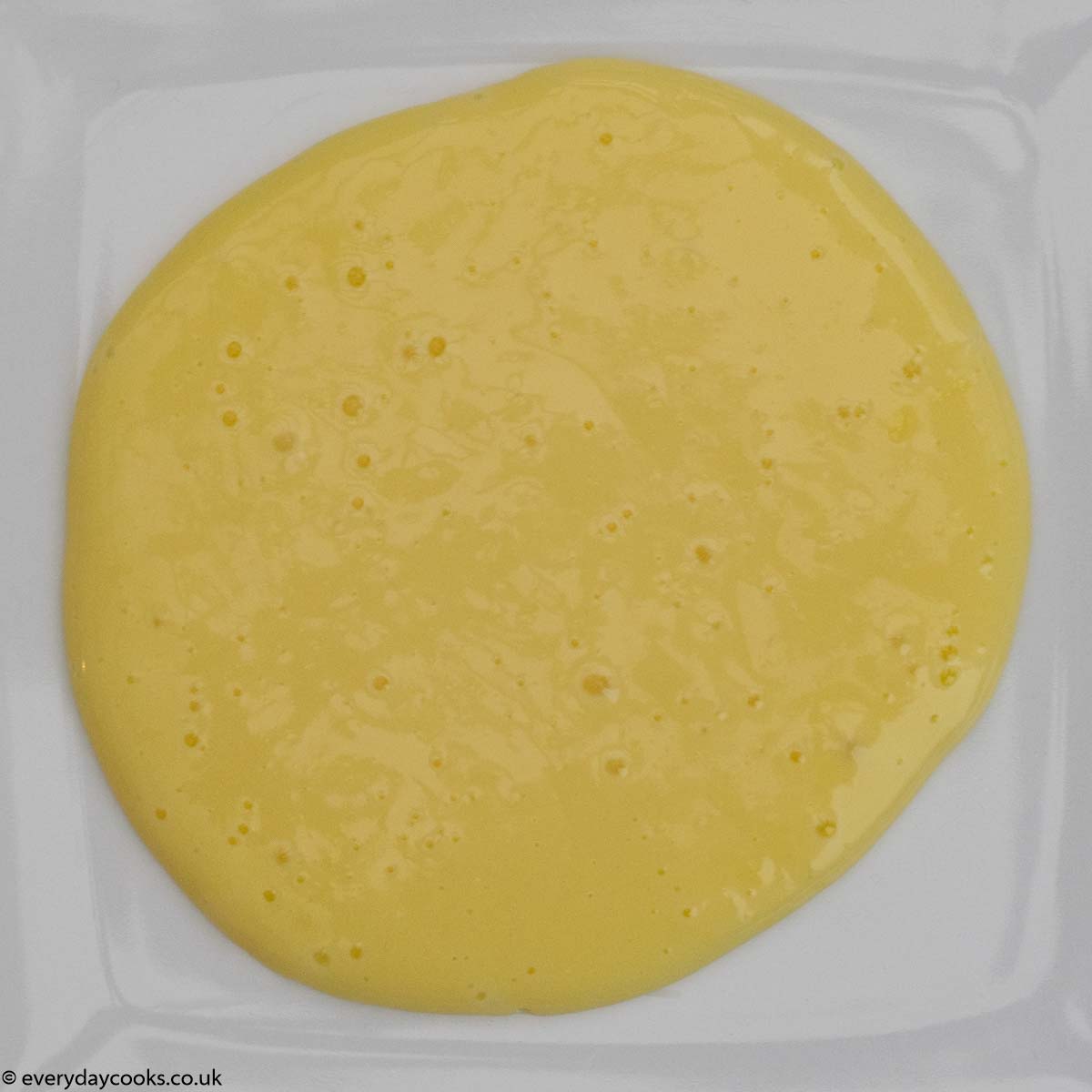 Make Custard Gluten-Free
To make gluten-free Custard, check that your cornflour is produced in a GF environment. Cornflour itself is fine, but it may be contaminated in the factory.
How long does Homemade Custard keep?
Cover the custard and keep in the fridge for up to 5 days.
What else do you need to make egg custard?
Stick blender - Invaluable in making all sorts of sauces which might curdle. As well as custard use it for perfect White Sauce or Cheese Sauce. This is one piece of my essential kitchen equipment - I even take it on holiday - and a basic one is quite inexpensive.
If you like this...
...Why don't you try some other basic recipes:
Pin Homemade Custard for Later
Hover over any picture on the page and hit the Save button to pin the image to one of your Pinterest boards.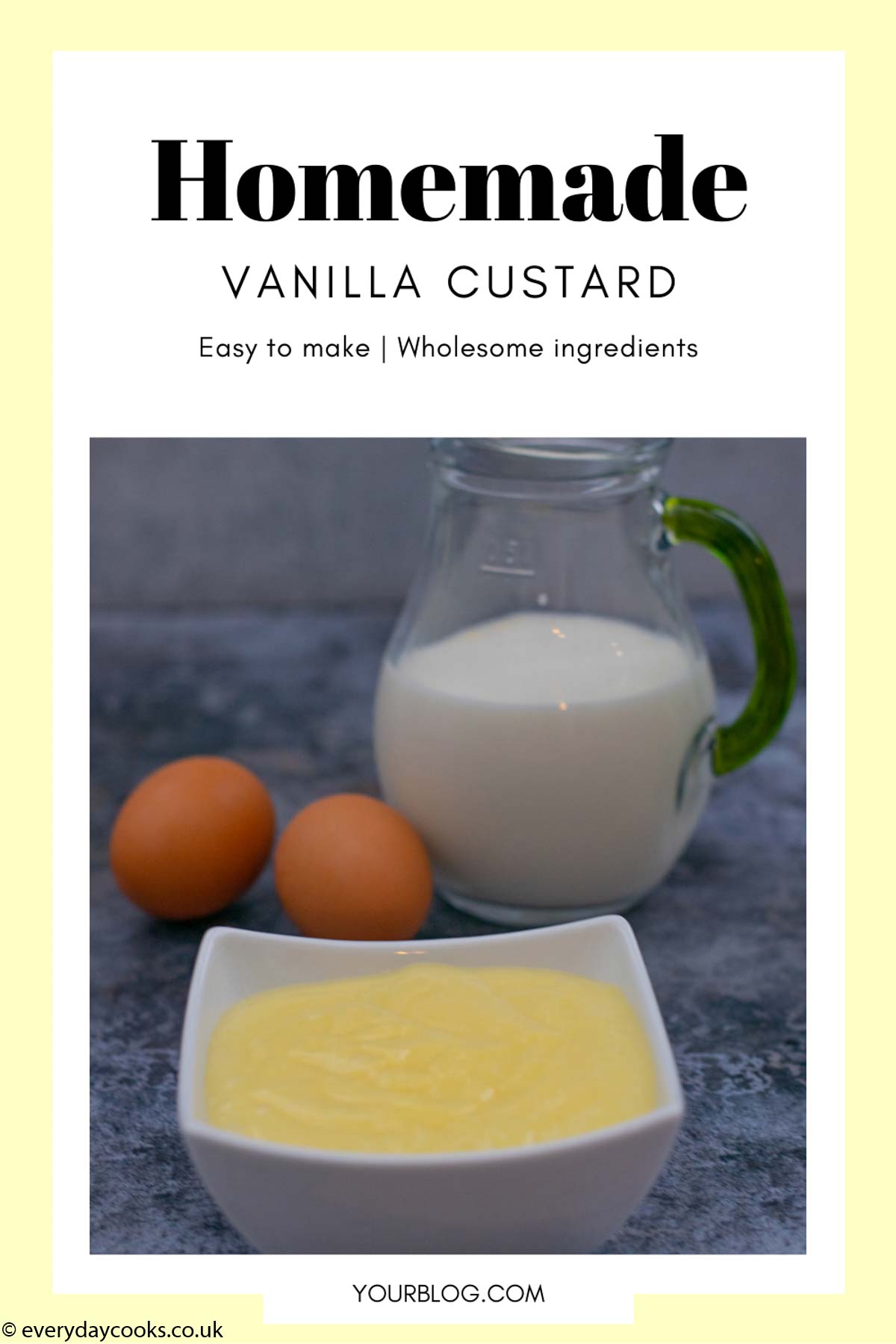 Recipe