When you want an easy summer dessert, try this easy fresh Strawberry Mousse recipe. It's full of strawberries and no fiddly gelatine.
I've usually made this as a lemon mousse, but when I couldn't buy lemon jelly, I used strawberries and a strawberry jelly instead to make a Strawberry Mousse. (Or strawberry mouse as one of my friends insists on calling it.)
What makes this an easy fruit mousse?
It's easy because I cheat! A mousse need something to help it set. It could be egg whites (which I use in Easy Chocolate Mousse) or gelatine, which is fiddly to use. This is an eggless mousse using a jelly to make it set.
Key ingredients in Easy Strawberry Mousse
Only four ingredients in Strawberry Mousse plus boiling water:
A recipe to use up strawberries
In a summer when fresh strawberries are cheap and plentiful, it's easy to buy too many. I have to plead guilty to this, but I do have a few easy recipes for strawberry desserts to use them up! (Try Strawberry and Rhubarb Crumble.)
Your strawberries need to be ripe - slightly over-ripe doesn't matter as the flavour will be better
A jelly mousse
You need something to make the mousse set. Instead of gelatine, I use a strawberry jelly. The resulting mousse doesn't taste overpoweringly synthetic because there's a load of fresh strawberries in there too.
Condensed Milk
An unusual ingredient, it's there to add smoothness and sweetness and, basically, it's just easier and quicker than whisking eggs and sugar.
Cream
You need double cream for mousse dessert recipes. No apologies, it tastes great.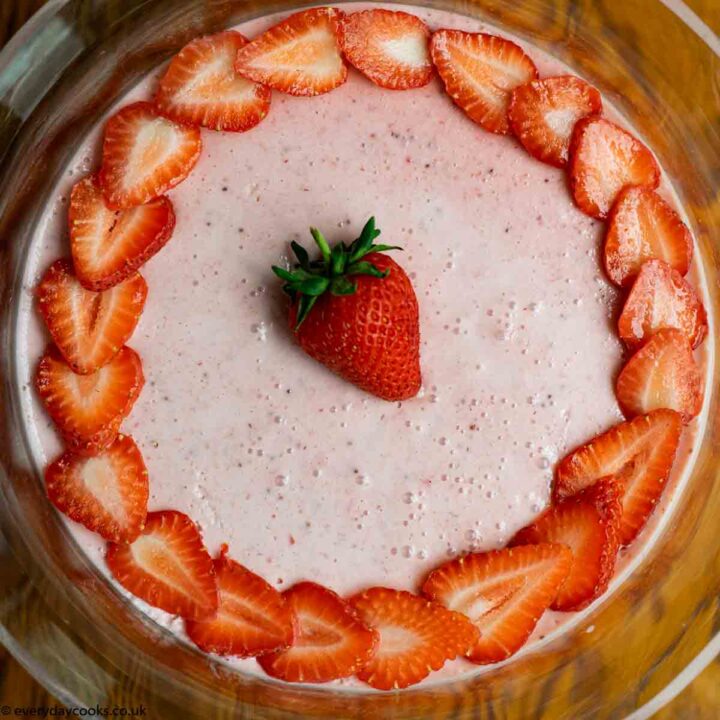 Ring the changes
Make individual portions
Use six dessert glasses, tumblers or wine glasses for individual portions of Strawberry Mousse, layered with fresh strawberries
Try raspberries instead
You can almost get away with only one fruit mousse recipe and just change the fruit, especially berries. Raspberry Mousse is definitely a winner. Lemon Mousse is a bit different to make, but the same principle.
Secrets of success
Although really all you do is whizz up the ingredients in a food processor, there are a couple of points you need to watch:
Dissolve the jelly
Let the jelly stand in the hot water for a couple of minutes so that it can start to dissolve before you add the strawberries. The mousse will still set if you forget, but it might have the odd tiny piece of jelly in it.
Cool the fruit jelly until almost set
Ideally the strawberry/jelly mixture will be getting thick but not firm when you add the condensed milk and cream. If you let the jelly set too long, you can warm it slightly in the microwave or warm water to loosen it up.
Is Strawberry Mousse gluten-free?
Yes, it is. You could check the jelly ingredients, although I've never seen one with gluten in it.
Can you make a fruit mousse ahead of time?
You can make the mousse the day before you want to eat it.
How long will it keep?
Leftovers keep in the fridge for up to a week.
What equipment do you need?
You do really need a food processor or blender for this recipe to puree the fruit.
If you like this...
...Why don't you try:
Pin for later
Hover over any picture on the page and hit the Save button to pin the image to one of your Pinterest boards.
Recipe