Easy Chocolate Mousse uses only three ingredients for the richest chocolatey taste. Optionally add some brandy for a really decadent dessert.
I love an easy Chocolate Mousse. I've made a few in my time that aren't easy or quick, but this one is. However, it does require three basic cooking skills:
1. Melting chocolate
There are two ways to do this - in the microwave or over a pan of simmering (at most) water. The details for both methods are in How to Melt Chocolate and the key points are:
Using the hot water method:
Don't let the water boil
Don't let the bowl of chocolate touch the water
Using the microwave:
Don't try to do it quickly. Maybe 1 minute for the first blast if you've got a lot of chocolate, but usually 30 seconds. Have patience.
2. Whisking egg whites
I prefer an electric hand mixer, but a balloon whisk is fine - it just takes longer. I only use a stand mixer for egg whites when I've got a lot and I'm whisking them to a stiff peak (see below).
Do not let any egg yolk contaminate the whites or they will not whisk up.
There are three stages of egg white whisking:
Soft Peak
When you lift the whisk out of the bowl an turn it to the side (horizontal) the egg white sticks and forms a peak which quickly falls over. That's what we need for this mousse.
Medium Peak
Here the peak falls over about half-way.
Stiff Peak
The peak stays stiff and doesn't fall over - this is what you want for meringues.
3. Combining whisked egg white with other ingredients
Two rules to follow here for successfully combining two mixtures:
Add cooler ingredients to warmer
In this case, add the cooler egg whites to the warmer (but not hot) melted chocolate mix
Combine elements with the same texture
The whisked egg whites will have a looser texture than the chocolate/egg yolk mix. To give a smooth finished texture they need to be fairly similar so you need to 'slacken' the chocolate mixture by whisking in some of the whisked egg white (typically a quarter to a third of the total). Then the two elements will be fairly similar and folding in with a metal spoon will be easier.
Remember the point of folding in: to keep the air you've whisked into the egg whites in the finished mousse.
Helpful Tools
Kenwood Hand Mixer – Makes light work of whisking egg whites. My new one is a 350W model and it's a joy to use - it's brilliant for everything, but I also have a 150W model that I take on holiday (sad, I know) and that's all you need for egg whites, sauces, and the odd cake
Oxo Balloon Whisk - This is the best type of hand whisk for egg whites and sauces. Metal is best for eggs, although a silicone balloon whisk is good for sauces and non-stick pans.
If you like this...
...Why don't you try:
Pin for later
Hover over any picture on the page and hit the Save button to pin the image to one of your Pinterest boards.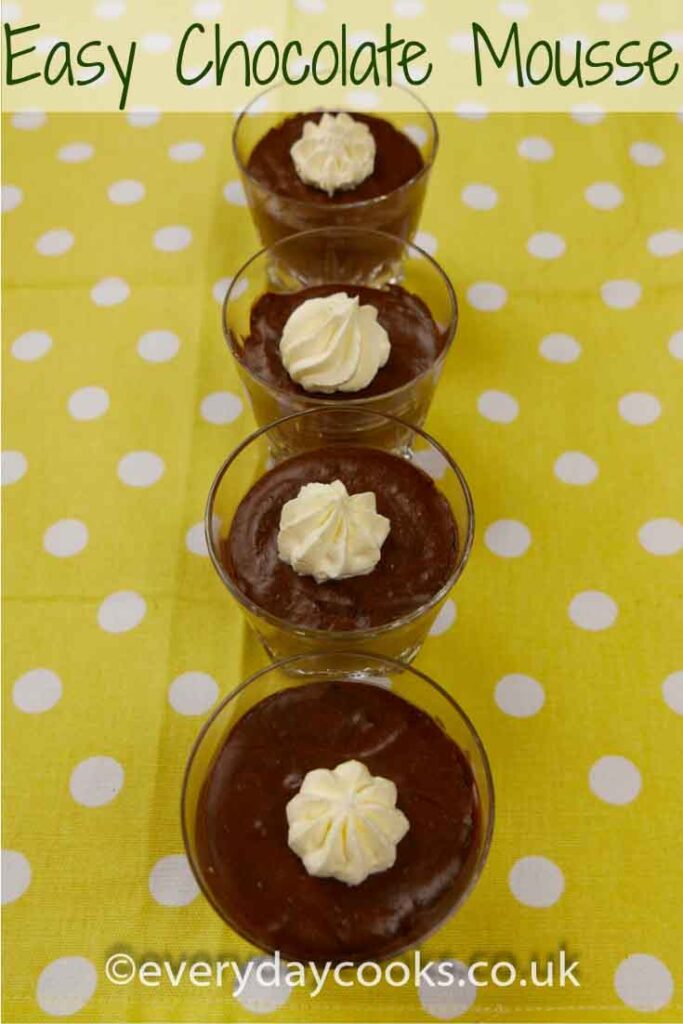 Recipe