White Sauce, also called Bechemal Sauce, is the basis of many meals - including the popular Mac 'n' Cheese. This easy method is virtually foolproof.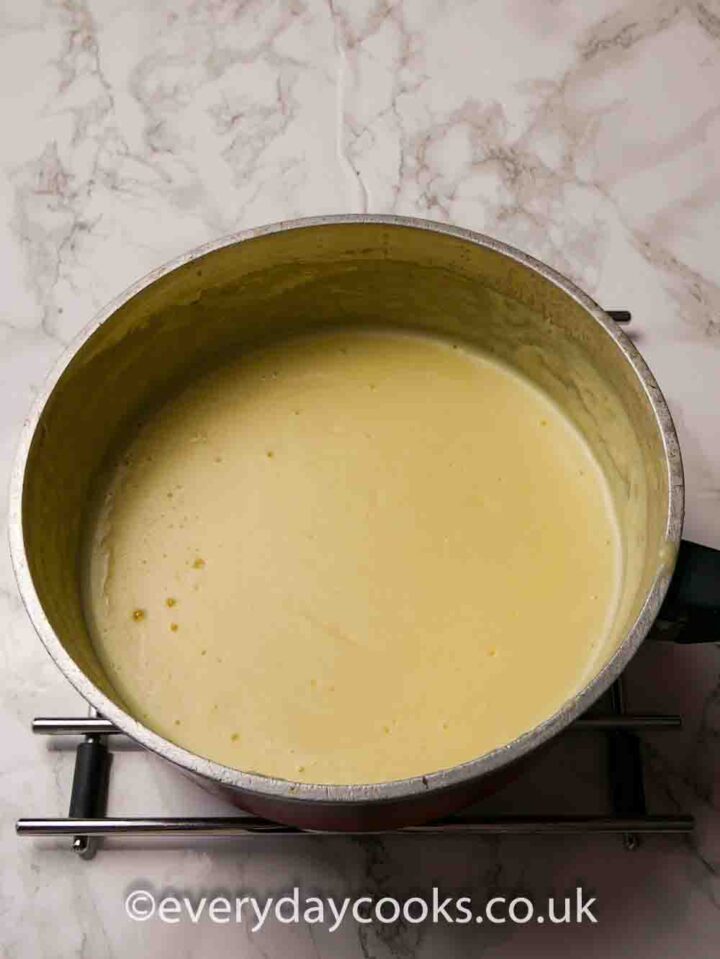 If you want to cook, you need to master making White Sauce. Once you have, you'll find it quick and easy to make and it will always be successful (unless you leave it to burn).
White Sauce still has a reputation for being hard to make. In particular, it can be lumpy. But that view is totally outdated because these days we have techniques and gadgets to ensure a smooth sauce.
Key Ingredients in White Sauce
Flour
Plain flour is what you need. Although it's called a White Sauce, you can use wholemeal flour to add some fibre. My family never really noticed when it's got cheese in too, but if I'm serving White Sauce without any strong flavouring, I use white flour.
Butter
You get a better flavour with butter. Use margarine if you must, but not an easy-spread or low-fat variety. They don't have the body to keep the sauce together.
Milk
I prefer whole milk, i.e. full fat, because the flavour and texture are better. You can use lower-fat milk though, especially semi-skimmed.
Secrets of Success
How is this method easy and foolproof?
Here are my secrets of success with white sauce:
Heat the milk first
If you heat the milk first, you aren't adding a cold liquid to a hot mixture, so it's less likely to be lumpy in the first place. It also reduces the time it takes to make the sauce.
Either heat the milk in the microwave - for about 8-10 minutes, depending on your microwave - or use a saucepan and heat it while you prepare the roux.
Make a roux
A roux is the french name for the butter and flour mixture that is the basis of your sauce. Melt the butter, stir in the flour and cook for 1-2 minutes. Don't have the heat too high because you don't want to dry it out.
Add the hot milk in stages
Ideally, the roux and the milk are the same temperature. Add about a quarter of the milk initially and stir well with a wooden or silicone spoon. You will then have a solid mixture.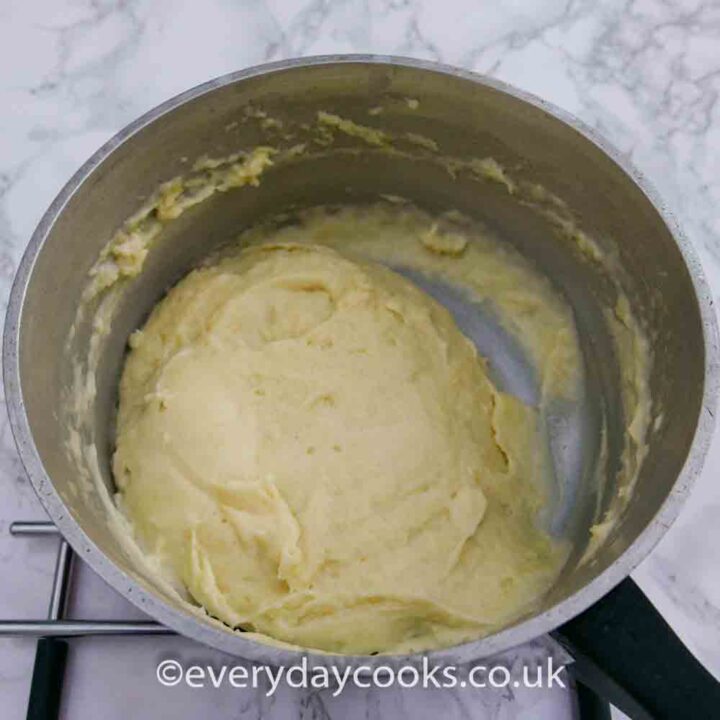 Add the milk in three more stages, stirring vigorously each time until you have the consistency that you want.
Use the right equipment
If you start to get lumps, often all that's needed is a balloon whisk, in particular a silicone whisk which won't scratch your non-stick pans. I also like to use a silicone spoon for mixing the sauce.
If you want more help, you need a whizzer, which is really called a stick blender. If you don't have one, then I suggest you buy one now so that you can start making lump-free sauces. A basic model is quite inexpensive, but I feel it's a real kitchen essential. Amazon have plenty to choose from.
The stick blender will rescue any lumpy sauce that looks beyond redemption, including custard.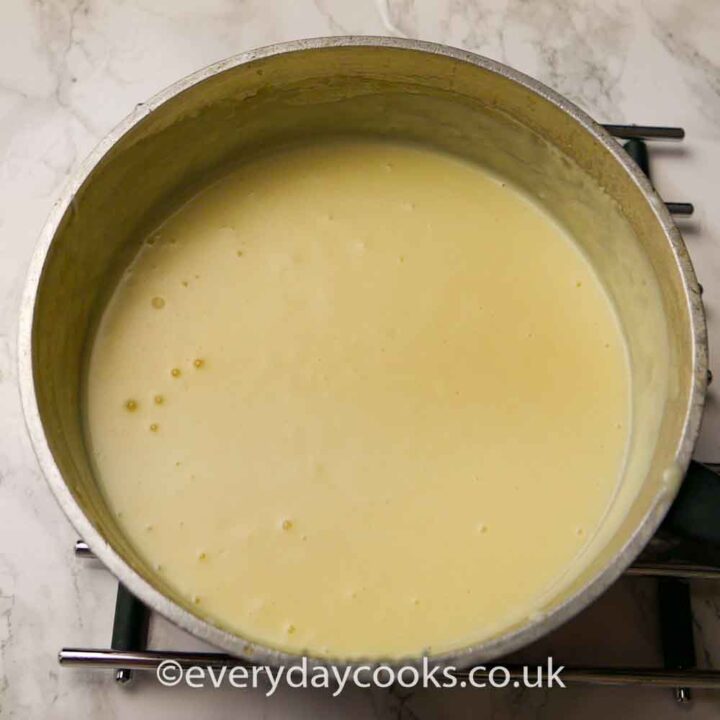 What can you make with White Sauce?
White Sauce is a funny thing. It's a really important recipe to master, but you rarely use it as it is. Perhaps over a whole cauliflower with a roast dinner? However, add some cheese and you can make a whole range of dishes.
You can add boiled eggs, pasta or cauliflower to Cheese Sauce for an economical, warming meal. It's also the basis of Tuna Pasta Bake or layer the cheese sauce with a basic Bolognese sauce to make Lasagne. If you yearn to make a Cheese Souffle, you start with Cheese Sauce.
I have even been known to cook cheese sauce for my dogs when they aren't eating very well. Pasta with cheese sauce goes down very well - if you're a greyhound anyway.
If you like this...
...Why don't you try:
Recipe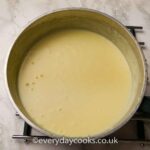 Print Recipe
White Sauce
White Sauce (or Bechemal Sauce) is the basis of many other dishes. This method is virtually foolproof
Ingredients
1

litre

milk

full-cream is best

100

g

butter

100

g

plain/all-purpose flour

see note

Salt and pepper to taste
Equipment
Instructions
Preparation:
Heat the milk in a microwave or saucepan
For the White Sauce:
Melt the butter in a large saucepan over a medium heat

Add the flour, stir in, and cook for 1-2 minutes. This is the basis of the sauce called a roux

Add about a quarter of the milk and stir well as it all starts to bubble. As it begins to bubble the mixture will come together

Once you have a solid mixture add the next quarter-litre of milk and repeat. The mixture will still be quite solid

Repeat with the third quarter-litre of milk. By now the sauce will be less solid

If it's lumpy, use a stick blender or silicone whisk to smooth it out

Repeat step 5 with the last quarter-litre of milk. You will now have a beautiful White Sauce - or Bechamel Sauce

Add salt and pepper to taste. If you are making a cheese sauce, wait until the cheese is in before adding salt (some cheese is salty).
Notes
Flour: You could use wholemeal flour to add some fibre. It changes the colour, but my family never noticed (or commented, anyway).