Macaroni Ham and Cheese is creamy and substantial. It's the perfect comfort food for any time of year, but especially on a chilly day. Add a salad and you have a super easy meal that suits the whole family.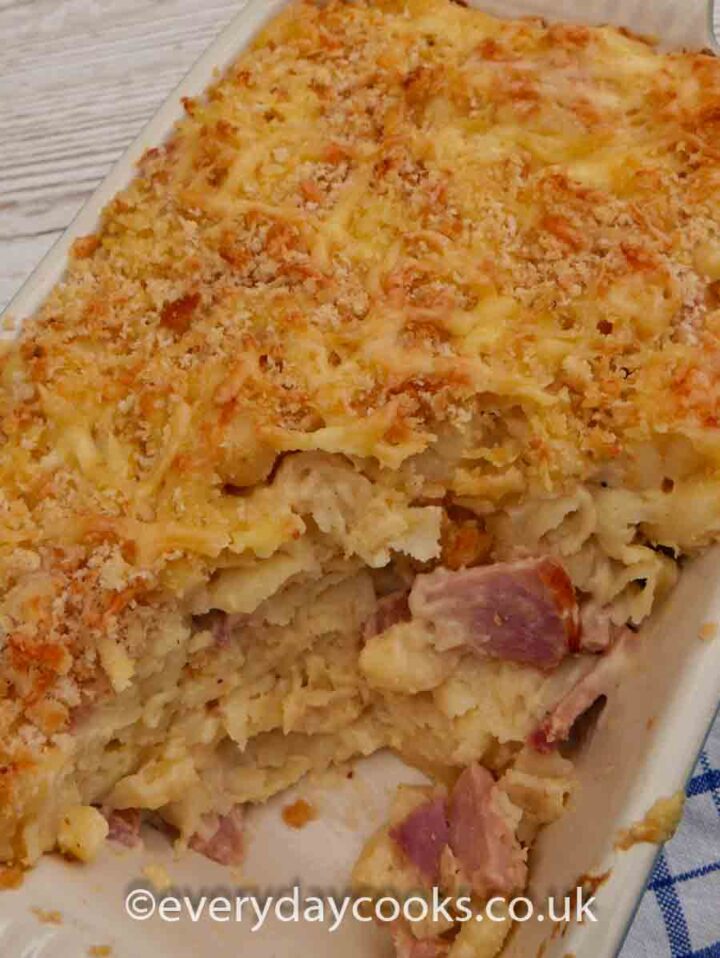 The addition of chopped ham turns a Macaroni Cheese into a hearty main meal. This recipe is a slightly luxe version as it uses some evaporated milk. If you don't have any, you can use all ordinary milk. Just don't use condensed milk - it's sweet!
Versatile Cheese Sauce
This is another reason for getting to grips with making Cheese Sauce. If the idea of making it is daunting, see my Foolproof Cheese Sauce recipe and method. It's the same as this recipe but in more detail. Once you've mastered that the possibilities are endless.
And if you have teenage children, Cheese Sauce is one of the basic recipes they should know before leaving home. You know that they'll never be short of a cheap, filling meal. (Another is One-Pot Mince and Pasta.)
Adding breadcrumbs to the topping
Well, it makes a change and adds a bit of crunch. It's also an ideal way to use up the end of a loaf of bread. Grate the lot - preferably in seconds in the processor - and freeze in a plastic bag to use when you need them.
You can buy breadcrumbs, but I can't bring myself to do it. Partly because I like to know what I'm eating and there must be some sort of preservative in bought ones? And partly because I always have bread. Anyway, if you have them, use them. And, really, I'm not judging you. I know what it's like to just buy it because it's easier. (It's even easier to just not bother to add them.)
BTW, the main difference between panko and standard breadcrumbs is that panko is made from bread without a crust - some special way of cooking it. So I'm not quite sure what the hype is, but as I haven't tried it, I can't really judge.
Spice it up?
If you like, you can add a little cayenne pepper to spice up your Macaroni Ham and Cheese - or maybe some chopped chillis? I shan't be doing this as Keith doesn't like hot food, but when he's away...
HELPFUL TOOLS
Microplane spice mill for grating nutmeg – I use a lot of grated nutmeg, especially in Cheese Sauce and egg dishes, and it's one of the few spices that I bother to grate myself because it's easy and tastes much better fresh. I've used a small hand-held nutmeg grater for years, but I recently upgraded to a Microplane spice mill. What a difference it makes!
If you like this...
...Why don't you try:
Recipe