One-pot Mince and Pasta
I know. Mince and Pasta doesn't sound the most appetising dish in the world. But this, for me, has been a life-saver. Everything is in my store cupboard apart from the mince and onions (but there are always onions in the fridge or freezer). Take the mince out in the morning to defrost (or help along with hot water and the microwave if it's a last-minute meal).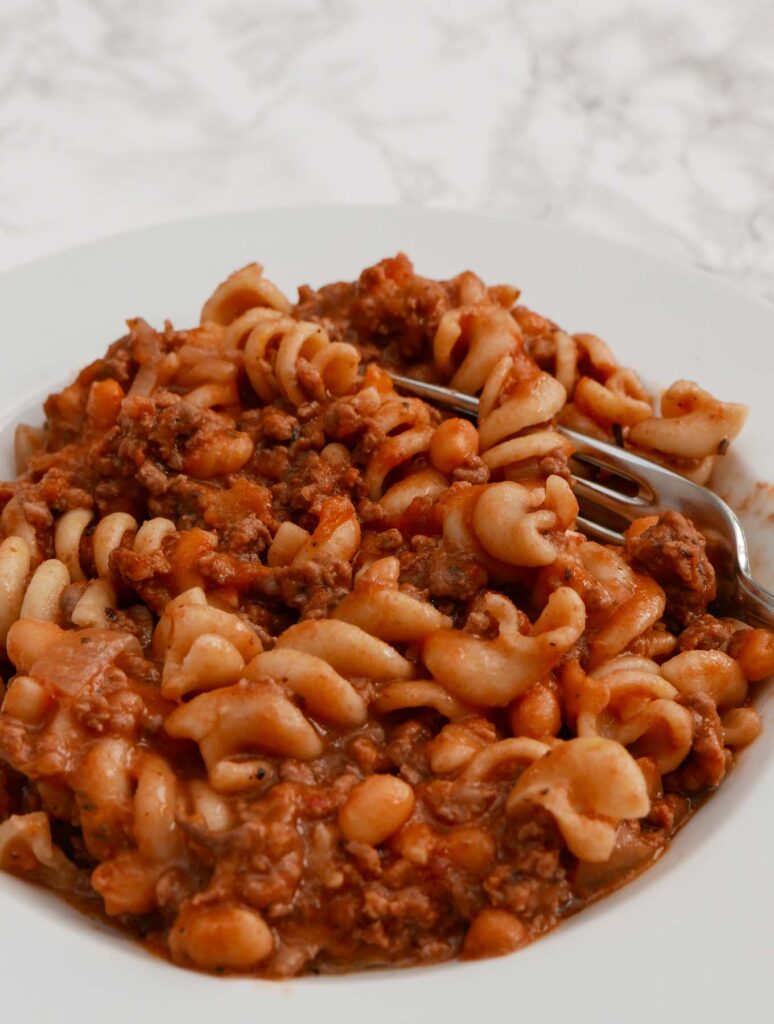 One-pot Mince and Pasta takes 15-20 minutes to put together then cooks for another 15. Job done! It doesn't use any fresh vegetables, but there are tomatoes, onions and beans. That's okay now and again, and it's definitely better than a takeaway. You could add some frozen veg if you want, but it doesn't need it.
This appeals to everyone, including children of all ages. I especially like it at the beginning of autumn, when I feel like something warming and tasty. Using wholewheat pasta increases the fibre too - so nothing to feel bad about!
Actually, this mince and pasta recipe originated from a school cookery lesson. I think the child was about 12, so it's an ideal dish for older children to make. It's an essential dish for students too!
I usually have chicken stock in the freezer, but for this quick meal I often use vegetable bouillon powder (veg stock powder to you and me).
I'm a bit ambivalent about buying stock or stock cubes because I don't know what was used to make them. I suspect it wasn't the carcase of a free-range chicken, which is what I use (and why I go to the trouble). Another reason that I make stock is that it was always seen as a waste to throw away the chicken bones. I've got over that a bit, and when work and life have been very busy I've just thrown the bones out (often after keeping them in the freezer for years).
Anyway, Marigold Swiss Vegetable Bouillon Powder is great. I always have it the cupboard. When I'm making stock I keep the smaller size pot, but when I don't have the time or inclination I buy a large pot and use it whenever a recipe calls for stock.
For some reason, at home we call this recipe Hamster Hash. I guess it sounds more interesting than Mince and Pasta - so if you know me, this is the recipe you asked about!
If you like this...
...Why don't you try:
Recipe