Make a Feta and Chickpea Salad at the weekend for weekday lunches or serve up for a light and healthy meal or side salad at any time.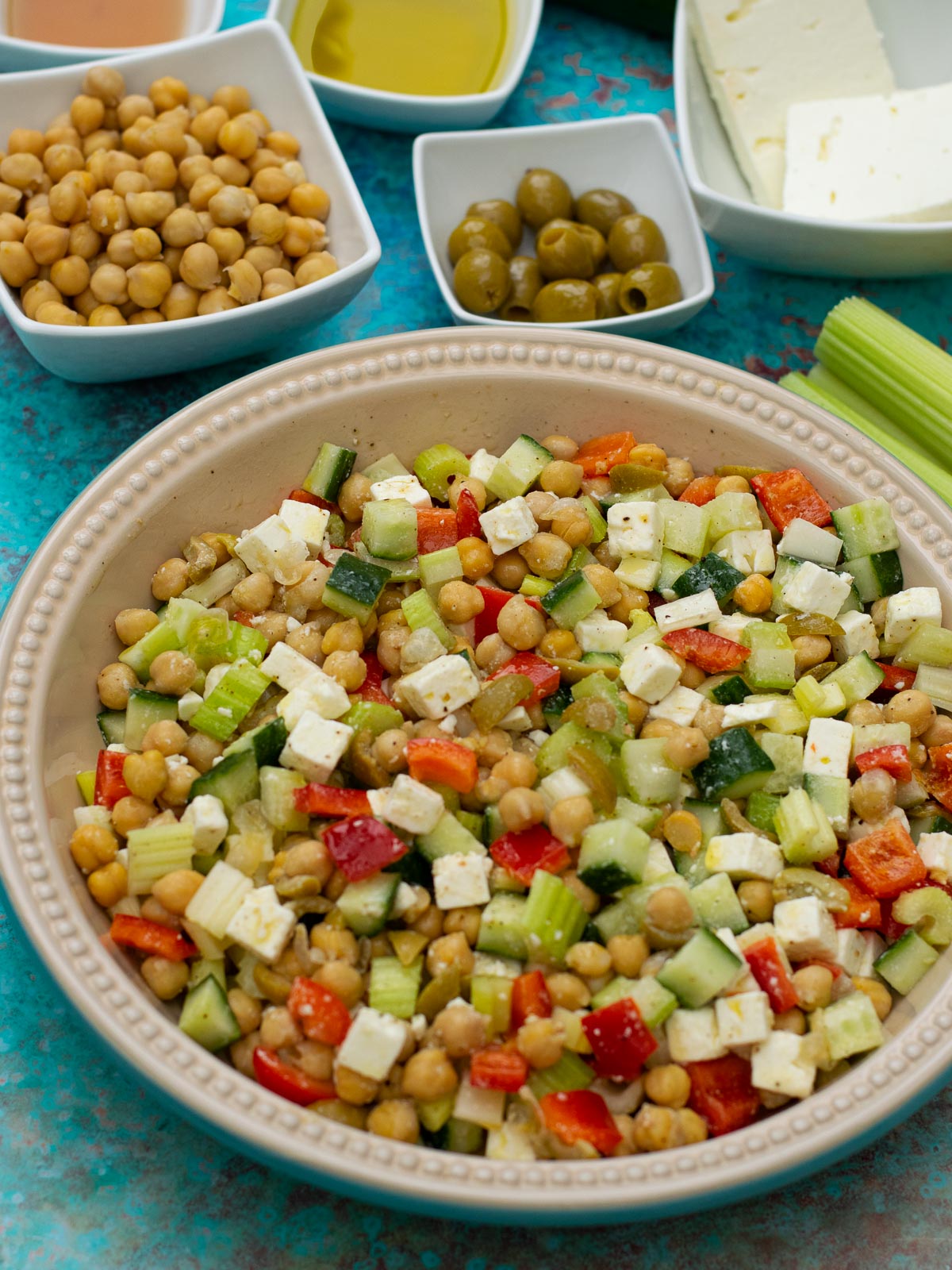 Make healthy eating easy
Sometimes it's hard to eat healthily, especially at lunchtime. If you're in the office it's easy to buy a sandwich (at best) and at home pick whatever's at hand for an easy option.
One way I forestall my own unhealthy raids on the fridge is to make a bowl of Feta and Chickpea Salad on Sunday to eat up during the week - no more excuses!
Key ingredients in Feta and Chickpea Salad
If your salad needs to last all week you need a variety of ingredients to be interesting and to provide a complete meal - and the sort of salad vegetables that will keep for a few days.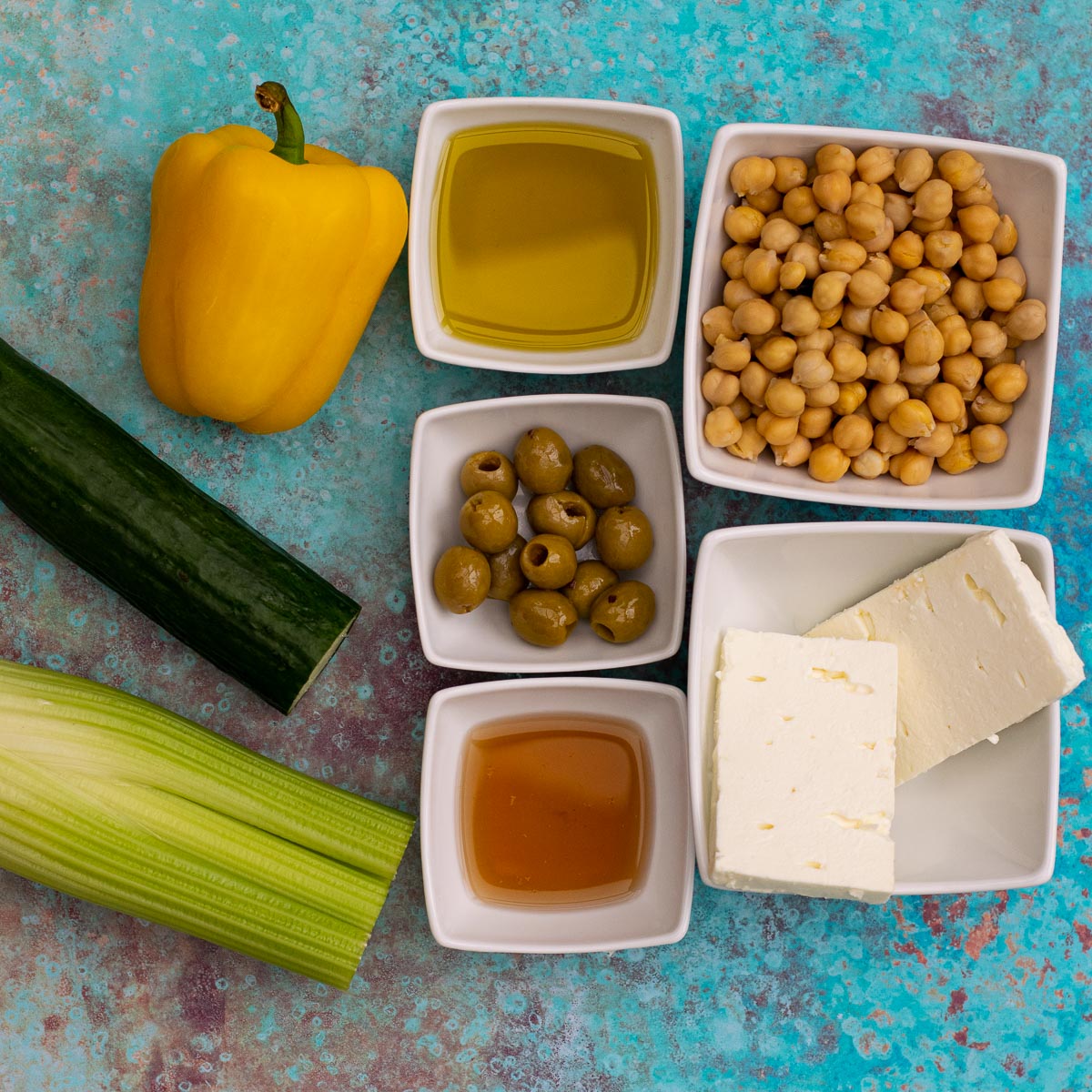 Chickpeas
Chickpeas are a good source of protein and fibre. These days I use a can of chickpeas, but if you prefer you can use dried chickpeas and prepare according to the directions on the packet. You will need 100-125g dried chickpeas (which will make 250g cooked chickpeas, the net weight of a 400g can).
Feta cheese
More protein in the feta. Feta gives this salad a Mediterranean feel - or Greek I suppose. It's salty, but this salad still needs salt as there aren't many strong flavours here.
Olives
Even if you aren't too keen on olives, you might want to give them a go. They do give some extra flavour to this salad but by cutting them into slivers you don't particularly notice them.
Celery heart
You don't need to use a celery heart - if you like celery then use whatever you normally buy - and the flavour is offset by the number of other ingredients.
BUT, if you find celery is usually too strong a taste for you (or your family) try celery hearts. They taste milder and there isn't much waste - just trim top and bottom. The downside is that you will pay more.
Red or Yellow Pepper
Use whichever you have or prefer. The pepper gives a pop of colour to your chickpea salad and adds a good dose of Vitamin C too.
Cucumber
Keep the peel on the cucumber as most of the nutrients are in there.
Ring the changes
You can of course put anything you like in the salad. In particular, I like mixed seeds if I have them.
Use up what you have
If you have ¾ cucumber that needs using up (and you like cucumber), put it all in. If you're making double quantities for a buffet, use a red and a yellow pepper or a mixture of green and black olives. This recipe is quite forgiving
Add extras before eating
I also add ingredients that don't keep too long when cut up to my bowl just before I eat it, e.g:
Secrets of success
Keep the pieces small
The main point is to cut up everything into fairly small pieces - not much bigger than the chickpeas.
For the feta, you're going to cut in all 3 dimensions. First cut the block in half through its thinnest side, then cut into strips about the same width, and finally into cubes.
For the salad vegetables, try to keep them to the same approximate size as the cheese.
Use a silicon or wooden spoon
As you mix the salad it's easy to knock bits off the feta. Some can't be avoided but a silicon or wooden spoon is less damaging than a metal one.
How long does Feta and Chickpea Salad keep?
The salad will keep in the fridge for up to a week in an airtight box.
If you like this...
...Why don't you try:
Pin for later
Hover over any picture on the page and hit the Save button to pin the image to one of your Pinterest boards.
Recipe