Salade Niçoise is a summer lunch classic. Tuna, egg, French beans, and potatoes with salad, anchovies and a vinaigrette dressing. Just arrange it beautifully - more or less - and tuck in.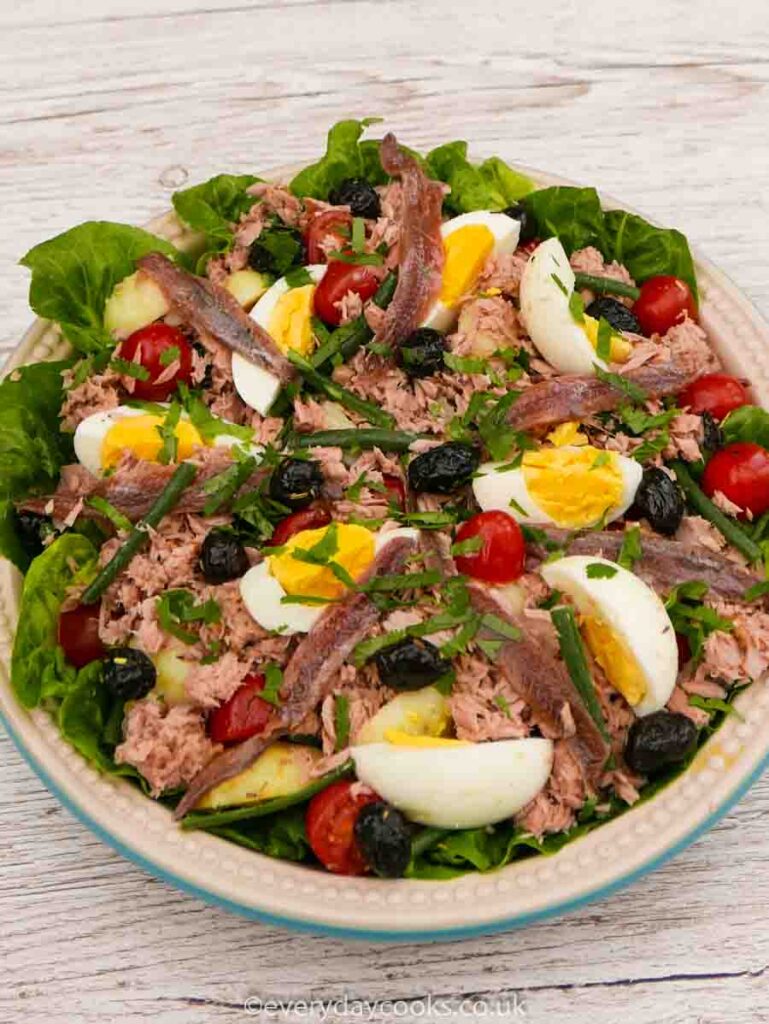 Salade Niçoise
There are plenty of definitive versions of Salade Niçoise and I have no desire to add to them. This is the recipe that I like to use, but do tweak it to suit yourself.
Vinaigrette dressing
The first thing you need to make is a vinaigrette dressing. You can buy it, of course, but it's only oil and vinegar shaken up together with some seasoning, so why would you?
Of course, it isn't any old oil and vinegar and the taste will vary according to what you use - just like mayonnaise really. Wine vinegar is what you need here (I use white, but some prefer red) and, preferably, olive oil. Although I believe that with olive oil, quality will out, it's also true that in a vinaigrette there is a higher proportion of vinegar to oil than in mayonnaise so the quality of the oil is less of an issue.
I often only add salt and pepper to the dressing, but you can also add mustard powder, crushed garlic, and/or any herbs that you like.
What goes into Salade Niçoise?
You may well ask. And to a certain extent, I use what I have, but I do keep most, if not all, of these ingredients in my store cupboard or freezer and then I add whatever salad I have.
Tuna - well, you could buy it from the fishmonger and cook it, but I prefer a can or a jar.
Anchovies - maybe you think you'll leave them out? If you aren't that keen, slice them lengthwise into very thin strips and try them out
Boiled eggs - there's not much to say about them really unless you don't like them
French beans - fresh or frozen, it doesn't make a lot of difference. The only thing to note is: don't overcook them. Slightly crunchy is what you're aiming for
Potatoes - new, definitely. Those little salad ones are good, but you'll have to cut them up anyway. Skins on or off depends on you and the potatoes
Lettuce - I'm not very keen on Iceberg, so I use Little Gem hearts
Tomatoes - the best flavour you can find. It doesn't really matter if they're large or small, but I generally have cherry tomatoes in, so that's what I use
Spring onions - I prefer these to ordinary onions as I don't like a strong onion flavour. If you do, or you don't have spring onions, use red or white onions as you please
Olives - I like black and I take the stones out. The choice is yours
Other ingredients - you could use cucumber, peppers, celery, any salad you want it seems. Just make it and enjoy it - preferably outside in the sunshine
HELPFUL TOOLS
Olive pitter - If your olives have stones and you want to remove them without too much trouble, get a gadget like this - it also works for cherries without squashing the fruit
5-bladed herb cutting scissors - these make chopping herbs easy. Just snip them. No actual chopping to do. No squashed herbs. I love them.
If you like this...
...Why don't you try: