Take 5 minutes to prepare an Easy Cod Traybake - vegetables included - for a quick and easy mid-week, family supper. It's a filling, healthy meal packed with flavour.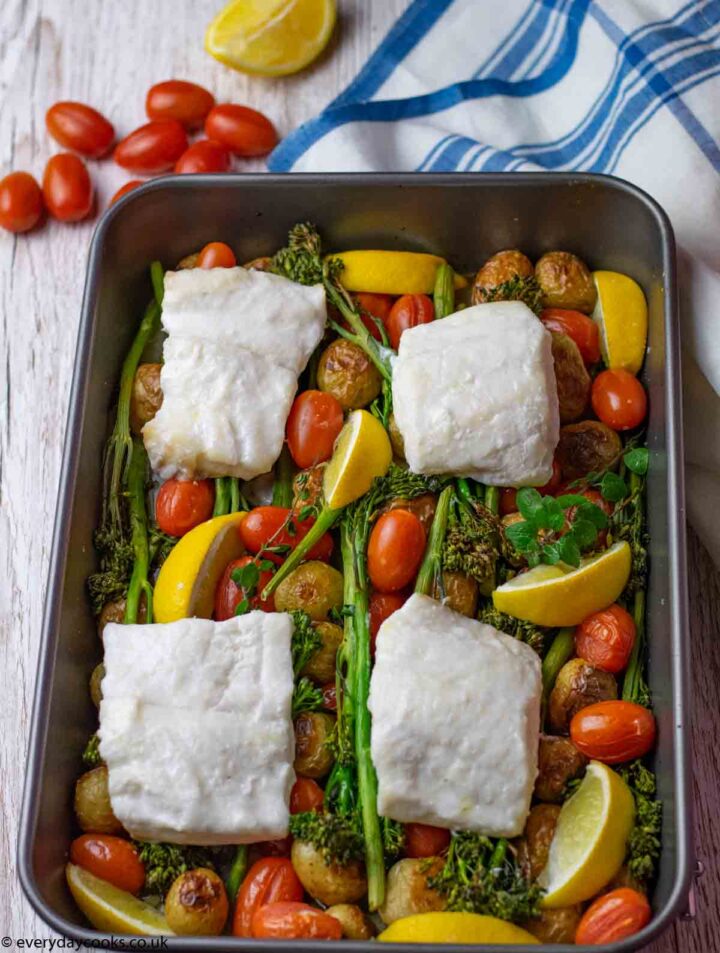 A quick, easy, and healthy midweek supper
I'm always looking for easy midweek recipes and traybakes are ideal. Everything you need in one tin and no extra vegetables to do.
I'm also looking for easy ways to eat more healthily with less effort - especially fish and vegetables - so a cod and vegetable traybake ticks all the boxes.
Key ingredients in Cod Traybake
Essentially:
Cod
Baby new potatoes
Broccoli
Cherry tomatoes
Lemon and seasoning
Use thick fillets of cod
You want thick fillets of cod for this traybake to look and taste its best.
If your cod is thin it will cook more quickly so you could give it a couple of minutes less. Usually, it will be fine - five minutes extra cooking shouldn't dry the fish too much.
If your fish is frozen it will need 5-10 minutes extra in the oven, depending on how thick it is. Or defrost for a couple of minutes in the microwave or in warm water (if it's tightly sealed.
Baby new potatoes
Baby new potatoes cook best in the time and are worth the extra cost. Leave them in their skins for extra fibre (and less effort).
If you're ordering groceries online, make sure you look for the baby potatoes. Ordinary new potatoes will take longer to cook - so if that's what you have, you'll have to cut them up.
If your family aren't big potato eaters, either cook less or keep some to eat cold another day.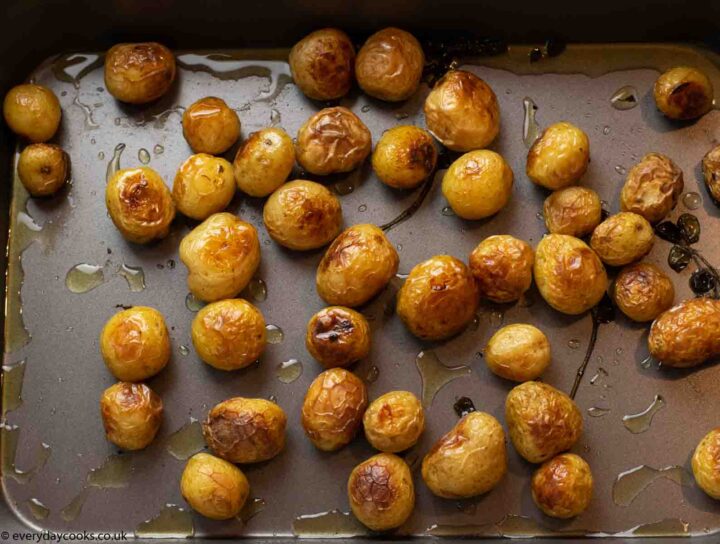 Tenderstem broccoli
I've tried traybakes without any green vegetables, but I prefer a recipe that has everything in it so that I don't need to cook anything else.
Do trim off any woody ends of the stalks - they will never become tender!
Ring the changes
Change the fish
Any firm, chunky white fish will work. Buy the thickest piece that you can.
Change the veg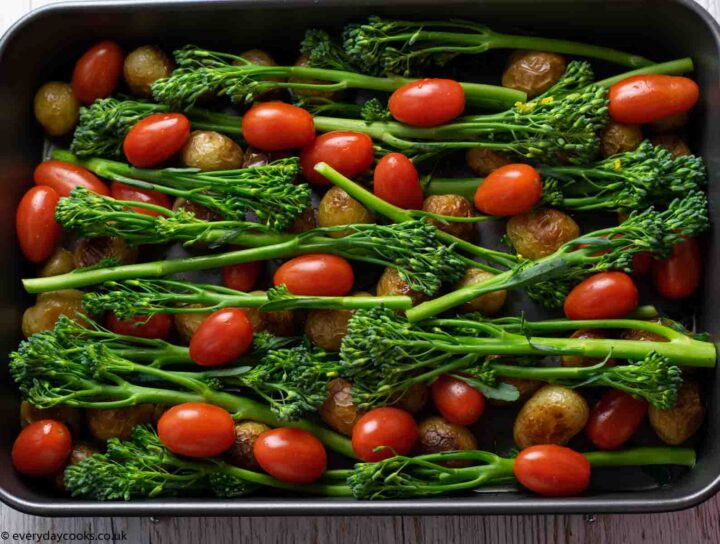 Don't like broccoli? Try green beans or asparagus instead - or a green veg medley! Remember, most green veg need blanching.
Make a low-carb fish tray bake
A fish and potato tray bake is always a hit, but if you're cutting down on carbs, leave the potatoes out and add more vegetables. Anything you like!
Make it cod and Mediterranean veg
Lots of peppers, courgettes, onion, olives, tomatoes and fresh herbs make another healthy option.
Secrets of success
Use enough oil
Don't skimp on the oil. You'll need it to coat the broccoli and white fish doesn't contain much fat so the end result won't be over-oily.
Blanch the broccoli
Blanching the broccoli softens it so that the end result is tender. The broccoli won't be soft - it still retains a crunch - but without blanching the stems can be very chewy.
If you prefer that 'barely cooked' texture, just omit the blanching.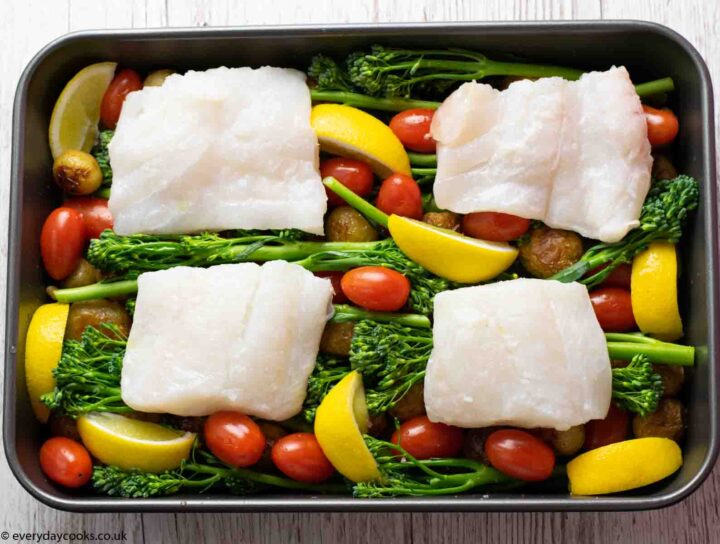 What else do you need to make Easy Cod Traybake?
This is a recipe needing very little equipment. The one thing you will need is a good roasting tin. I like the Masterclass range for all bakeware, but I've also got a roaster from the supermarket that does the job.
Look for non-stick and remember to use silicon utensils so that you don't scratch the pan.
If you like this...
...Why don't you try:
Pin Easy Cod Traybake for later
Hover over any picture on the page and hit the Save button to pin the image to one of your Pinterest boards.
Recipe