Salmon and Tomato Tart, with pesto and mozarella, is an easy and tasty midweek supper dish for family or friends, using ready-made puff pastry.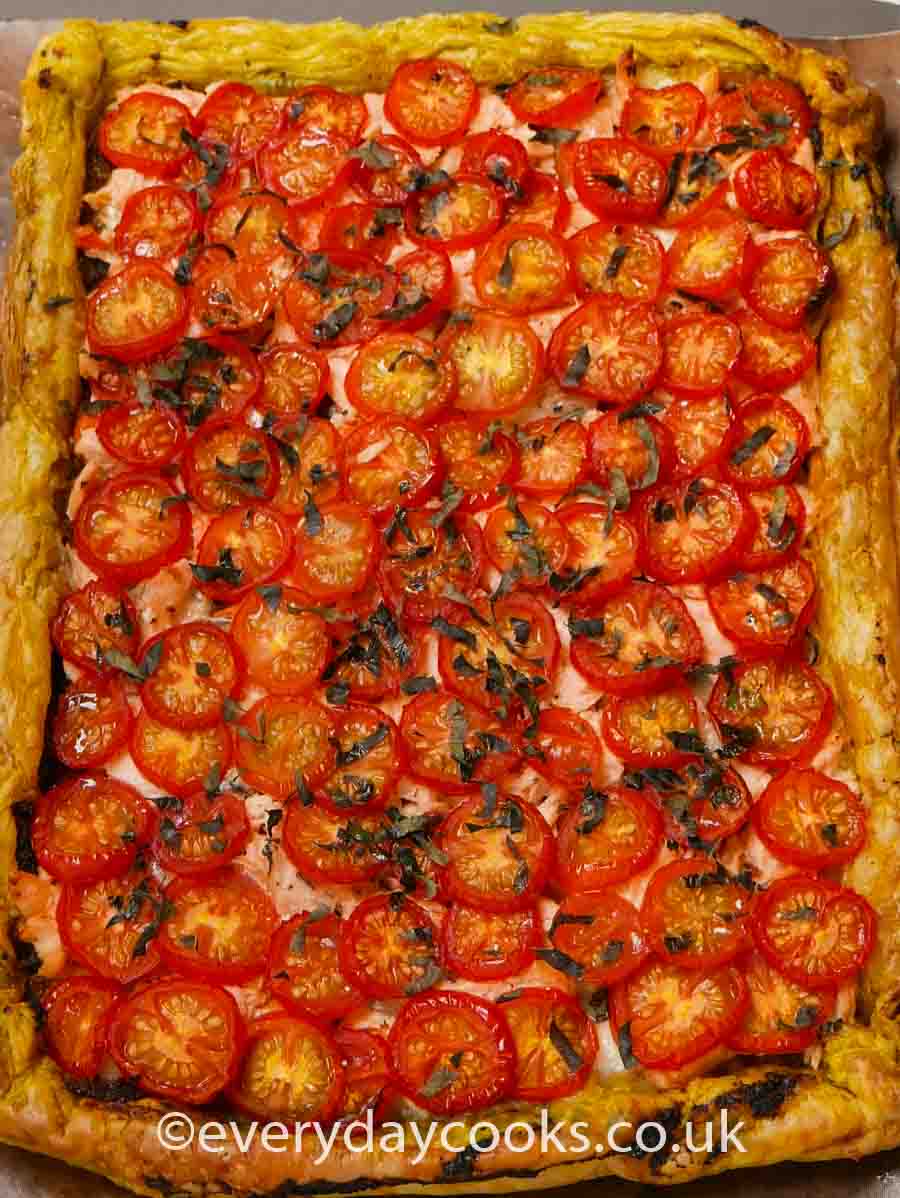 Salmon and Tomato Tart
Salmon and Tomato Tart has become one of my favourite supper dishes - especially since I started using ready-rolled puff pastry as the base. As you may know, rolling out pastry is my bête noire and I use every trick I can to avoid it. Hurrah for ready-rolled pastry! (And actually, hurrah for ready-made, all-butter puff pastry, because I would never make it.)
Key ingredients in Salmon and Tomato Tart
Why do you need Mozzarella as well as salmon?
If you don't have any mozzarella, you could use four salmon fillets instead of three. I used to make this tart that way, but now I prefer the texture that mozzarella cheese brings. But - you choose.
Why use pesto and tomato puree?
You could use sundried tomato pesto in this recipe, but I try to keep to ingredients I often use - and I usually have pesto and tomato puree in the house.
All you need to eat with Salmon and Tomato Tart is some salad or some steamed vegetables - if you can be bothered. And enjoy!
Secrets of Success
Keep the pastry in the fridge until needed
The instructions on the ready-rolled puff pastry tell you to take it out of the fridge to warm up before using. In my experience, the pastry becomes limp and difficult to handle very quickly, so leave it in the fridge until you need to use it.
If you're using a block of pastry, however, you will need to let it warm up a bit before you can roll it out.
What equipment do you need?
5 bladed herb cutting scissors – Useful for cutting the tarragon or any other herbs you want to use. Most importantly, these scissors don't cut your fingers.
Magic liner – Cut to fit the traybake tins and roasting tins you use most. You wash it every time. Nothing sticks and it doesn't need greasing
If you like this...
...Why don't you try:
Recipe