Salmon en Croûte is quick and easy to prepare and uses just 3 ingredients plus herbs of your choice (or just salt and pepper). It looks far more impressive than it deserves to - an ideal Everyday Cooks dish!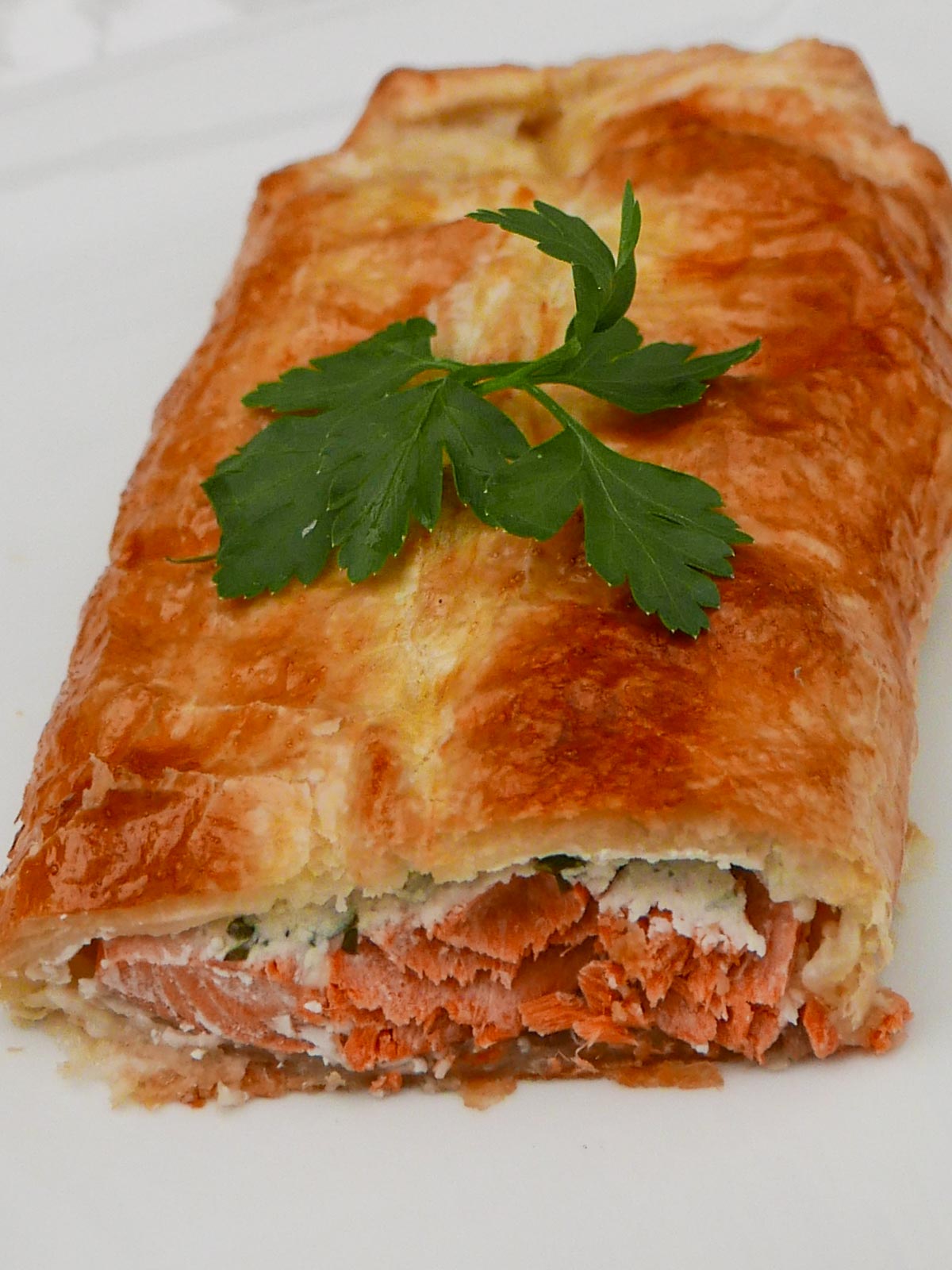 I'm always looking for the biggest bang for my buck, foodwise - and in all areas of my life really. It isn't money that I'm looking to minimise though, it's time and effort - energy, I suppose.
Because mine always seems to be in short supply or in demand for other things, I totally love recipes like this. If you keep a fillet of salmon (about 500g for 4 people) in the freezer with a pack of ready-rolled puff pastry, you can make a meal to impress at very short notice.
What's in the topping?
Often Salmon en Croûte is not a quick recipe because the topping for the salmon is cooked and takes some time to prepare. Looking for a quick alternative, I tried cream cheese with salt and pepper on top of the salmon.
Now I don't bother to do anything more elaborate than chopping a few herbs and sacrificing an egg to get that lovely golden colour when it's cooked - both of which are optional, but really, 5 minutes extra is all that takes. Why wouldn't you?
This year why not have Salmon en Croûte for Easter lunch if your family isn't all keen on a joint of lamb. You can use the pastry off-cuts to make a decoration or two for the top - not too much of a stretch to that!
Do you need to egg-wash the pastry?
Bothering with an egg wash for puff pastry may seem like a faff too far, but once you've seen the results you'll be hooked. It makes such a difference to the finished dish.
If you eat a lot of scrambled egg, just keep the rest of the egg in the fridge for a few days and use it up like that. You could also add the excess egg to a cheese sauce if you were making one.
Buying sustainable salmon
I've started looking more carefully at the salmon I buy. I don't feel that wild salmon is sustainable and a lot of the farmed salmon is stuffed with antibiotics. Sometimes I wish I didn't care - it does make life more complicated.
I feel that I've got the meat sourcing nailed down from Field & Flower, so I'm trying an online fish delivery company called Fish for Thought. They source their farmed salmon from the Shetland Isles, where standards of production are high. I'm hoping the fish is good so I can stop thinking about it every time I buy!
Trimming your salmon fillet
Salmon fillets vary in shape and this one was quite long and thin. Usually, a thick-ish piece is better. You'll probably need to trim the salmon if it's very thin at one side, or not cut straight across.
If you buy it from a fishmonger or fish counter (i.e. face to face with a real person), you can ask them to skin it for you and trim it up. Then you spend even less time on preparation.
Otherwise, you will need to do it yourself, so you may want to buy a slightly larger piece, say 550-600g. You can microwave the trimmings for lunch - then mix with mayonnaise and add some salad - as an extra treat for yourself.
Ring the changes
Make it for one
If you're cooking for one and fancy this recipe, use a single salmon fillet and cut a piece of pastry to fit. Cut the rest of the pastry into similar size pieces and freeze. Cook for 20 minutes but make sure the fish is very cold beforehand to avoid overcooking.
HELPFUL TOOLS
Magic Liner - or a silicone baking mat – both reduce the washing up as they go into the dishwasher. You don't have to grease them either as they're totally non-stick
Oven thermometer – if you think your oven thermostat might not be telling you the truth (mine isn't), this inexpensive thermometer will set you right. You do need one with large numbers so that you can read it from inside the oven.
If you like this...
...Why don't you try:
Recipe