Pan-fried Lemon and Garlic Salmon with Asparagus is exactly what it says it is, those four ingredients plus butter and seasoning. Easy to make in 20 minutes for a light supper that feels really special.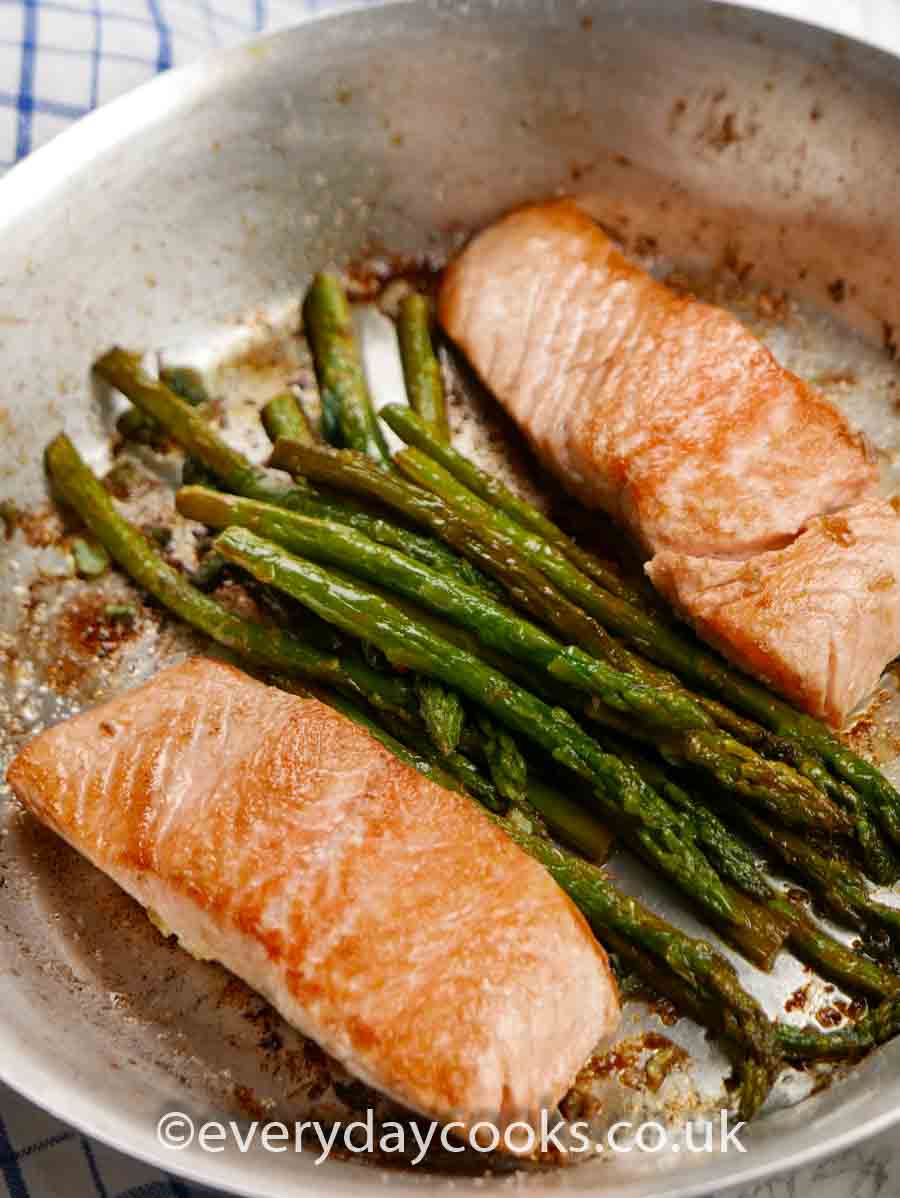 Pan-fried Lemon and Garlic Salmon with Asparagus
When you want a meal for a special supper for two that's quick and easy to make, salmon is the go-to fish. It cooks in minutes and if you buy fillets, they hardly need any preparation. Asparagus always feels like a luxury vegetable to add to the occasion.
How long does the salmon take to cook?
The answer depends on two things:
The thickness of the salmon - The thicker it is, the longer it will take. The thinner tail-end pieces will cook more quickly, and may not fit into your frying pan. Thicker fillets are better for this recipe
The temperature of the salmon - If your salmon is at room temperature it will cook 3-4 minutes faster than salmon straight from a cold fridge.
When is the salmon done?
When you look at the side of the salmon in the pan you can see by the colour if part of it isn't cooked. If you think the asparagus has had enough, take it out for a couple of minutes while you cook the salmon a little longer.
What do you eat with Pan-fried Lemon and Garlic Salmon with Asparagus
If you are particularly hungry, you could fry some potatoes - or cook a jacket potato - to eat with the salmon and asparagus. You could steam some vegetables, mange tout or baby carrots perhaps. I often cook salmon for a special occasion and make a pudding, so then a light main dish is just what you want!
What equipment do you need?
Helix Garlic Press - Often, you can just chop garlic, but when it needs to be very fine, as in this recipe where it's only cooked for a couple of minutes, it's easier to use a garlic press. I've just updated mine as it was a bit fiddly to use (and 30 years old, so I felt justified). A helix press means you don't need as much force to get more out of the garlic - also good if your grip isn't as strong as you'd like.
You need a lemon juicer and again I use a Helix press, which I think gets more juice out of a lemon with less force.
If you like this...
...Why don't you try:
Recipe