Give your family a good start to the day with Savoury Muffins from the freezer, made with egg, cheese and sausage. Microwave in minutes for a healthy breakfast that you can eat on the go if need be.
Quick and easy breakfast
I'm not always very good at breakfast, mostly because mornings are not my best time. I don't want to spend time cooking, but I don't like a carb-heavy breakfast of cereal or toast, so it's easy to eat the wrong thing or nothing.
When I'm organised I make a batch of these sausage and egg muffins every week or two to keep in the freezer. Defrost one or two muffins overnight, then blitz in the microwave for 30 seconds - or don't bother if you're really short of time. On the other hand, if you forget to defrost them, you can microwave for about a minute and eat.
Are Breakfast Muffins good for children?
When my children were teenagers I made Breakfast Bake and froze/defrosted it in the same way for them. The difference is that it has bread in so gives more carbs, which they needed. If I gave them these muffins I would add something starchy e.g. a slice of toast or a banana.
Key ingredients in Savoury Muffins
It's all in the sausages
The first point is to buy good quality sausages with a high meat content. Unfortunately, cheap sausages are often made with low-quality meat and a lot of filler. Buying from a farm shop or butcher is often better or use a good mail-order meat supplier like Field and Flower (who give a discount for your first box).
What if you don't have medium eggs?
This recipe calls for a lot of eggs - 10-11 medium eggs (UK size). If you only have large eggs use 8 or 9. I know that sounds vague, but it depends on the actual size of the eggs as there is a 10g weight band for egg sizes.
Sometimes I make this recipe and have enough mixture for an extra muffin or two (or I give it to the dog). Sometimes it just fits in 12 tins. If it's slightly on the small side, make smaller muffins.
If you want to be more precise about it, the weight of 10 shelled medium eggs is about 500g.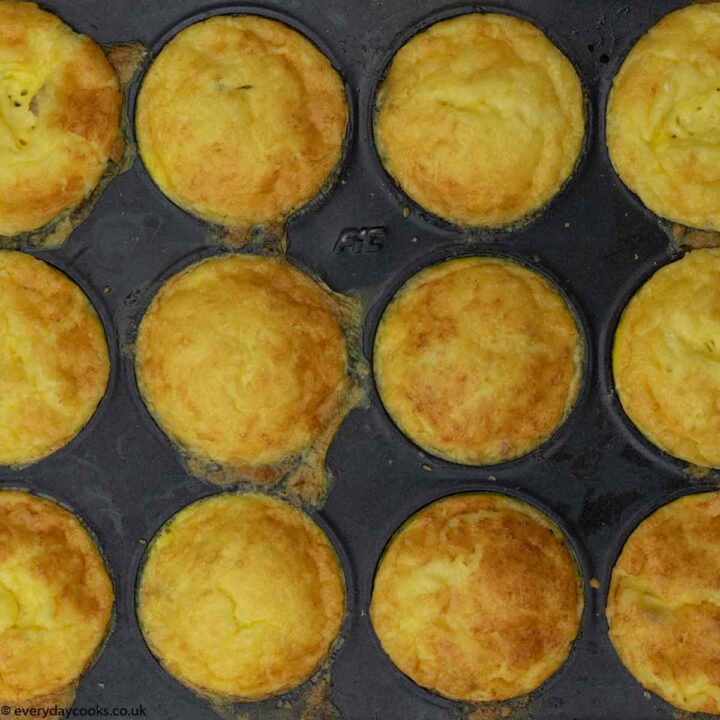 Ring the changes
Make it keto/low carb
These savoury breakfast muffins are low on carbs anyway, with no flour in them, but if you want to go further down that route, use half-and-half water and double cream instead of the milk
Check the contents of your sausages, for a high meat content.
Secrets of success
Prepare the sausage layer
To skin the sausages, score a line down the length of the sausage with the point of a sharp knife. The skin should peel off quite easily.
break up the sausage meat with a wooden spatula or a spoon while it's cooking so that you can put it at the bottom of the muffin tins
Beat the eggs and milk
An electric hand mixer or a stick blender or a food processor makes light of the beating process and gives a smooth mixture. If you're doing it by hand, it will take longer but you want to make sure that the egg white and yolk are thoroughly combined with the milk.
Don't skimp on the cheese
These are very cheesy muffins. Add the cheese carefully to the muffin mixture in the tins. It shouldn't make the tin overflow and each muffin will take more than you think as the cheese sinks into the egg mix.
How to make Savoury Muffins gluten-free
The only source of gluten is in the sausages, so check that you're using gluten-free. I use Field and Flower for all my meat (free-range, grass-fed) and their sausages are gluten-free too.
How long do the muffins keep?
Keep the muffins in the fridge for 2-3 days.
Can I freeze Savoury Muffins?
These muffins freeze well. Defrost overnight in the fridge. If you want to eat them warm, heat for about 20 seconds each in the microwave. They're at their best eaten within a month.
Eat for brunch or lunch for all ages
One more point about these versatile little muffins is that you can eat them for a variety of meals. At the weekend we might have a couple for lunch or if the family's all here I make a batch for brunch. If I've got a toddler over for lunch, they will eat happily eat them too.
What equipment do you need?
You need a 12-hole muffin tin, preferably non-stick as the muffins are not in paper cases.
You'll also need some sort of balloon whisk or hand mixer to whisk up the eggs and milk
And a cheese grater
If you like this...
...Why don't you try:
Pin for later
Hover over any picture on the page and hit the Save button to pin the image to one of your Pinterest boards.
Recipe