10 easy recipes for meals when you don't want to spend ages cooking. The recipes use store cupboard ingredients plus some food from the freezer (with a list of essentials to stock up on).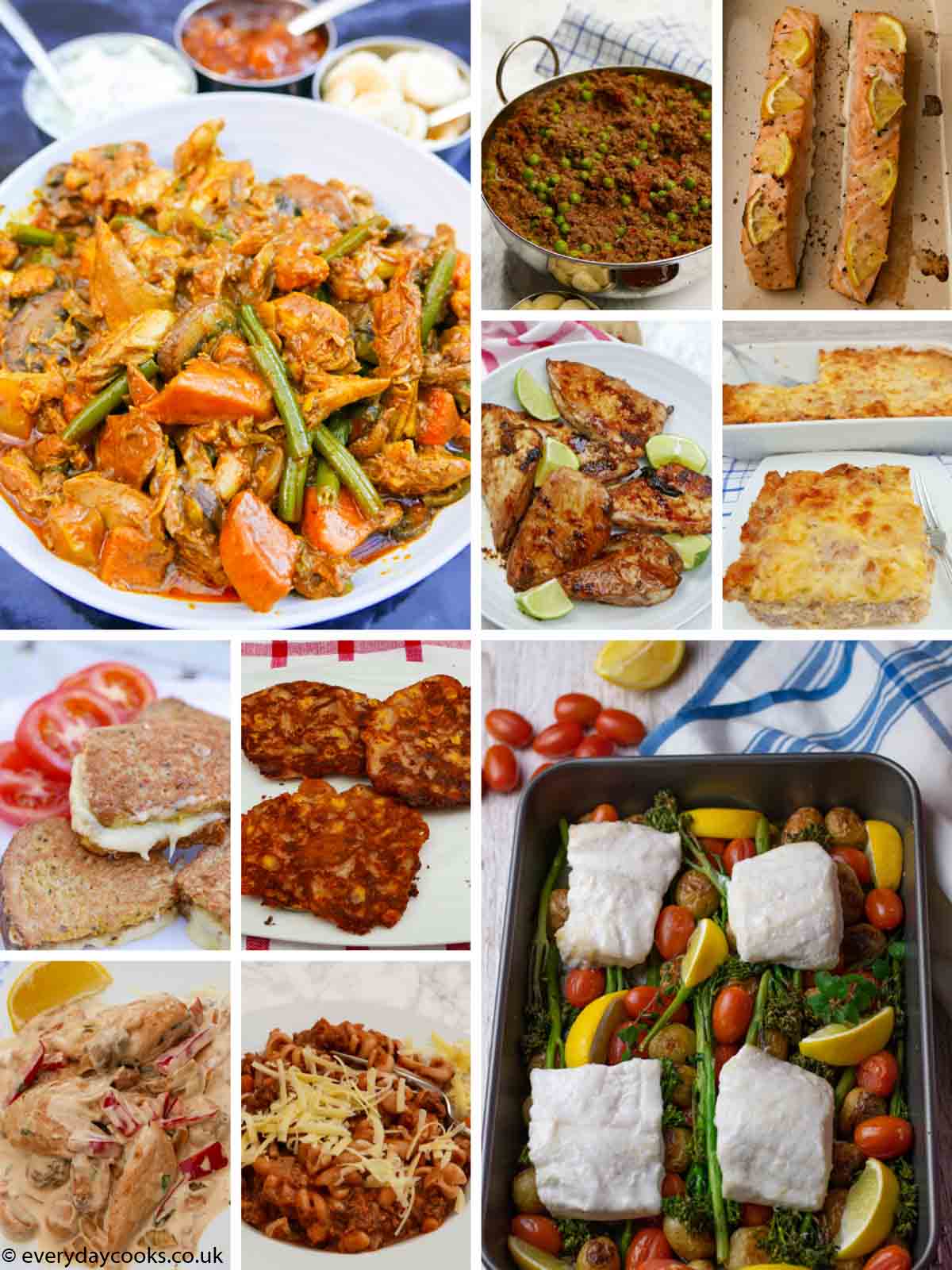 If you're looking for easy, nutritious meals that your family will enjoy, try some of these recipes that I've been making for my family for years.
Easy recipes using everyday ingredients
The recipes here all use staple ingredients - there's a list at the end - with some meat, fish or tinned pulses/beans.
If you have those ingredients in your store cupboard, you can make most of the meals on this site. Here are some of the easiest recipes - particularly necessary if you aren't feeling great, or if your time is taken up with kids and/or work.
Fish
FIND MORE RECIPES USING FISH HERE
Mince - beef/lamb/turkey/Quorn
FIND MORE RECIPES USING MINCE HERE - beef, lamb, chicken, turkey, Quorn. Mostly you can use which you prefer.
Chicken
FIND MORE RECIPES USING CHICKEN HERE
Children's teatime
What to buy when you're stocking up
Store cupboard essentials
Dried Herbs & Spices - Mixed herbs, garam masala, chilli powder
Jars/tubes/bottles of flavour - Minced ginger, minced garlic, lime juice, mustard, Worcester sauce, curry paste (better than sauce, because fewer additives - try different varieties. Add a tin of tomatoes and/or coconut milk/cream for a tasty curry)
Tins, Jars & Bottles - Chopped tomatoes, baked beans, chickpeas, lentils, tuna, sweetcorn, coconut milk/cream, olive oil (or other)
Packets - Pasta, rice, flour (white or wholemeal), dried lentils
Freezer items
Vegetables - Especially peas, French beans and mixed veg
Fruit - Lemons - see fridge items
Meat - Chicken joints, mince (in 400g packs) - beef/lamb/turkey/Quorn, whole chicken, sausages (the better quality, the better for you)
Fish - Prawns (raw and/or cooked), salmon fillets (buy a side and cut it up yourself), white fish fillets (cod/haddock/coley)
Everyday basics - Butter, ready-rolled puff pastry
In the fridge
Staples - Milk, cheese, eggs, butter, bread (if you don't eat much, keep a sliced loaf in the freezer)
Lemons (and/or limes) - If you won't use them all, cut into slices/quarters and freeze or freeze the juice in ice trays
Occasionals - Cream (for special meals), plain full-fat yoghurt
Fresh fruit & veg - Basics for these recipes are onions, peppers (any colour), tomatoes
Pin for later
Hover over any picture on the page and hit the Save button to pin the image to one of your Pinterest boards.