Keema is an easy, fragrant, but not hot, curry using minced beef or lamb. Ideal for making double quantities and freezing.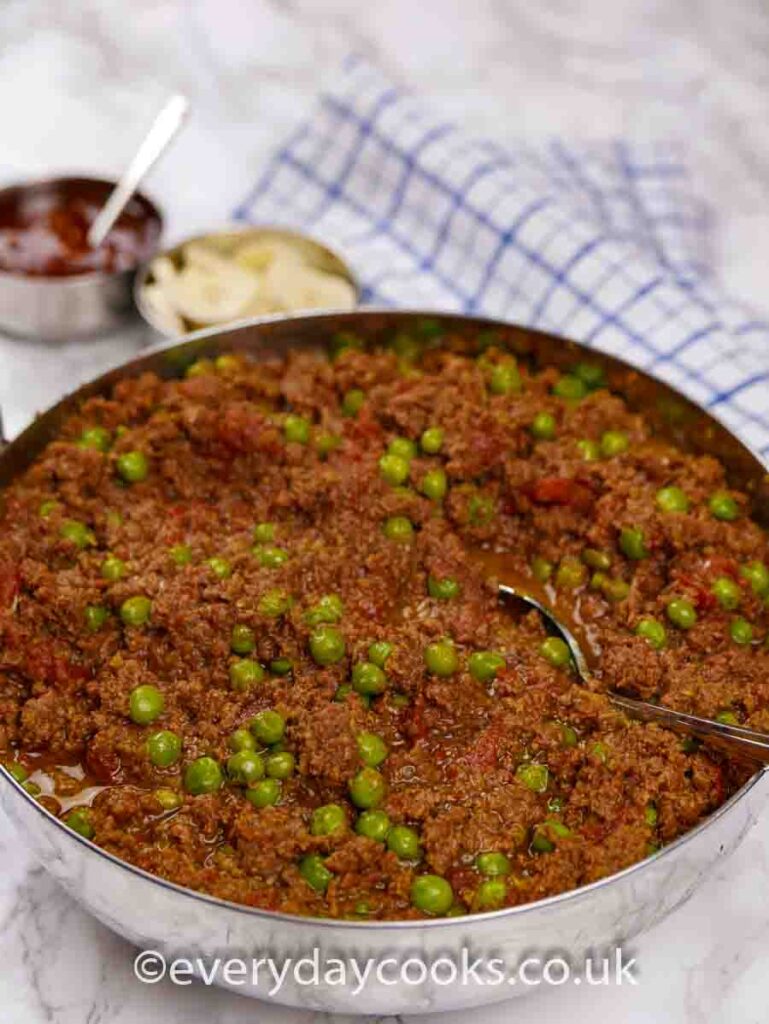 Dinner from your freezer and store cupboard
Some days, when I haven't planned what to cook, I take a pack of mince out of the freezer and see what else I have in the house. Keema is one of those recipes that I can usually make out of the freezer, fridge and store cupboard, which is a real relief on hectic days.
Key ingredients in Keema
From the Freezer
Mince - Packs of 500g will serve 4 people. Defrost by putting the sealed bag or tray in a sink of hot (but not boiling) water
Peas - Although I'm not that bothered about eating peas, they are brilliant in lots of dishes, from Macaroni Cheese & Ham to Risotto to Rice Salad
Chillis - If you don't use all the chillis in a pack, wash, dry and freeze on a tray, then seal in a plastic bag or box until you need them
Chopped onion - If you can find an hour one weekend afternoon, it's worth preparing kilos of onions and chopping and slicing in the food processor for freezing
Minced garlic and ginger - Same as the onions
From the fridge
Onions - Always a good idea to have in the fridge. If you don't use them quickly enough, chop and freeze
Garlic, ginger, chillis - If you have any of these and aren't planning to use them soon, freeze the chillis and mince the garlic and ginger before freezing
You could also buy any of these in jars or tubes, which are easy to use
Natural yoghurt/cream/creme fraiche - If you don't have any of these, just leave it out of the recipe
From the Store Cupboard
Tins of tomatoes - An absolute staple. For ease of use, buy chopped tomatoes. Cheap ones are a false economy as they're often very watery. My favourite brand at the moment is Suma Organic Chopped Tomatoes which I buy in bulk from Amazon.
Spices - You don't need a lot of spices in your cupboard, but one I do recommend is Garam Masala, which is fragrant, but not hot. You can make your own (recipe here). If you keep chilli powder as well you can easily make a curry. I also keep Turmeric in the cupboard, because I do use it on its own.
Secrets of Success
Watch the liquid to avoid a watery curry
Keema is so easy that it's almost fool-proof. That said, what would spoil it for me is if it were too watery. That can happen if your tomatoes have a lot of liquid in them. If so, just add less water.
If you find it's too liquid anyway, just turn the heat up and let it boil away with the lid off for a few minutes. Stir occasionally to make sure it doesn't stick.
Prepare ahead
If you have planned your meals in advance, you can prepare the onion/ginger/chilli/garlic mix ahead of time and keep in the fridge or freezer. Again, it's a good thing to make in bulk and freeze as it's the basis of other curries.
Of course, you would then defrost the mince overnight instead of relying on hot water!
All told, Keema is a very useful dish to have in your repertoire. It's spicy, not hot and would suit anyone who doesn't like a hot curry.
Helpful Tools
Joseph Garlic Peeler – I know, it sounds so unnecessary, and to be honest it is for this recipe. Except that it makes peeling garlic so easy and your hands don't get smelly. Just chop the ends off the garlic cloves, unwrap the silicone tube and pop them inside. When it's re-curled you rub the garlic and when you open it up the skin and garlic are separated - like magic!
If you like this…
…Why don't you try: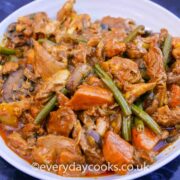 Easy Chicken Curry - a quick, tasty supper using cooked chicke. Supplement with a tin of lentils if needed.
Three quick and easy Indian condiments to make Curry Night special: Cucumber Raita, Onion and Tomato Salad, Banana Sambal.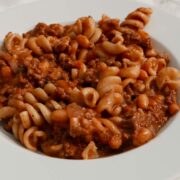 Most of the ingredients for this are in your store cupboard. Just add mince and onions for quick and easy mince and pasta - all cooked in one saucepan.
Recipe
Print Recipe
Keema
Keema is a fragrant, but not hot, curry using minced beef or lamb.
Ingredients
1

large onion,

250g

2

cloves

garlic

3

cm

fresh ginger,

or 2 teaspoons (10ml) from a jar

1

large green chilli

3

tablespoons

oil,

45ml

1

teaspoon

dried turmeric,

5ml

2

tablespoons

garam masala,

level tablespoon - 30ml

500

g

beef or lamb mince

1

x 400g can chopped tomatoes

100

ml

hot water

200

g

frozen peas

Salt

Pepper

2

tablespoons

natural yoghurt or double cream,

30ml
Equipment
Large frying pan with lid
Instructions
Preparation:
Peel the onion and quarter. Peel the garlic

1 large onion,,

3 cm fresh ginger,

Peel the ginger by pulling the tip of a teaspoon down the length of the piece of ginger

Cut the stalk off the chilli and cut the chilli in half lengthwise. Remove the seeds and membrane by pulling the tip of a teaspoon along the length of the cut chilli
For the Keema:
Put the onion, garlic, ginger and chillies in a food processor and blitz until chopped to a fine paste

Heat the oil in a large frying pan on a MEDIUM-HIGH heat and fry the mixture until it becomes fragrant and lightly browns

About 8-10 minutes

1 large onion,,

2 cloves garlic,

3 cm fresh ginger,,

3 tablespoons oil,,

1 large green chilli

Add the turmeric and garam masala and stir into the onion mixture until it is completely amalgamated.

Turn the heat down slightly. Add the mince and fry until it begins to brown, stirring and chopping to break up any lumps

About 3-4 minutes

1 teaspoon dried turmeric,,

2 tablespoons garam masala,

Stir in the tomatoes thoroughly, then the water, bring to a simmer and cook for 1 minute. Simmer the mixture over a LOW heat for 20-25 minutes until cooked

1 x 400g can chopped tomatoes

Add the frozen peas and cook for 5 minutes.

If there is too much liquid, turn the heat to HIGH at this point to boil it off. Keep stirring and watching

Add salt to taste and a good grind of black pepper. Stir in the yoghurt or cream. Serve with naan bread or poppadums, chutney and Indian condiments.