Make Curry Night a bit more special with these 3 Easy Indian Condiments (they're also quick to make): Cucumber Raita; Tomato and Onion Salad; Banana Sambal.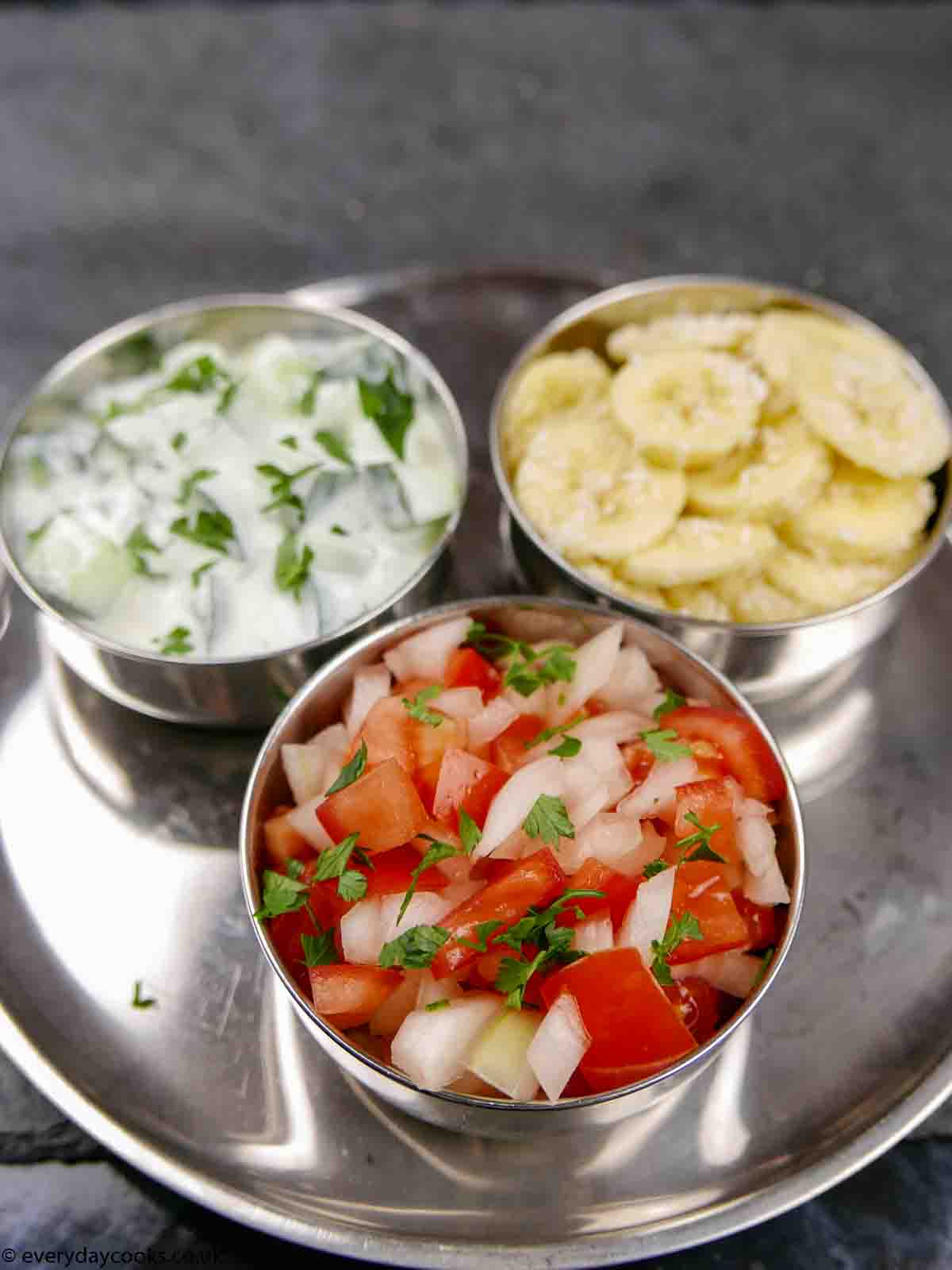 Before I offend anyone's sensibilities, these may or may not be authentic Indian recipes. They're what I've used for years when I want something more than Mango Chutney with my curry or to dip my poppadoms in.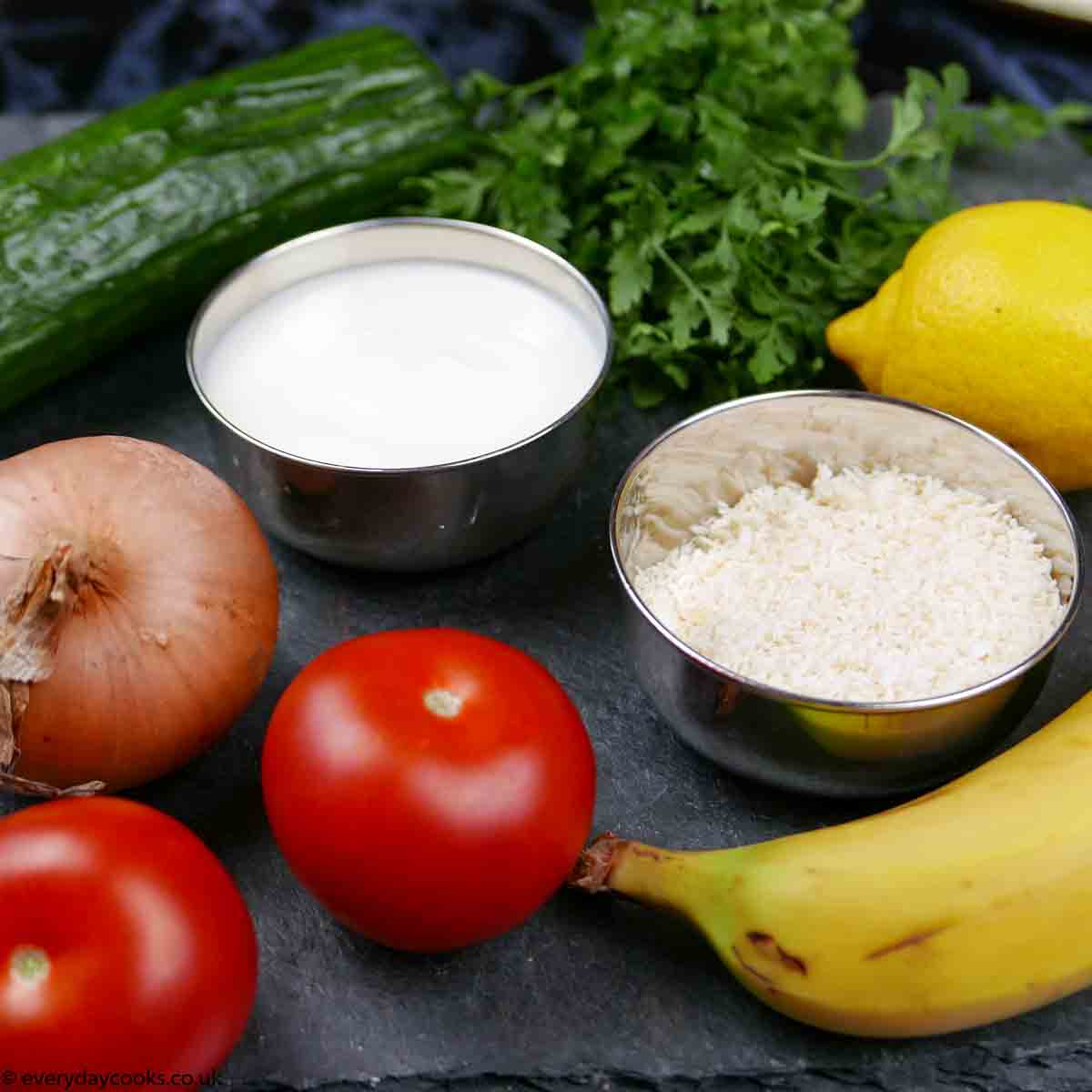 Ring the changes
The recipes are all fairly adaptable:
If you don't have any herbs - leave them out. Both the Cucumber Raita and the Onion and Tomato Salad still taste fine
Similarly, if you don't have any desiccated coconut, please don't buy some for the tiny amount you use here. (I often don't bother with it anyway, because I'm not a big fan)
If you only have red onions - super!
If your tomatoes are tiny, just use a few more
If you only have Creme Fraiche or Greek Yoghurt, it's absolutely okay. You'll probably find a recipe that uses those ingredients anyway.
Raita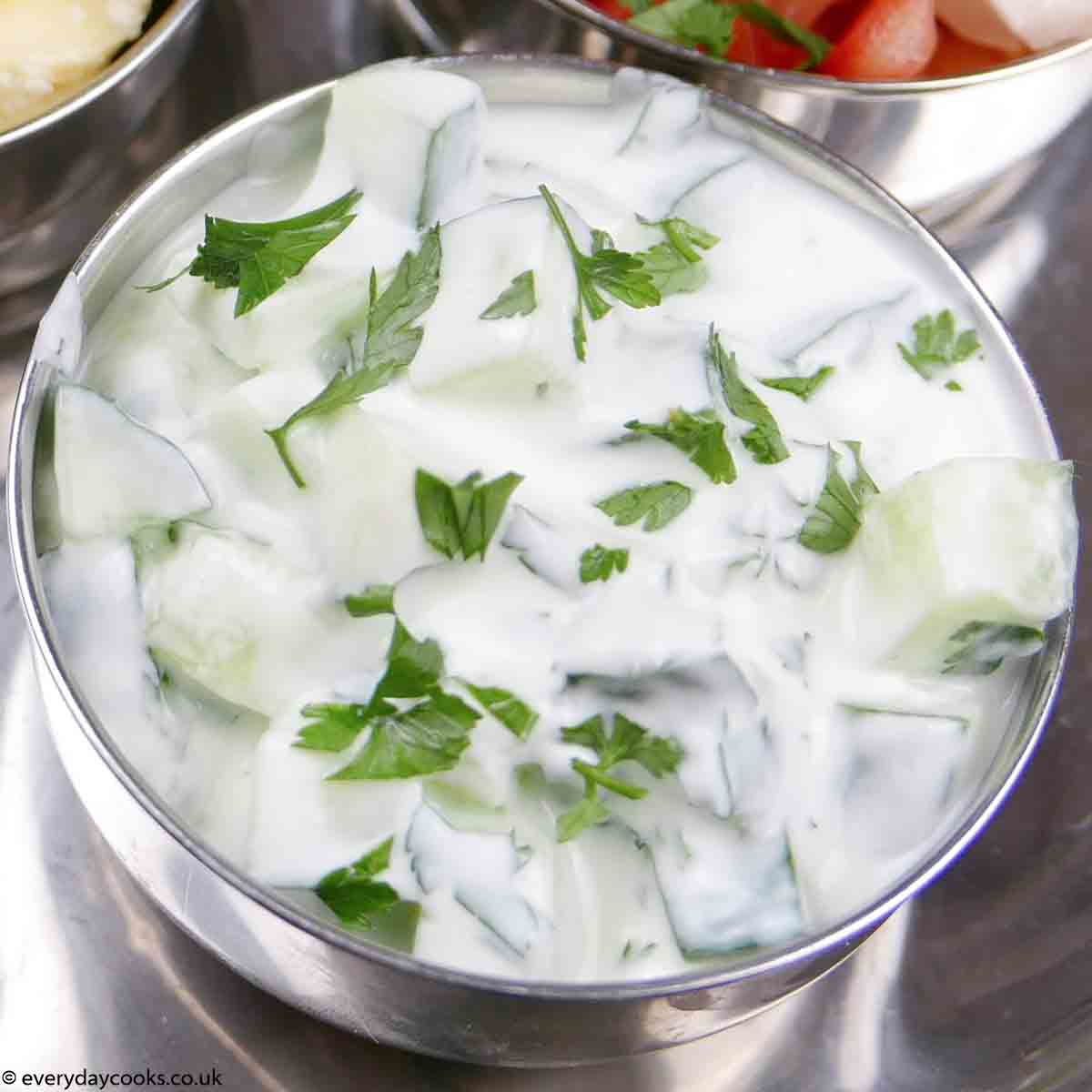 The coolness of the yoghurt and the cucumber help counteract the heat of a curry. It's also perfect if the curry is too hot for you, which sometimes happens in our house because I quite like hot curry.
How much of the cucumber do you use?
I don't bother to peel the cucumber, but you could if you wanted to. If the cucumber has a large, seedy centre, I might not use the very middle part - but I certainly don't strip it all away.
Also, I don't salt the cucumber, because I'm looking for a speedy addition to our dinner, and probably prepare the Raita just as I'm dishing up.
Banana Sambal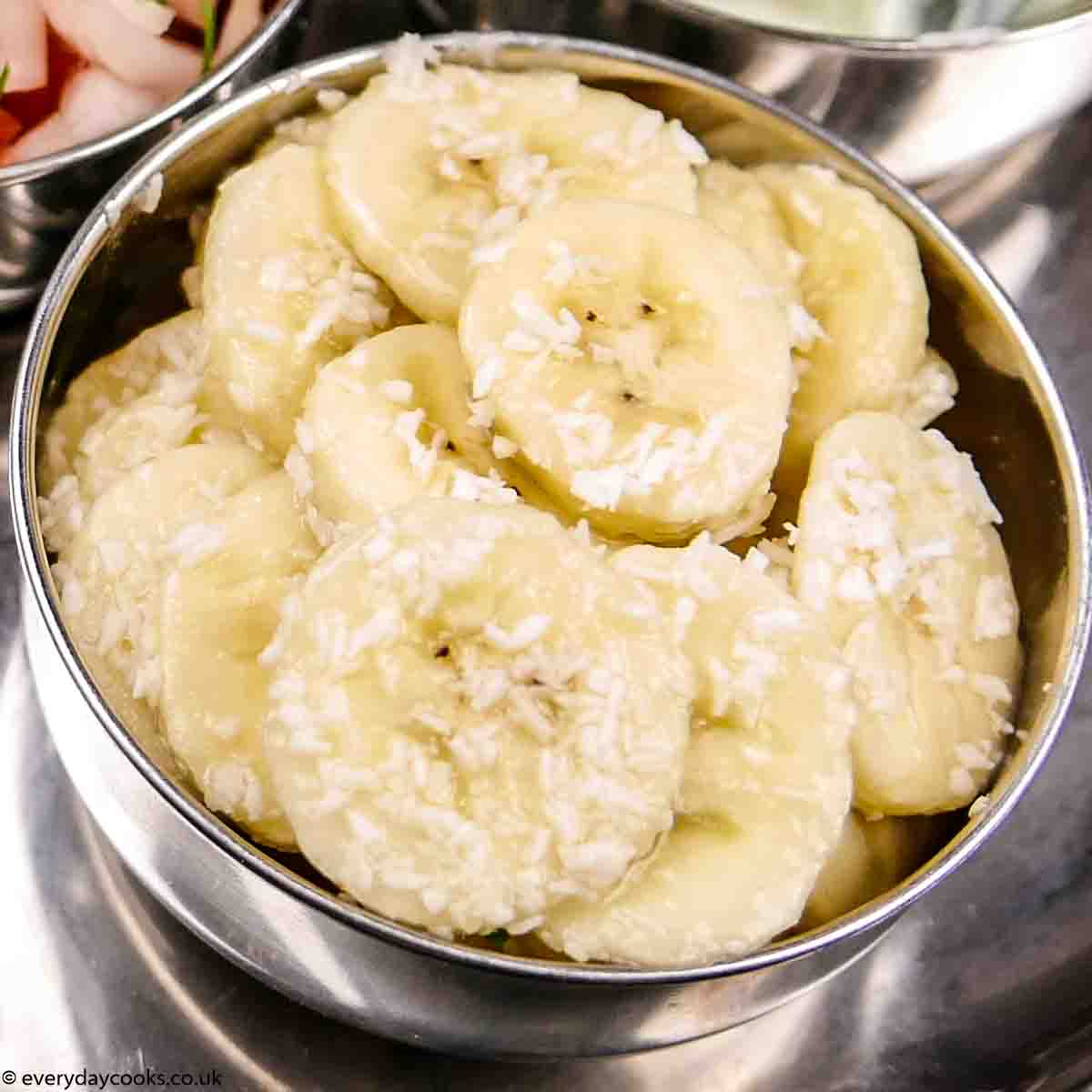 To be honest, I had to look up a name for this dish, because I just think of it as Bananas in Lemon Juice. Although strictly speaking, I usually use lime juice out of a plastic bottle, because it is so good and you only need about a teaspoonful.
I don't always bother with the coconut, but if you have some to use up, it works.
Onion and Tomato Salad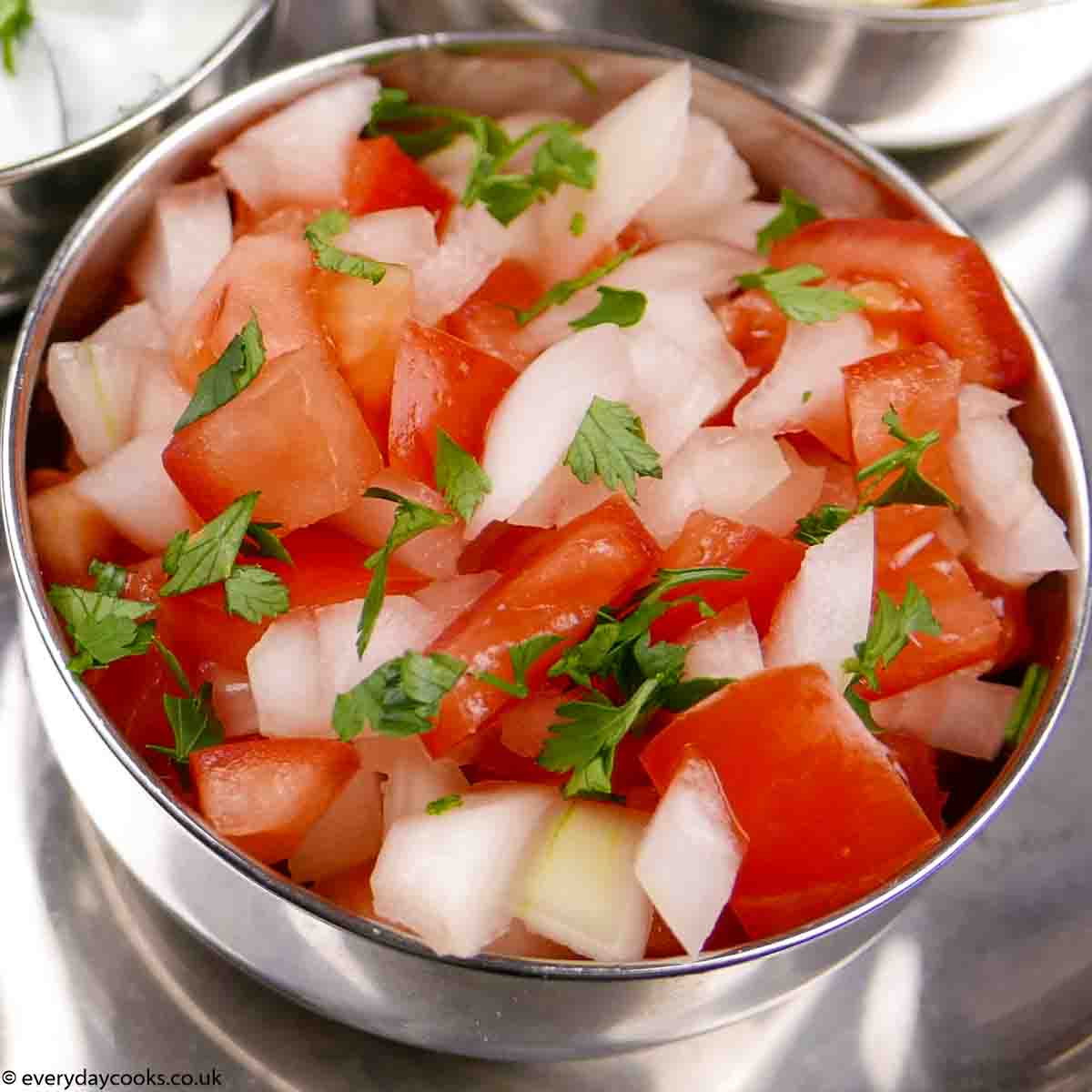 The proportions for this salad can vary. If you only have one tomato and lots of onion, that's no problem. Or vice versa.
In Indian restaurants, the tomato can be very hard to find and it's really an onion salad, but I'm not the biggest fan of raw onion, so I tend to be more generous with the tomato.
If you're in a real hurry, dispense with the herbs. Tomatoes and onions are good anyhow.
Making one, two, or all of these Indian condiments makes such a difference to your curry - whether you've made it yourself or you've got a takeaway - so spend 10 minutes to make a big difference to your dinner!
What else do you need to make Indian Condiments?
5 bladed herb cutting scissors – Useful for cutting the parsley, coriander or mint - or any other herbs you want to use. Easy to just snip the herbs and, most importantly, they don't cut your fingers.
If you like this...
...Why don't you try:
Pin for later
Hover over any picture on the page and hit the Save button to pin the image to one of your Pinterest boards.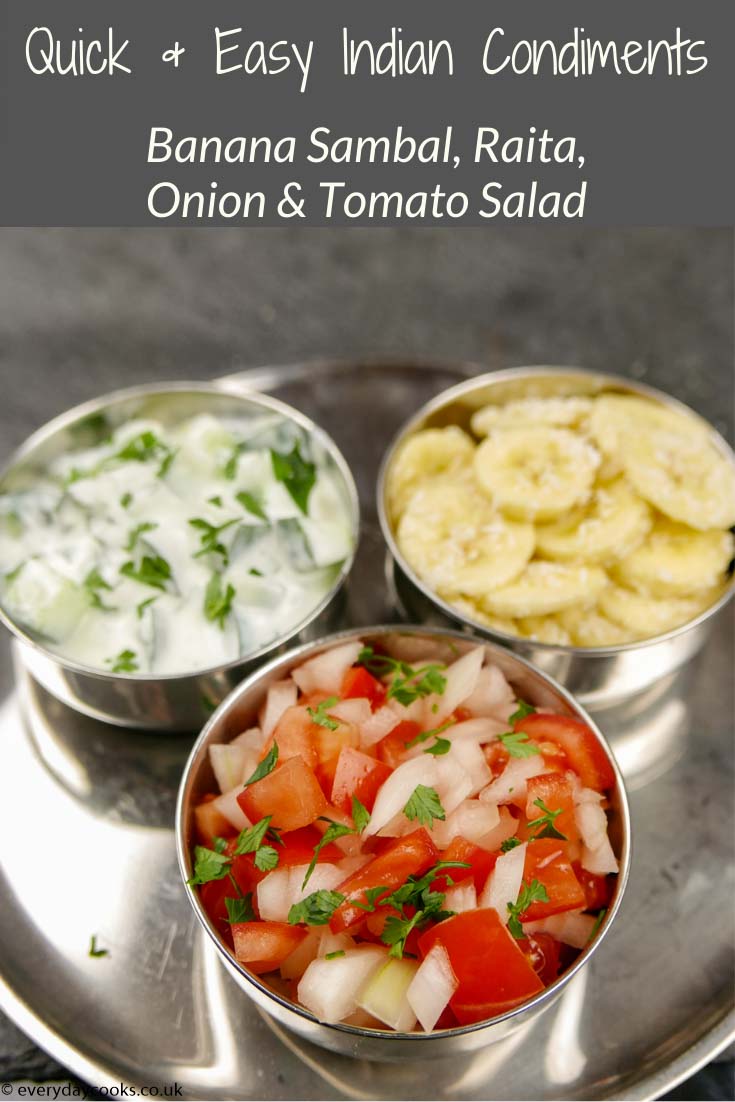 Recipe