Easy Thai Prawn Curry is ready in about half an hour from scratch - perfect if you have friends for supper and need to cook in a short time.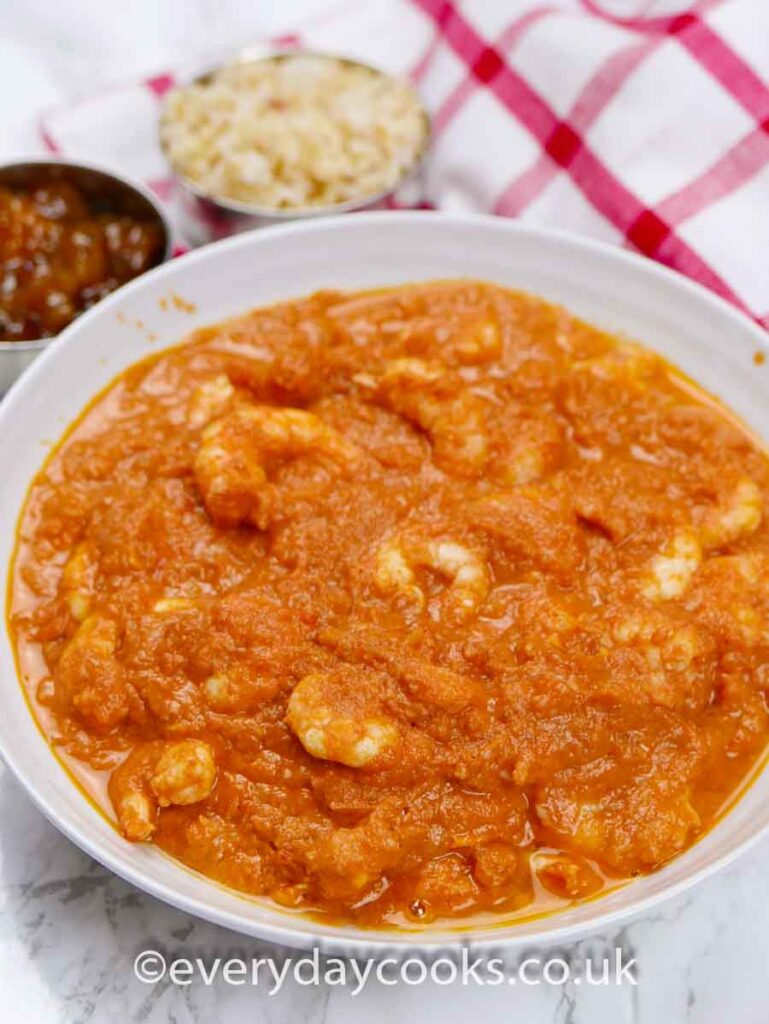 Easy Thai Prawn Curry
Make Easy Thai Prawn Curry Gluten-free
I love Thai curries, but I don't make them often enough to keep all the ingredients in the house. Curry pastes are an excellent substitute, but some are definitely better than others. I'm always looking for pastes with as few preservatives as possible and no added sugar. As one of our extended family members is coeliac, I'd rather buy gluten-free when I can, so that cooking for him is less hassle.
In this recipe, the only place you might find gluten is in the curry paste. So check the packet if you want to be sure. Thai Taste, which I use, is definitely GF. This curry paste will last for 3 months in the fridge once opened, so it's easy to use up before it expires.
Does this curry really take only 5 minutes to prepare?
Amazingly it does. Frozen prawns need no preparation - just snip the bag open.
The 5 minutes is needed to chop the onion, garlic and ginger (if you aren't using that from a jar). You can plan ahead and have prepared onions and ginger in the freezer, in which case 5 minutes is generous.
I should note that before I start timing I assemble all the ingredients and equipment that I'll need. Partly because it gives me a consistent starting point, and also because it makes cooking so much less stressful. When I don't have everything ready, I can almost guarantee that one ingredient that I need is at the back of a cupboard or the knife I want has gone AWOL.
If you keep all the ingredients in the freezer or fridge, this Easy Thai Prawn Curry is one of those great meals to cook when you haven't shopped, or don't want to spend ages cooking.
By the way, you can also cook and freeze rice in bulk, so that you always have some ready. Just spend a couple of hours at a weekend and you'll save loads of time and stress on a week-night.
Helpful Tools
Joseph Garlic Peeler – I know, it sounds so unnecessary, and to be honest it is in this recipe. Except that it makes peeling garlic so easy and your hand don't get smelly. You just chop off the ends of the garlic cloves, unwrap the silicone tube and pop them inside. When it's re-curled you rub the garlic and when you open it up the skin and garlic are separated - like magic.
Helix Garlic Press - Often, I just chop garlic, but when you want it to be very fine it's easier to use a garlic press. I've just updated mine as it's a bit fiddly to use (and 30 years old, so I felt justified). A helix press means you don't need as much force to get more out of the garlic - also good if your grip isn't as strong as you'd like.
If you like this...
...Why don't you try:
Recipe