Quick and easy to assemble - Chicken Mayonnaise with Rice Salad is perfect for a self-catering holiday meal, a summer lunch buffet, or supper at home.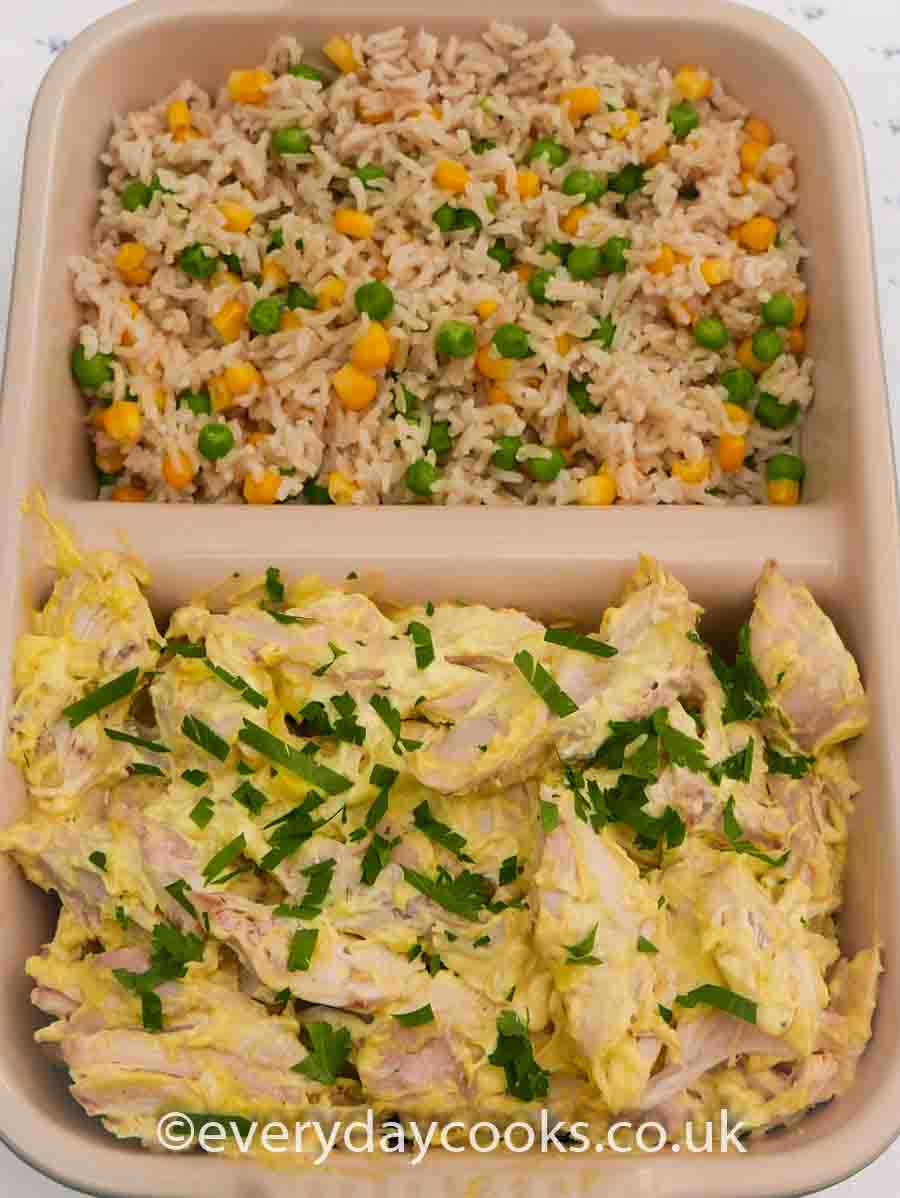 Chicken Mayonnaise with Rice Salad
No apologies for this super-quick meal. Roast your chicken ahead of time or buy one ready-roasted if you're short of time or on holiday.
This is one dish that was a staple of my mother's summer lunch buffets. I realise now that she made it for the same reasons that I do: it's easy to prepare, most of it can be done ahead of time, and it looks and tastes rather good - definitely rather more than the sum of its parts.
Chicken Mayonnaise is very similar to Coronation Chicken, and I like both, The beauty of this recipe is that you really don't need much to make it. On holiday you could buy a couple of spit-roasted chickens and eat one hot and put the other in the fridge for Chicken Mayonnaise another day.
You can buy good-quality mayonnaise in most supermarkets. Homemade mayonnaise always tastes better - and you control what's in it - but on holiday that's not usually an option. A point to note is that if you're making mayonnaise in hot weather, you may find it doesn't thicken so much. One way to improve the texture is by using the eggs slightly cooler than usual, which will balance the warmer-than-usual oil.
This is one of those basic recipes to keep in your repertoire and make over and over again - and if there are only two of you, it will last for 2-3 meals.
Any left-over Chicken Mayonnaise can be used in sandwiches.
HELPFUL TOOLS
Meat thermometer – These days I use my digital thermometer to cook all poultry – including the turkey. It tells me when the internal temperature is reached and having the screen outside the oven makes it easy to read
Roasting bags – I buy a larger size than I need to make it easy. I wouldn't use them for every roast, but when the chicken is being cut up like this they're ideal. The oven stays clean and so does the roasting dish
If you like this...
...Why don't you try: