Cod and Chorizo Parcels are easy to make and great for children who want to cook a real meal. Ready-rolled puff pastry makes the whole process stress-free.
This recipe is easy for children to make. As well as cakes and biscuits, my children often wanted to help 'make dinner'. Cod and Chorizo Parcels are ideal for that. There's very little cutting so even small children can lend a hand.
Fish and chorizo are ideal partners as both cook quickly in the pastry. You make two parcels which each serve two people - so not too much pastry.
Key ingredients in Cod and Chorizo Parcels
Puff Pastry
You could make your own, but why would you? You can either buy puff pastry in a block or ready-rolled. You also have a choice of all-butter pastry, or not. All-butter, ready-rolled is the best-tasting, easiest option in my book, and ideal for children to use.
Cod Fillets
Fresh or frozen cod is fine. If the fillets are long and thin, cut them in half and stack up. Use them straight from the fridge, i.e. cold. If you use frozen fish, it can be cooked when almost defrosted.
Chorizo
I used part of a pack of chorizo slices for this recipe, partly because it's easier, but also because you want them larger and thinner than you can cut yourself from a piece.
Herbs
A teaspoon of dried mixed herbs is easy, but if you have fresh you could snip them to use instead.
Egg Wash
This is totally optional, but your pastry will be golden and glowing if you brush it with egg before cooking. On the other hand, it's a whole egg – but you could use the rest in scrambled egg. I have become converted since seeing the results.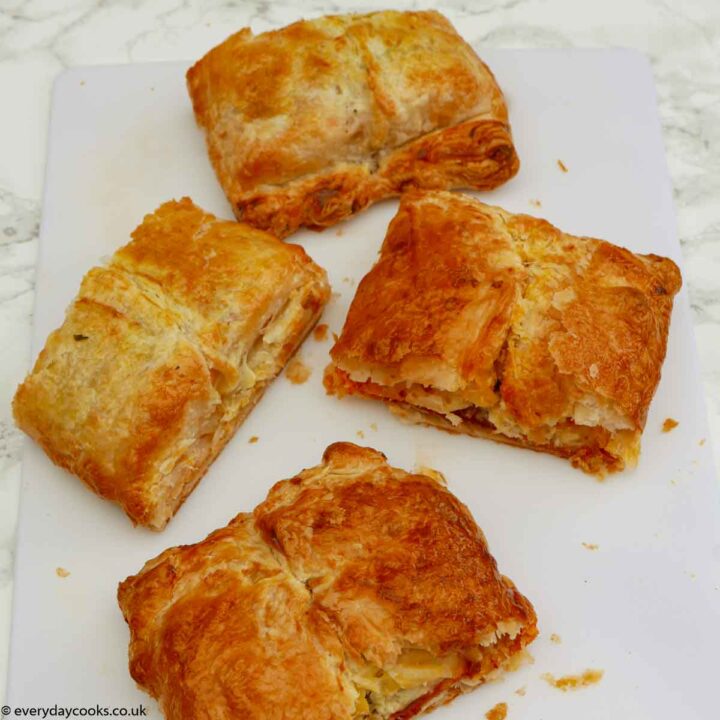 Ring the changes
Leave out the cheese
I've tried making these fish parcels without cheese, but I like the extra flavour from a strong Cheddar. If you don't have any cheese, or don't like it, just leave it out.
Add tomato
You could thinly slice tomato over the top of the fish instead of the cheese or as well as.
Secrets of Success
Keep the pastry in the fridge until you need it
Just ignore what it says on the packet about getting to room temperature. It will be too warm and floppy to handle.
Timings
When I make the Cod and Chorizo Parcels, it takes about 6 minutes after getting the ingredients out, so this will be fairly quick for kids to make too.
Layering the chorizo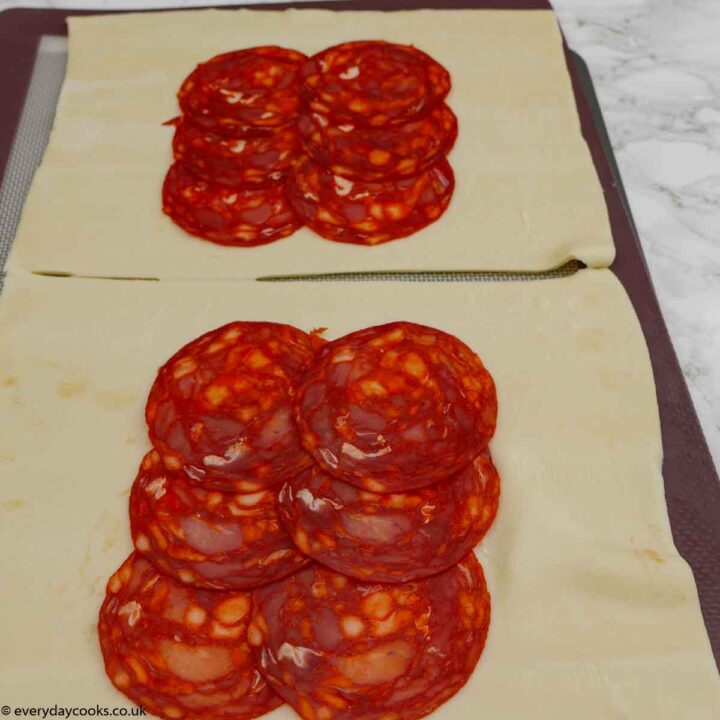 To make the parcels, you need to leave a quarter of the pastry free on each long side and 1-2cm on each short side.
What equipment do you need?
Magic Liner or a silicone baking mat– both reduce the washing up as they go into the dishwasher. You don't have to grease them either as they're totally non-stick
Oven thermometer – if you think your oven thermostat might not be telling you the truth (mine isn't), this inexpensive thermometer will set you right. You do need one with large numbers so that you can read it from inside the oven
If you like this...
...Why don't you try:
Recipe