Zingy Ginger Lime Chicken takes 10 minutes to prepare the night before and half an hour to cook - the perfect weekday supper dish.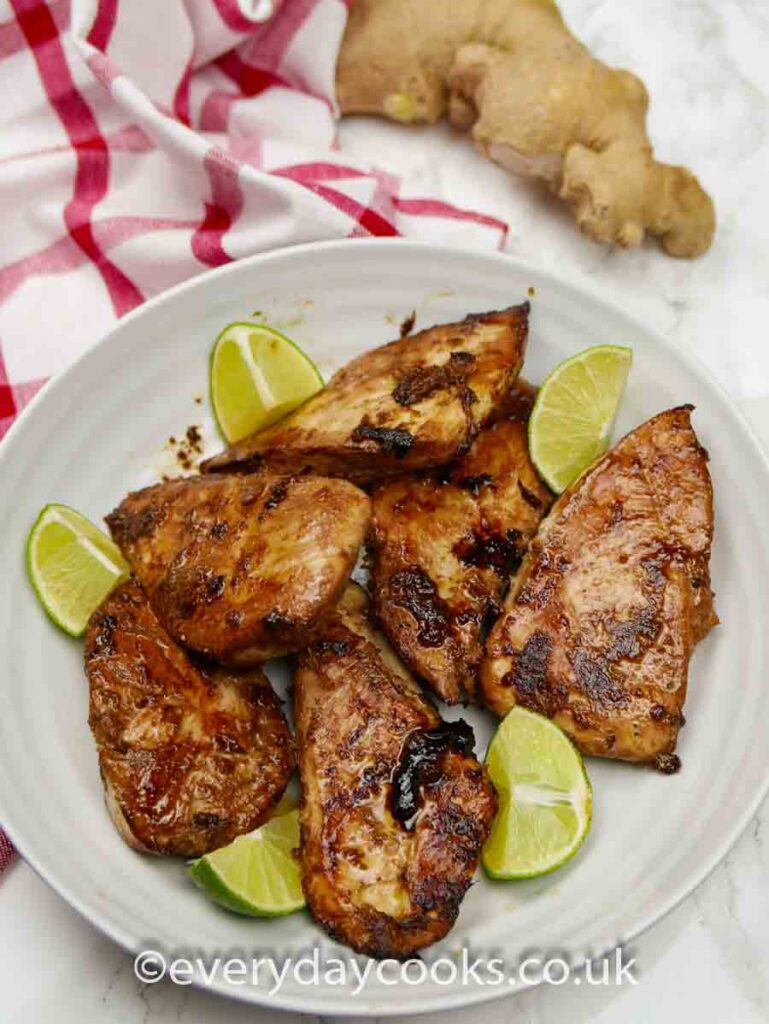 We all need recipes like Ginger Lime Chicken, that can be prepared the night before and cooked quickly whatever time you get home. Just turn the chicken and marinade out into a roasting dish and put it in the oven - no need to pre-heat.
How to reduce the prep time
This recipe only takes about 10 minutes to prepare, but there are a couple of things you can do to reduce the prep time (and wastage):
Use garlic puree or ginger out of a jar or tube. Gia Garlic Puree in a tube keeps well, and a jar of Bart's Ginger Paste in the fridge is an easy way to get the ginger
If you have more time, buy a large piece of fresh ginger and blitz it in a spice mill or small food processor, then freeze a teaspoon at a time in an ice-cube tray. You can do the same thing with garlic. That way you use it all up and save time next time you cook. See 5 Shortcuts for Cooking from Scratch for more details.
If you want to be really efficient you could make up double quantities of Ginger Lime Chicken and freeze one set in the marinade, then get it out of the freezer the night before and cook on as usual.
Easy Accompaniments
If you want vegetables, either prepare them the day before and pop into the steamer, or try something like Waitrose Cauliflower & Kale Couscous, which you just put in the microwave for a few minutes.
By the time you've got changed and made a cup of tea or poured yourself a glass of something restorative, supper will be ready.
Helpful Tools
Citrus Press – I've had a number of juicers over the years and this one's quite different. I wasn't sure that it would get all the juice out but it seems to, and doesn't require much effort. If your grip isn't good, this really helps.
If you like this...
...Why don't you try:
Recipe