When you come home with nothing for dinner, a Sausage and Apple Casserole can be whipped up and ready to eat in 45 minutes.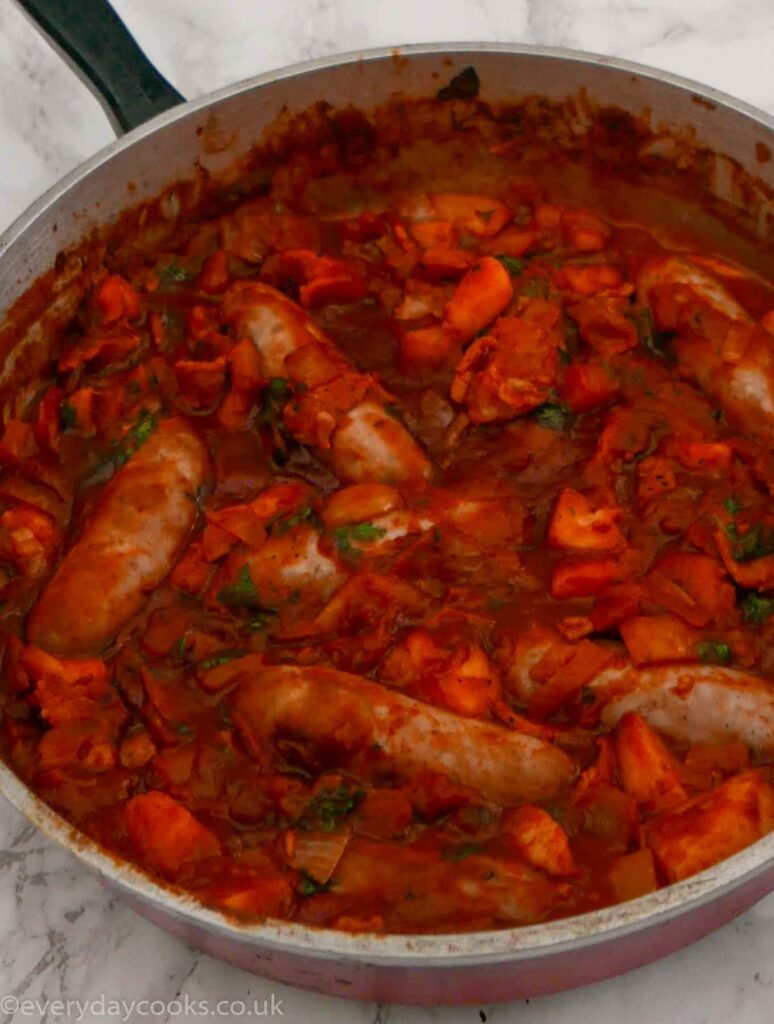 Sausage and Apple Casserole
Of course, it will take a little longer if you have to defrost the sausages (as I did this week). But they defrosted beautifully in the microwave and didn't take much longer than making a cup of tea and the preparation for the casserole.
Key Ingredients in Sausage and Apple Casserole
Sausages
I always keep sausages in the freezer, although I'm careful to choose good quality ones. Sausages can contain all sorts of undesirable bits of meat and lots of filler, so it pays to shop around.
Buy from the butcher or the farm but, failing that, a premium sausage from the supermarket will do. Look for the highest meat content and then choose the flavour.
For this casserole, a plain sausage is good, but the sauce complements any flavoured sausage that I've seen. My current favourites are from Field & Flower (who will give you 20% off your first order).
Apples
I use cooking apples for preference in the sausage and apple casserole, but if you don't have any, eaters are fine. They need a bit more cooking so add them to the pan with the pepper.
If you buy cooking apples specifically for this casserole, you can make an apple crumble with what's left. A perfect pairing.
Peppers
The pepper can be any colour you like or have. If I buy a pepper for cooking, I mostly choose a green one. They aren't as sweet and add a slightly different flavour, but it's marginal and I used a yellow one in this.
I am quite fanatical about removing the seeds. I don't like the texture and they can look odd. These days they aren't hot, so you don't risk that burning sensation. If they don't bother you, leave them in.
Seasoning
I always have a pot or tube of garlic puree in the house so that no actual garlic isn't a problem. If I'm cooking a big batch of something like Bolognese Sauce, I'll buy the real thing. Otherwise, I'm too often left with a wizened garlic bulb, which doesn't taste as good and seems such a waste.
Once the casserole is cooking on the hob, there is just time to boil some pasta and steam some veg. I had mine with carrots and green beans (and apple crumble).
How to make it gluten-free
Buy gluten-free sausages – easy to find in most supermarkets
Use gluten-free flour. Doves Farm make a range of good substitutes for wheat flour
Check your Worcester Sauce label. If it's gluten-free it should say so. Biona make a GF Worcester Sauce.
If you like this...
...Why don't you try:
Recipe