Marzipan, or almond paste, often seems a step too far to make yourself. In reality, it's a simple recipe that takes 10 minutes - and you'll know what's in it!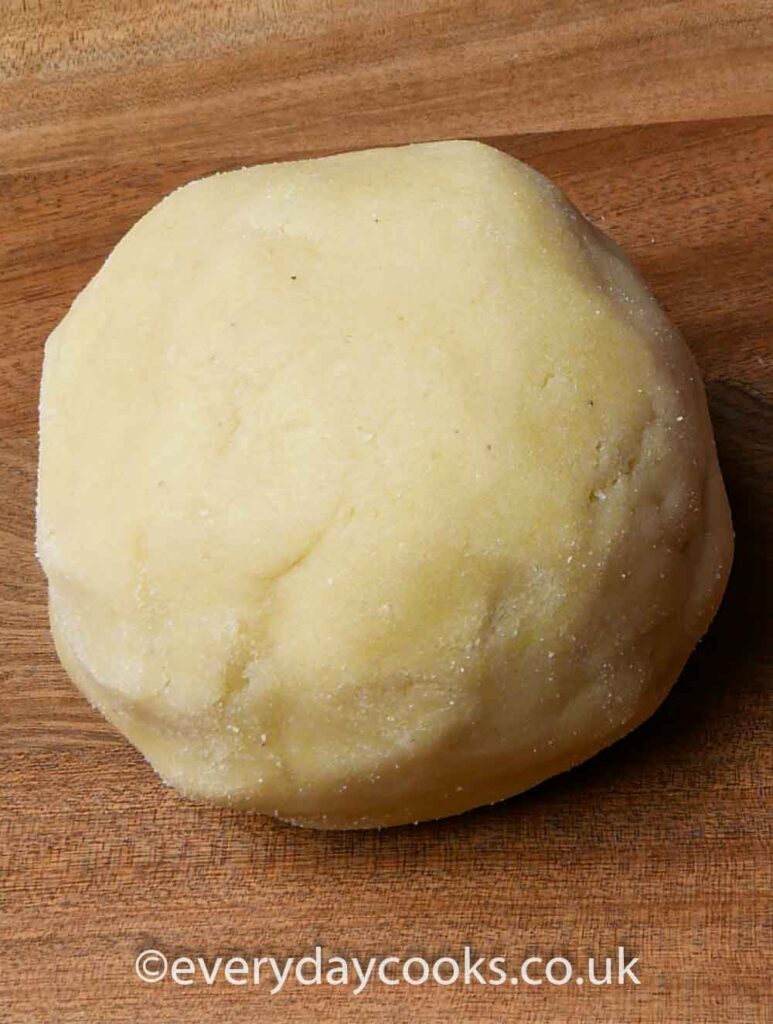 I've always made marzipan - probably because my mother always has - and because I definitely prefer it. Partly because it doesn't have any additives in it, and also it tastes better!
Admittedly the texture is slightly coarser, but not so that you particularly notice.
Key Ingredients in Marzipan
Basic ingredients
There are four essential ingredients - ground almonds, caster sugar, icing sugar, and an egg. Easily available at supermarkets or online.
Can you use almond flour instead of ground almonds?
You can, although traditionally ground almonds are used.
Ground almonds contain whole unblanched almonds. Almond flour is finer and doesn't contain the skins so is lighter in colour. The texture of the marzipan will be finer and it will look lighter.
Whole egg or egg whites?
I use a whole egg for this amount of marzipan - partly because I don't want spare yolks to use up.
For white marzipan use 2 egg whites. For golden marzipan use 2 egg yolks and a tiny bit of white if necessary.
If you're making half quantities, as I do for Marzipan Stars, use just an egg white.
Flavourings - all natural
My recipe - based on one I learned from the Cordon Bleu cooking school - uses five types of flavours:
Lemon juice
Almond extract
Sherry
Orange Flower Water (or Orange Blossom Water)
At the least, you will need lemon juice, vanilla extract and almond extract. If you have sherry (or brandy), use it. Otherwise, add more lemon juice.
The final flavour I add is Orange Flower Water. It's very subtle and I do use it in other recipes so I'm happy to keep it in stock. If you don't have any, again add more lemon juice.
Extract vs. Essence
Vanilla Extract is made from vanilla pods. Almond extract is made from almonds. Essence is often synthetic. If it's all you have, use twice as much essence and buy extract next time.
The only exception is using almond essence when someone eating a recipe you're making has a nut allergy - although obviously that doesn't apply here.
How do you make Marzipan?
First, you prepare the dry ingredients. If you aren't using a processor, sieve the sugars into a large bowl and mix with the ground almonds.
If you do have a processor, put the sugars and ground almonds in and blitz for a few seconds, which will get rid of any lumps.
Then you lightly whisk the wet ingredients in a small bowl, add to the almonds and sugars and mix until you get a ball of marzipan.
How long does Marzipan keep?
Marzipan keeps for a few weeks, especially in the fridge. All that sugar acts as a preservative.
What can you do with Marzipan?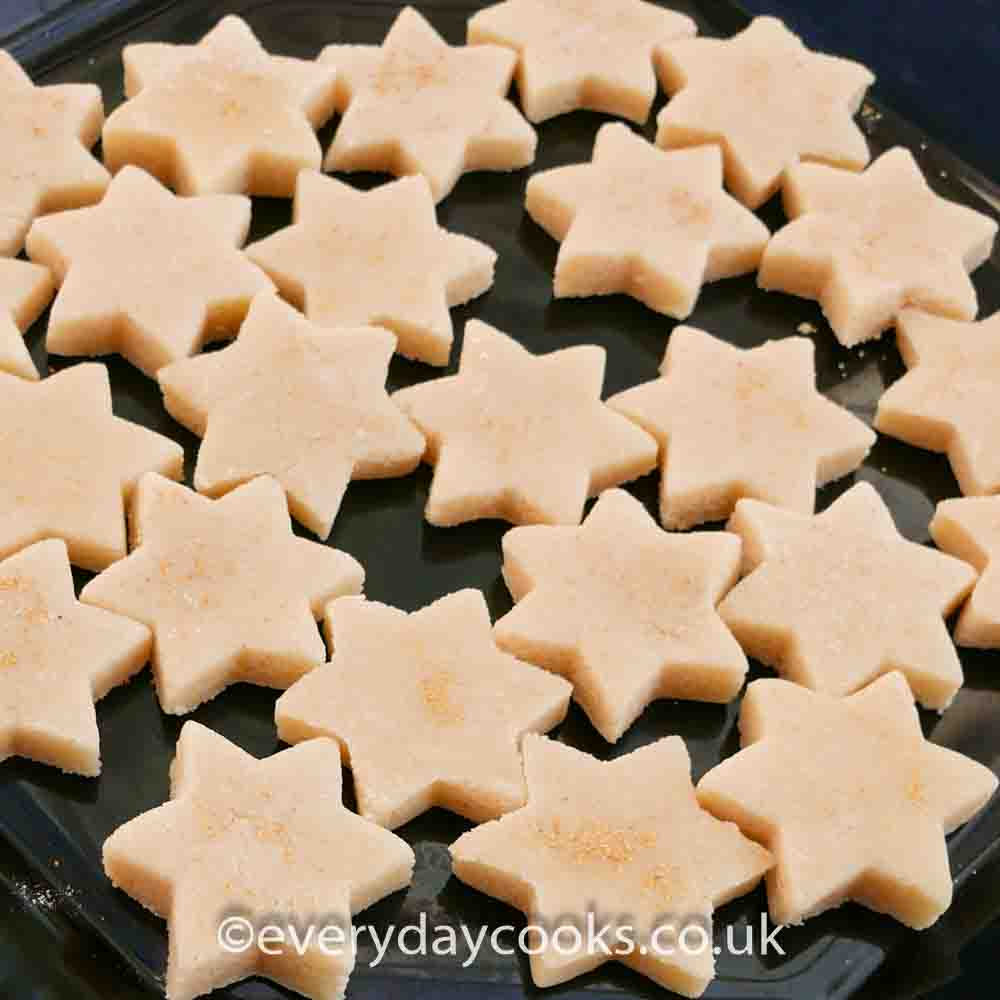 What else do you need to make this recipe?
You can manage with a couple of bowls, a sieve, and a fork, but to make it really easy, use a processor, like a Magimix food processor. No need to sieve anything, just blitz it!
Helix Citrus Press - If you find your current lemon squeezer hard work, try a citrus press. You pull two arms together rather than twisting the fruit itself.
If you like this...
...Why don't you try: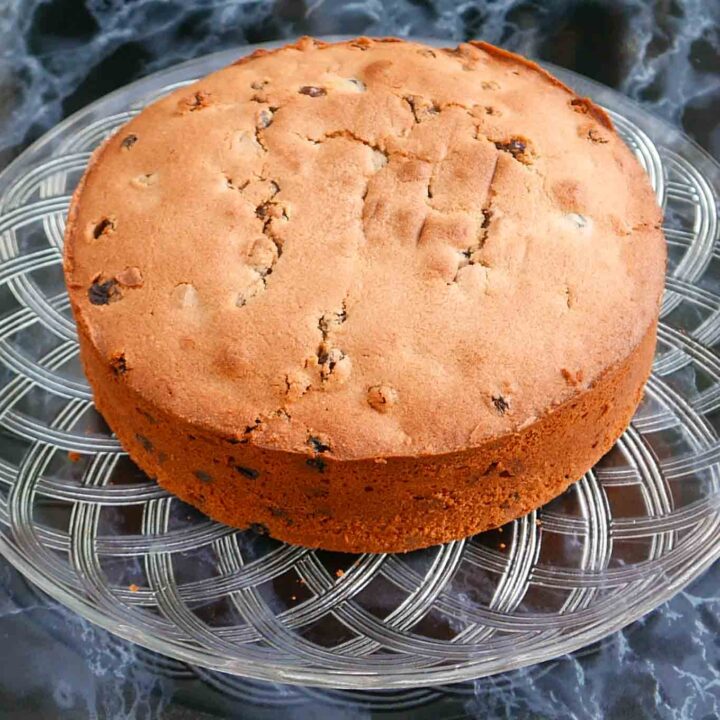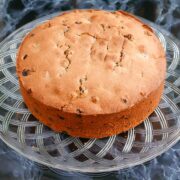 A light, moist Christmas Cake that you can make on Christmas Eve and will keep for 6 weeks.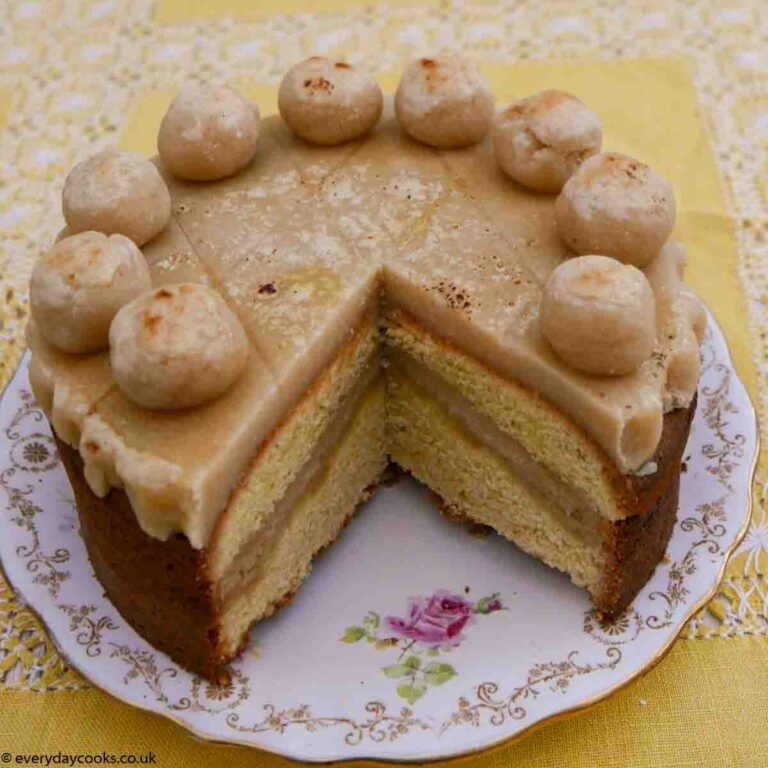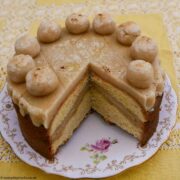 Orange Simnel Cake is a plain orange cake with marzipan filling and topping in the tradition of a Simnel Cake. Great for Mothering Sunday or Easter.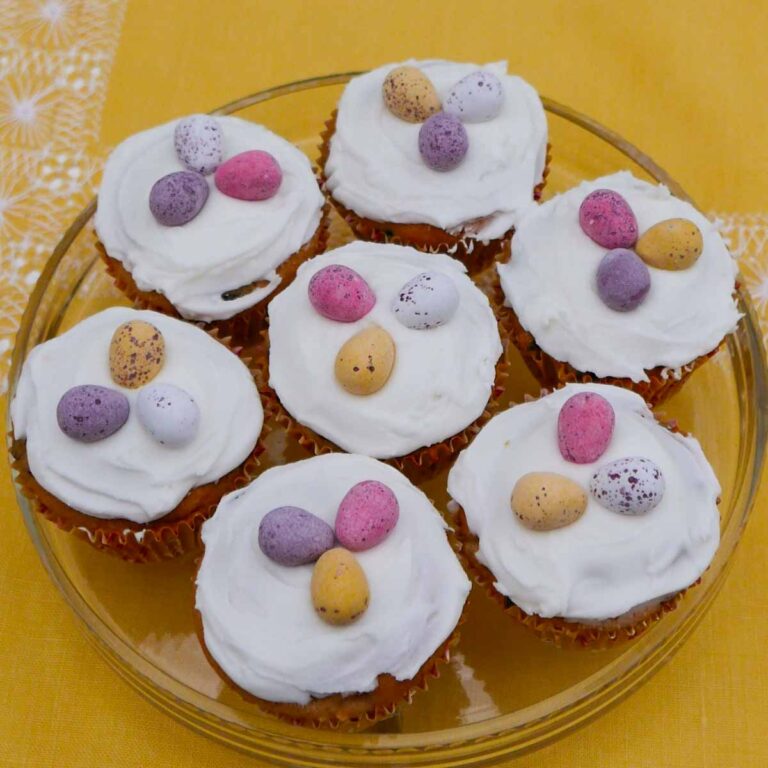 Simnel Cupcakes are crammed with fruit and marzipan, flavoured with orange, and topped with icing and chocolate eggs.
Recipe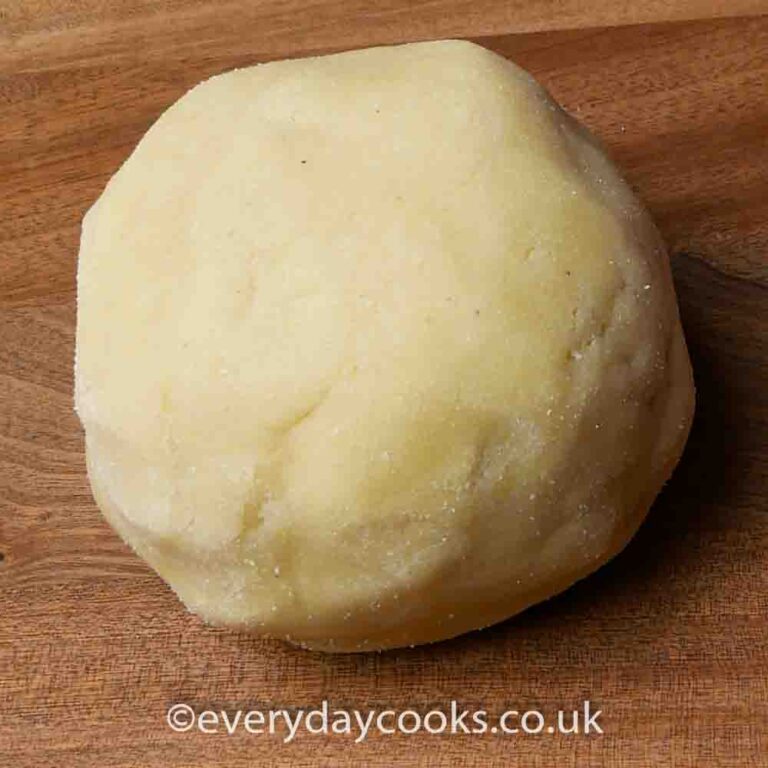 Print Recipe
Marzipan
Homemade Marzipan is all natural and tastes great - ready to use in 10 minutes.
Servings:
1
20 cm round cake cover
Ingredients
400

g

ground almonds

200

g

caster sugar

200

g

icing sugar

1

large egg

2

teaspoons

lemon juice

(10ml)

2

teaspoons

sherry, or extra lemon juice

(10ml)

2

teaspoons

orange flower water, or extra lemon juice

(10ml)

1

teaspoon

vanilla extract

(5ml )

4

drops

almond extract
Instructions
Prepare the dry ingredients:
EITHER: In a processor, pulse the dry ingredients until fine.

(Caster sugar, icing sugar, ground almonds)

Don't overdo it! 

OR: Sieve the sugars into a large bowl to get rid of any lumps (normally I wouldn't bother, but I do for marzipan)
Make the Marzipan:
In a separate bowl, lightly whisk the egg and flavourings with a fork

(lemon juice, vanilla extract, orange flower water, sherry and almond essence)

Add the liquids to the dry ingredients and blitz or mix well until the mixture comes together

Press together with your hands to make a smooth paste

The marzipan will probably feel a bit sticky, but don't be tempted to add more sugar or ground almonds
Notes
800g marzipan is sufficient to cover the top and sides of a 20cm (8-inch) round cake
See How to Marzipan a Cake for step-by-step instructions to achieve a smooth, even finish