Apricot and Almond Biscotti are perfect with a cup of coffee (or tea) at any time of day or year. They can be crunchy or chewy and they aren't overly sweet. They're good for bake sales as you can make them ahead of time - they keep well for at least a couple of weeks.
Biscotti means twice cooked - like biscuit, although most biscuits I make are not literally cooked twice. Biscotti, however, are.
Until quite recently it hadn't occurred to me to make biscotti. I quite like to eat them, but I find them a bit boring with just nuts in. It wasn't until one of my girls asked me to make something for a bake sale that I figured these were the ideal candidate. You can sell them as a gift because they keep well - 2-4 weeks in an airtight container.
Key Ingredients in Apricot and Almond Biscotti
Dried Apricots
Easy to find in the supermarket or health store. Apricots need cutting into about 6-8 pieces, which is quick and easy to do it with kitchen scissors.
Whole Almonds
You do need whole almonds - flaked ones are too thin. The fiddliest part of this recipe is cutting the almonds into similar size pieces to the apricots. You could try blitzing them in small batches in a small processor, but it's too easy to powder them - so beware!
Large eggs
For this recipe you need large eggs. If you use medium eggs it will be too dry. My original recipe did call for medium eggs and didn't work when I used large ones (which I always do) so I've adapted it to be consistent.
Note to self (and others), always check what size eggs the book uses as default. (This is why I always specify the size. It does make a difference!)
Vanilla Extract
Vanilla Extract is made from vanilla pods. Vanilla essence is often synthetic. If it's all you have, use twice as much essence and buy extract next time.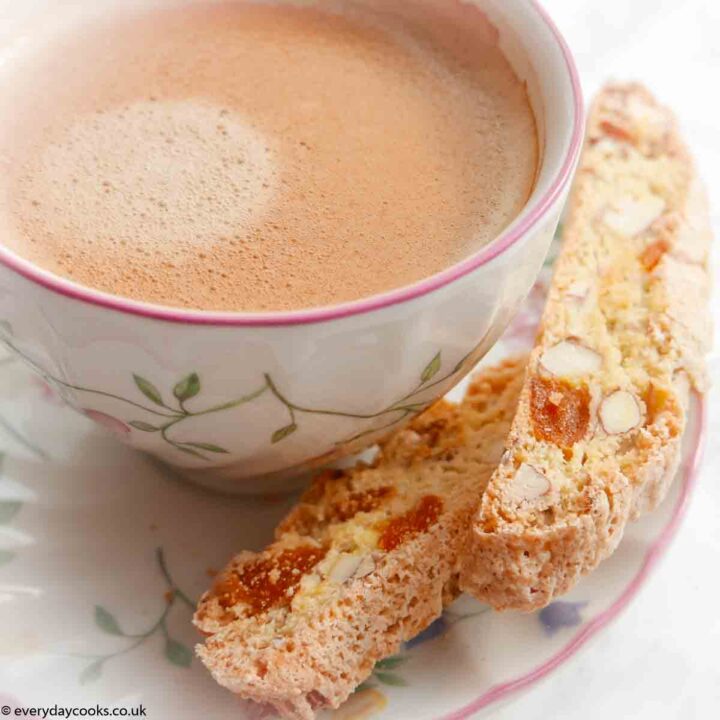 Secrets of Success
Biscotti are not difficult to make if you have a good recipe that you follow carefully.
Check your egg size
As above, check the egg size, so that you can reduce or increase the other ingredients if your eggs are not as the recipe states.
Baking biscotti twice
First, they're cooked in a log shape, so the only shaping you have to do is into two logs.
Once these are almost cooked, you take them out of the oven and cut into slices. The tricky bit is not burning your fingers - and you do need a sharp knife to make it easy,
Then cook the slices to brown and dry out. I prefer to reduce the second cook so that my biscotti are slightly chewy.
Long story short, this recipe works. It sticks to your fingers a bit, but not too much. It makes masses of delicious Apricot and Almond Biscotti and you may never want to buy them again.
Helpful Tools
Magic Liner - I've cut this to fit most of my traybake tins and roasting tins. No greasing, and it goes in the dishwasher to clean - very easy!
Silicone Baking Mat – also reduces the washing up as it goes in the dishwasher. Again, no greasing. You just use over a baking sheet to keep the mess down and you can roll biscuits out on it as it's non-stick, so even less to clear up!
If you like this…
…Why don't you try:
Pin for later
Hover over any picture on the page and hit the Save button to pin the image to one of your Pinterest boards.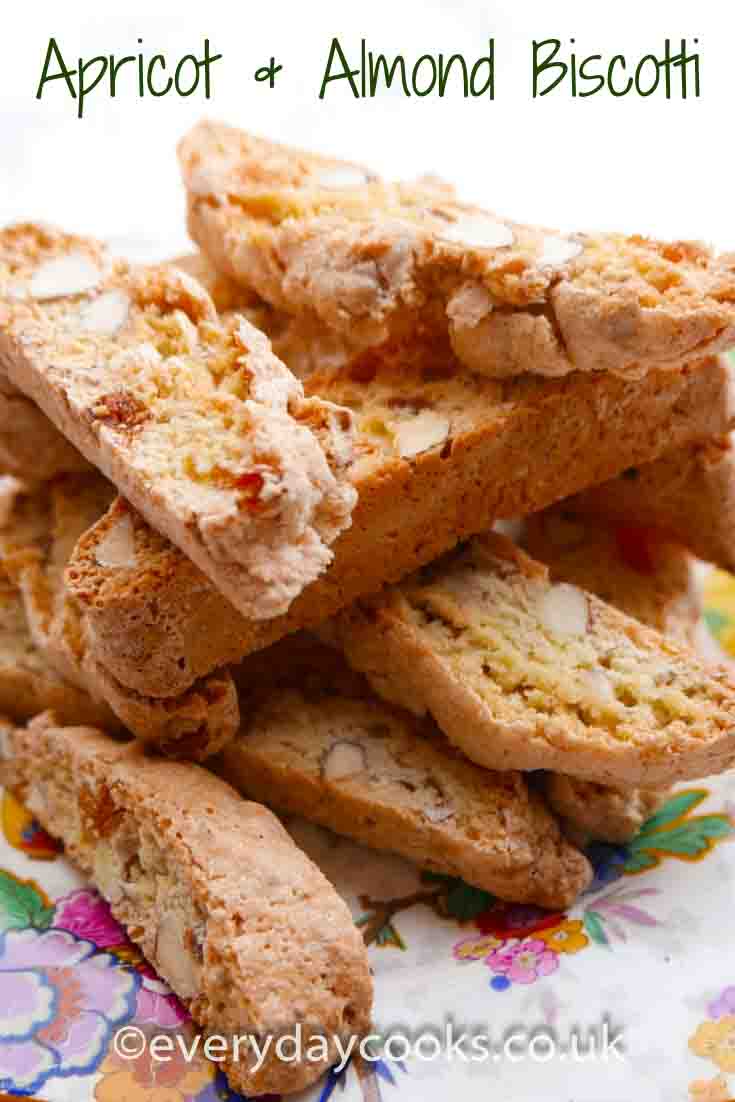 Recipe