Cranberry and Hazelnut Biscotti always signify Christmas time to me. Biscotti can seem a bit daunting to make but, in fact, they're fairly straightforward. You don't fiddle about with rolling and cutting out. Just shape into a log, bake, cut into biscuits, and bake again.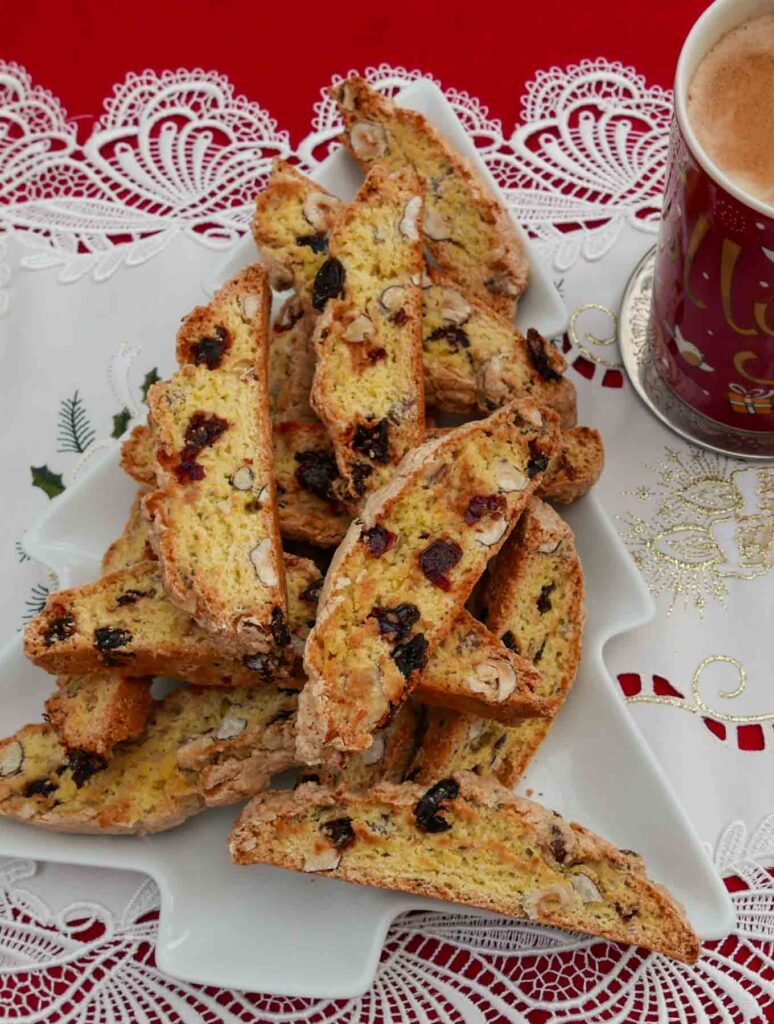 Now I've started to make biscotti myself, I feel compelled to try lots of different fruit and nut combinations, but the traditional ones always win.
Biscotti are much easier to make than you think and they taste so good. I prefer making them a little less crunchy than the ones you buy. That's easily done by cutting down the cooking time (or making the biscotti bigger).
Ring the changes
Fruit and nuts
Use any combination that you like: apricot and almonds, sour cherry and pistachio are good. If you want all nuts or all fruit just amend the quantities and make your favourites.
Secrets of Success
Are biscotti easy to make?
Yes, in a word. There are three steps to successful biscotti:
1. Make the dough - get your hands dirty
Combine the dry ingredients in one bowl and the wet ingredients in another bowl
Mix with a spoon and your hands to make the dough.
2. Shape and bake
Shape the dough into two logs
Bake for half an hour.
3. Cut and bake again
Cut the logs into slices
Bake again, turning once for 15 minutes.
The main trick is to make sure you have a very sharp knife for cutting the biscotti loaves into slices.
How do you make gluten-free biscotti?
I've made these Cranberry and Hazelnut Biscotti with gluten-free flour, as a present for a friend with coeliac disease. They work very well, although the texture is a bit softer. The flour I prefer to use is from Dove's Farm and is well worth buying in bulk if you have friends and family who are coeliac (as I now have).
Make Cranberry and Hazelnut Biscotti for Christmas presents or bake sales
However you make them, biscotti are a great idea for a Christmas gift. And if you need to make something for a bake sale at this time of year, biscotti are always a good bet. They look very professional in a pretty bag. Not many people make them, so it's easy to impress.
Helpful Tools
Magic Liner or a silicone baking mat – both reduce the washing up as they go into the dishwasher. You don't have to grease them either as they're totally non-stick. I've just bought some silicone baking mats that I saw recommended. You use them over a baking sheet to keep the mess down and you can roll biscuits out on it as it's non-stick. You can use, as I often do, magic liner, which I have cut to fit most of my traybake tins and roasting tins. Both go in the dishwasher to clean, although all I just washed off the baking mats in the sink. Anything to reduce the domestic load!
If you like this…
…Why don't you try:
Pin for later
Hover over any picture on the page and hit the Save button to pin the image to one of your Pinterest boards.