Chocolate Tiffin is a no-bake chocolate refrigerator cake full of chocolate, cherries and raisins and topped with chocolate.
Chocolate Tiffin isn't something I would actually eat every day as it's too rich, but it is an Everyday kind of treat, i.e. easy and quick to make and you won't be left with any ingredients that you won't otherwise eat or use up.
Cooking with kids
No bake tray bakes or fridge cakes are easy to make with children. They'll love bashing the biscuits and chopping the cherries.
Key Ingredients in Chocolate Tiffin
Raisins (or sultanas) and Cherries
Of course, there are cherries. I've put a whole pack in so you aren't left with any to dry out or to tempt you to eat them. If you dip into them before making the Chocolate Tiffin, just make up the weight in raisins.
You could use sultanas instead, which give a slightly less dark finish but, please, just use what you've got.
Cocoa
It's worth using good cocoa and chocolate - you will notice the difference.
Green & Black's cocoa is a good choice or Menier but, again, use what you've got. Unless it's drinking chocolate. Don't use that. Make something else instead.
Rich Tea Biscuits
Easy and cheap to buy. Don't use Digestives - you'll get a completely different texture. You want some pieces of biscuit in your base.
Chocolate
When I was young we used chocolate cake covering. These days you wouldn't be able to call it that as it really wasn't chocolate at all - and I wouldn't want to eat it.
I either use ordinary dark chocolate like Bourneville or, for preference, a really dark (70%+) chocolate mixed 50/50 with a nice milk chocolate. If I'm making this for children, I might use Cadbury's Dairy Milk instead, as mine prefer that.
Secrets of Success
Crush the biscuits by bashing with a rolling pin or meat hammer inside a plastic bag. I can't find an eco-friendly alternative - apart from a paper bag and I don't have any. Maybe a cloth bag that's washable?
You don't want to bash them to powder. Leave a few pieces in the mix.
Melting the chocolate without it turning grainy is the only challenge for this recipe. You can melt the chocolate in the microwave or over a basin of hot water. If you're unsure about it, see How to Melt Chocolate.
Make Chocolate Tiffin Gluten-free
We have a Coeliac sufferer in the family who mustn't have anything that's even been near gluten. Some cakes are no-gos but some, like this tiffin recipe, are easily adaptable.
I made this Chocolate Tiffin with Schar Gluten-Free Rich Tea biscuits. The consistency is a bit softer as the biscuits are less absorbent, but if you didn't know you wouldn't think anything of it.
What equipment do you need?
20cm square traybake tin - One of the tins I use most for small traybakes
Magic liner - Every time I use this I give a silent word of thanks. No greasing, no sticking. Wash up in the dishwasher. One for every tin
Baking parchment squares - I always keep parchment squares, circles and sheets in my kitchen. If I don't have a liner, parchment does the job just as well.
If you like this...
...Why don't you try:
Pin for later
Hover over any picture on the page and hit the Save button to pin the image to one of your Pinterest boards.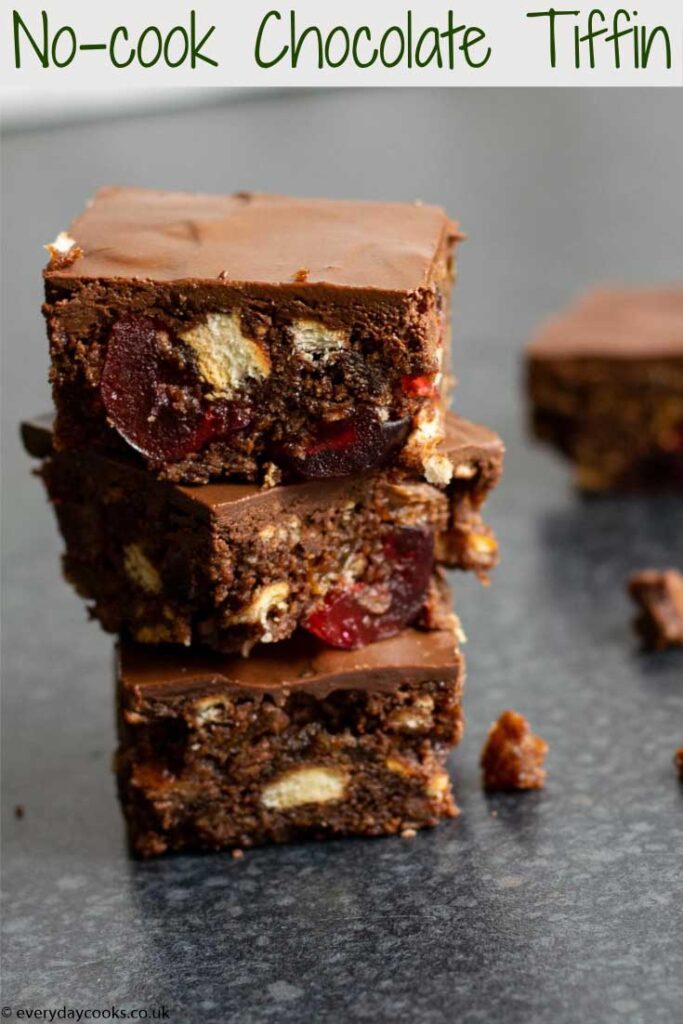 Recipe