Christmas Chocolate Tiffin is a no-cook recipe that's quick and easy to make and is very more-ish. It's packed with cherries and raisins soaked in the spirit of your choice. Who needs mince pies?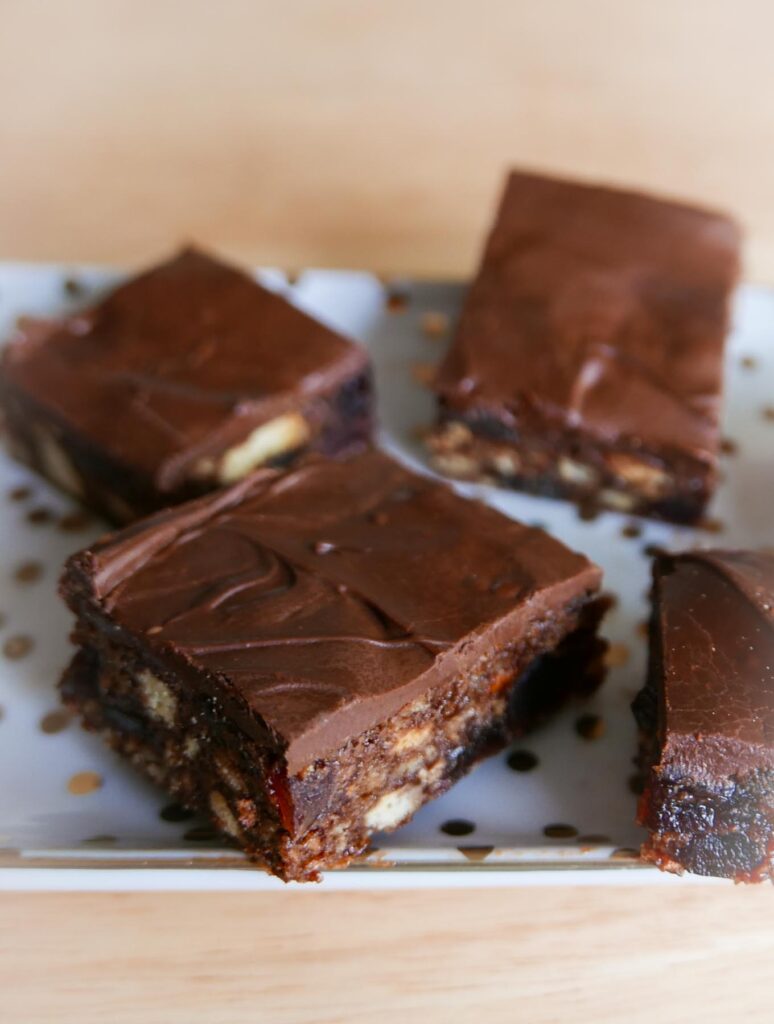 Christmas Chocolate Tiffin
I based this slightly boozy, fruity tiffin on my Polish Cake recipe. It doesn't last very long because it's so more-ish. I like making things that people like to eat but I would sometimes like to be able to open the tin and see a piece left for me.
Key ingredients
Dried Fruit
Raisins or sultanas and lots of cherries! You can use any dried or crystallised fruit, though. Just make the weight add up to 325g (about 2 cups). Crystallised pineapple, dried apricots or whole candied peel cut up yourself are all good at this time of year.
Brandy
You can use any spirit you like - e.g. a rum and raisin version. If you want to avoid alcohol, try orange juice or cold tea (no milk).
Rich Tea Biscuits
Digestives won't do, as they're too crumbly. Any supermarket brand is fine as you will be crushing them.
Cocoa powder
The main point is not to use drinking chocolate, which might have as little as 25% cocoa solids, compared to up to 97% in most cocoas.
Chocolate
Cake covering isn't chocolate and won't give a good result. You can use a mixture of very dark (70%) and milk chocolate, or just find a bar of ordinary dark chocolate - Bourneville is fine.
Secrets of Success
Soaking the fruit in the brandy
You could do this by mixing the fruit and brandy together and leaving overnight. Otherwise, use the microwave method: Fruit and brandy in the microwave for 30 seconds on HIGH. Stand for 5 minutes and repeat. You can do this while you prepare the biscuits.
Crushing the biscuits
Put the biscuits in a bag and bash them with a rolling pin is the easiest way. I now use a meat hammer, which I find rather satisfying.
You want the biscuits to be a mixture of powder and small pieces. You're not looking for uniformity and you definitely need some powder to help the tiffin stick together.
Melting the chocolate
I wrote a whole post about How to Melt Chocolate so if you want a step-by-step guide, take a look. Using a pan of hot water is the safest method. The microwave is quicker, but if you're too impatient you will crystallise the chocolate and have to start again!
How do you make Christmas Chocolate Tiffin Gluten-Free?
Buy gluten-free Rich Tea biscuits. In the UK I use Schär biscuits when I need to cook GF. You should also check the ingredients on the chocolate pack, but good quality chocolate should be fine.
What else do you need to make Christmas Chocolate Tiffin
Use a non-stick reusable liner instead of lining with baking parchment every time. Just cut it to size and keep it in the tin. Clean in the dishwasher. The advantage of lining the tin is that it's easier to clean and the finished cake comes out more easily
If you like this...
...Why don't you try: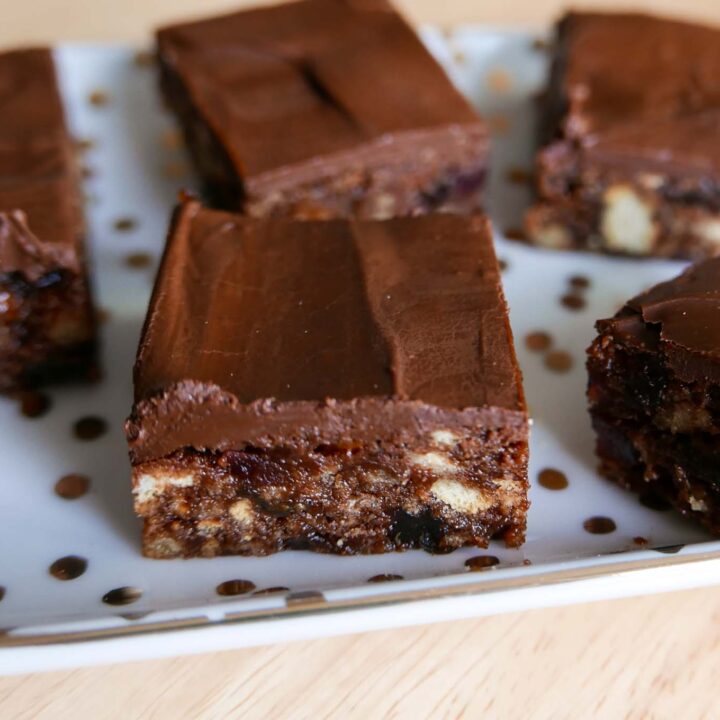 Print Recipe
Christmas Chocolate Tiffin
Christmas Chocolate Tiffin is a no-cook recipe, packed with cherries and raisins soaked in the spirit of your choice, that's quick and easy to make.
Ingredients
For the Tiffin:
125

g

raisins or sultanas

200

g

glacé cherries

80

ml

brandy

300

g

Rich Tea biscuits

150

g

butter

40

g

light brown soft sugar

200

g

golden syrup

25

g

cocoa powder,

not drinking chocolate
Equipment
Glass bowl for melting the chocolate
Plastic bag and rolling pin to crush the biscuits
Instructions
Preparation:
Grease the tin with a little butter OR line the base with baking parchment or a liner

Cut the cherries into halves - no need to wash

Put the fruit in a small bowl with the brandy and microwave on HIGH for 30 seconds

Stand for 5 minutes

Stir and microwave on HIGH for a further 30 seconds
For the Chocolate Tiffin:
Crush the biscuits:

Put the biscuits in a large bag. Beat with a rolling pin until the biscuits are in small pieces.

Quite a lot of biscuit will be powdered and some will be in larger pieces – that is what you want

You need some powder for the mixture to stick together so if in doubt, beat it again

In a large saucepan, melt the butter, sugar, and golden syrup and mix to combine

Turn off the heat, add the crushed biscuits and cocoa and mix thoroughly

The chocolate colour should be quite evenly distributed

Add the fruit and any remaining liquor and mix carefully

Press the mixture into the tin with the back of a spoon. Push it down firmly

Turn the spoon over and use its edge to tidy up the edges of the cake base

Leave to cool in the fridge.
For the Topping:
When the base has cooled, tip it out of the tin and remove the liner

Melt the chocolate in the microwave or over a saucepan of hot water

For step-by-step instructions see How to Melt Chocolate

When the chocolate is melted, pour over the base and spread evenly using a palette knife

Leave to cool, then cut into squares.
Notes
Everyday Cooks Tips:
If the cocoa has lumps, don't bother to sift it. Just make sure you mix it in thoroughly, pressing the lumps out as you go
Storage: Christmas Chocolate Tiffin keeps well for a week or so in an airtight tin or plastic box in the fridge, but the chocolate may look less shiny. If not in the fridge, keep it in a cool place for a few days.