Flapjack - yum! Very easy to make, four ingredients, and only 30 minutes from start to finish. When you want something sweet with your afternoon tea, this hits the spot.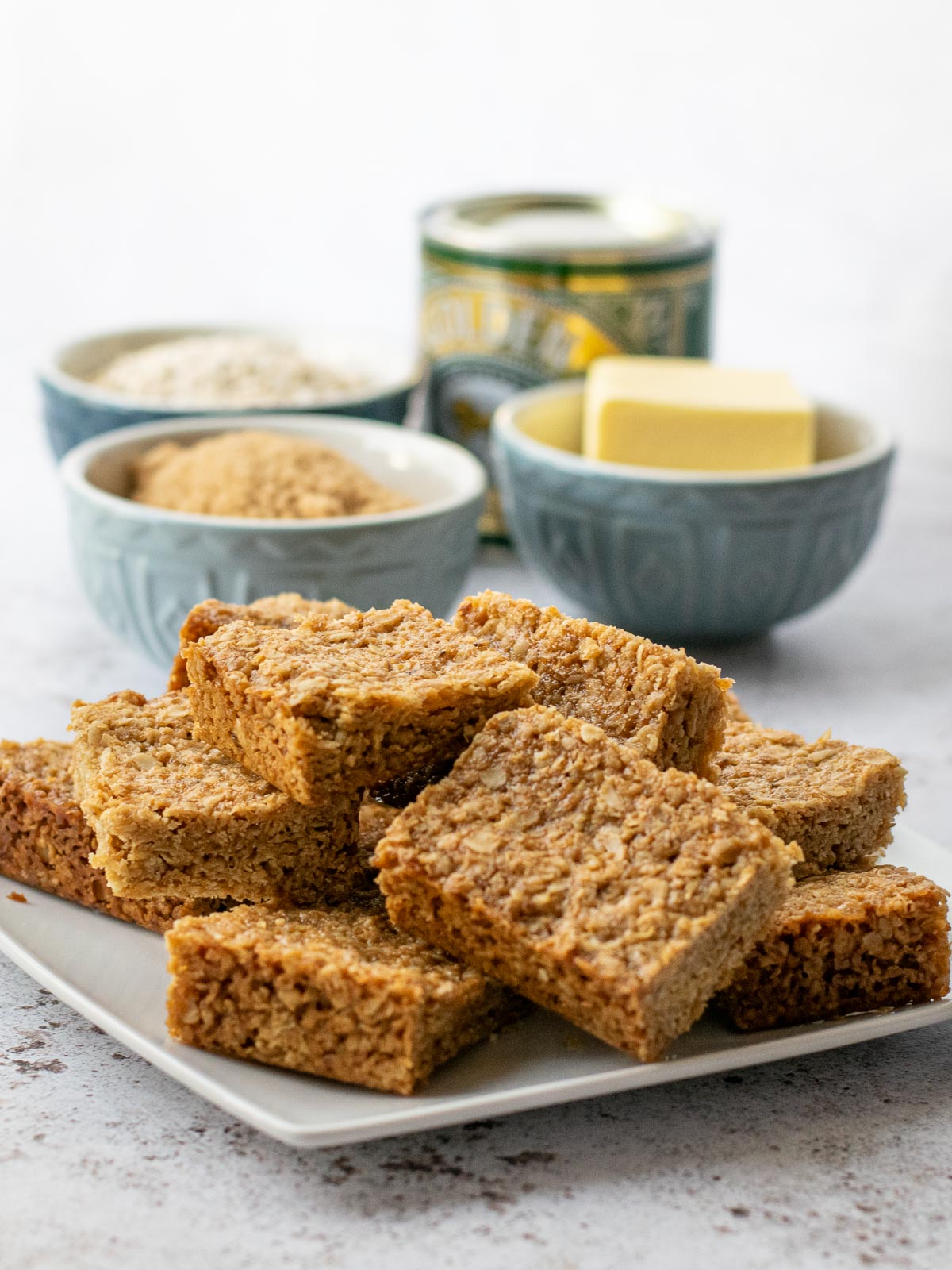 Ready in half an hour
Flapjack came to mind the other day when I got home after a hard day's shopping. I thought I'd like something nice with a cup of tea but I didn't want to spend long cooking.
It only takes half an hour from thought to plate and uses ingredients I keep in the cupboard.
Finding the right Flapjack recipe
I tried a few recipes from my cookbooks (and found a vast difference between the amounts of butter and sugar they used). none of them was right.
If all else fails, do what your mother said in the first place
By then I had become rather focused on finding the ultimate flapjack recipe, so I went to the mother source - my mum's recipe book. (Fortunately, I've scanned all her handwritten recipes.) Eventually, I came across the ultimate, traditional flapjack recipe.
Key Ingredients in Flapjack
Butter, brown sugar, golden syrup and oats are almost all you need.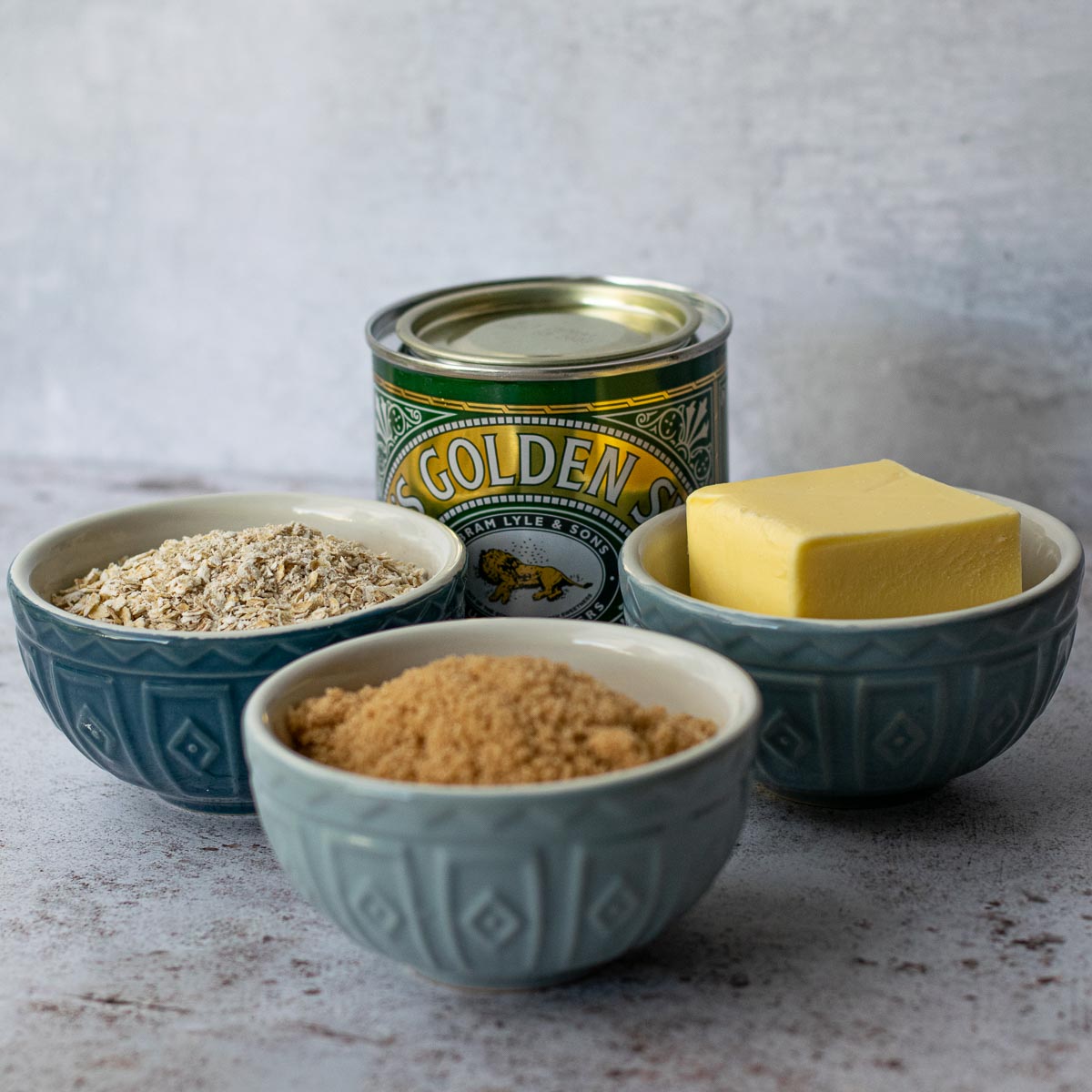 Butter
There are two reasons that I only use butter for cooking - the flavour is better and I know what's in it. I buy my favourite brand on offer and keep loads of it in the freezer.
Soft Brown Sugar
Dark or light - it doesn't matter. Dark has a stronger flavour but you don't really notice it.
Golden Syrup
Having a sweet tooth, I love golden syrup. Try it on oats with milk for breakfast! Although it's more of a comfort food than a good breakfast, I have to say - and I don't have it every day.
Most recipes measure golden syrup in tablespoons which is okay but the amount can usually vary a bit. I've put the weight in as well in case you like to be sure, but a bit more or less isn't going to ruin your flapjack.
The best way to weigh golden syrup is to put the tin on the scales and zero them. Then you will see the weight that you take out as a negative/minus number. Bear in mind that some sticks to the spoon, so use the spoon that you'll use for mixing.
Oats
Rolled oats are what you need for Flapjack. Not jumbo oats, not oatmeal, and definitely not instant oats.
Salt and Ginger
Salt is a wonderful thing. Adding a good pinch to a sweet recipe, that might otherwise be a little bland, enhances the flavour - so don't leave it out.
A good pinch (or more) of ginger powder is my secret ingredient. Again, it adds a little flavour - but you can't taste ginger. It's just definitely better with than without it.
Secrets of Success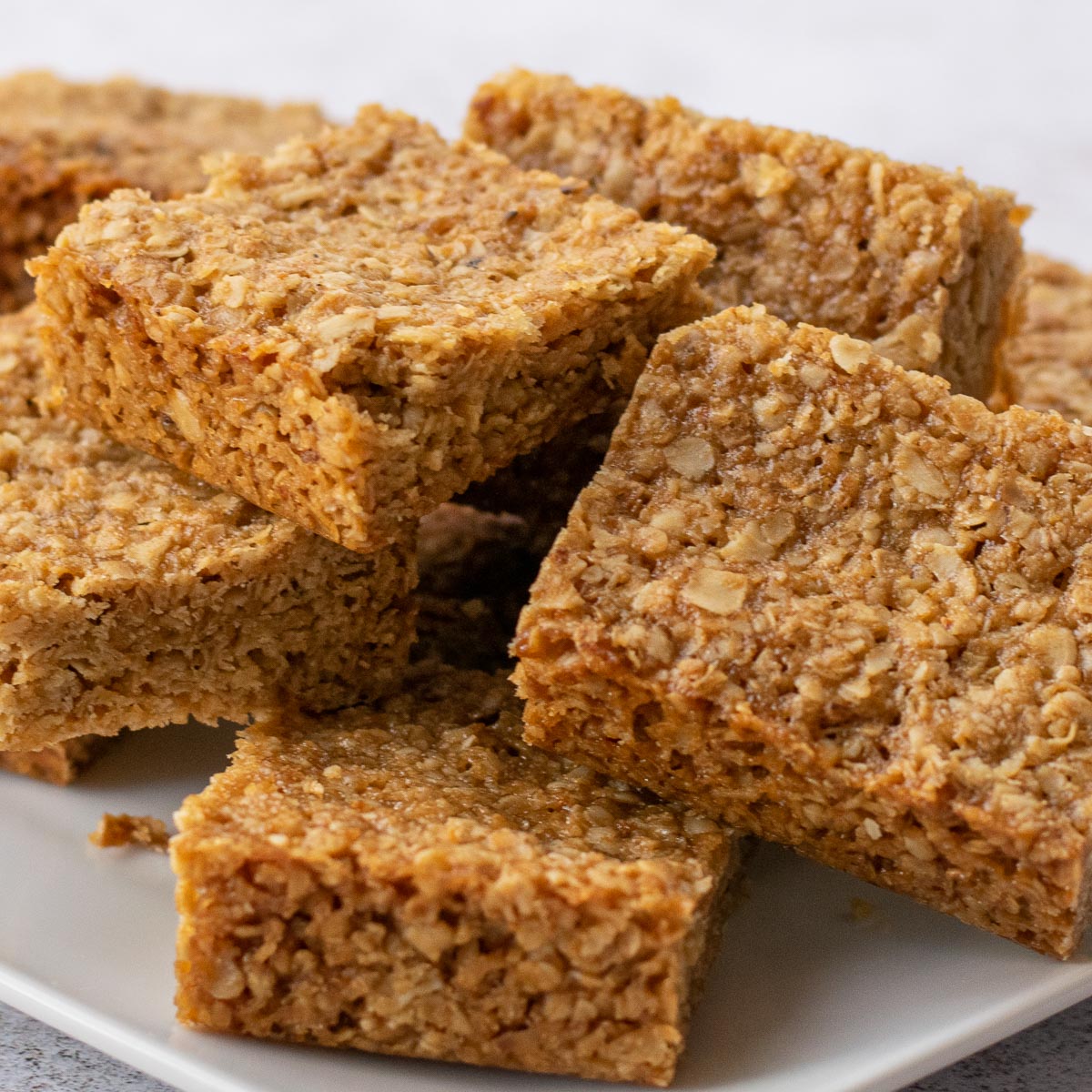 Soft and chewy, or crunchy Flapjack?
My Mum likes her flapjack quite biscuity and crispy, whereas I prefer a soft flapjack. Fortunately, this is easy to sort as the difference is only in the cooking time. 20 minutes for a softer finish. Add 5 minutes for the crunch.
The first couple of times you make Flapjack, note the cooking time and see whether you want a crunchier biscuit - longer time - or softer - shorter time.
How do you make them gluten-free?
None of the ingredients contain gluten, but if you're cooking for a coeliac, make sure the oats say they are gluten-free as they're often packed in a factory where gluten products are around.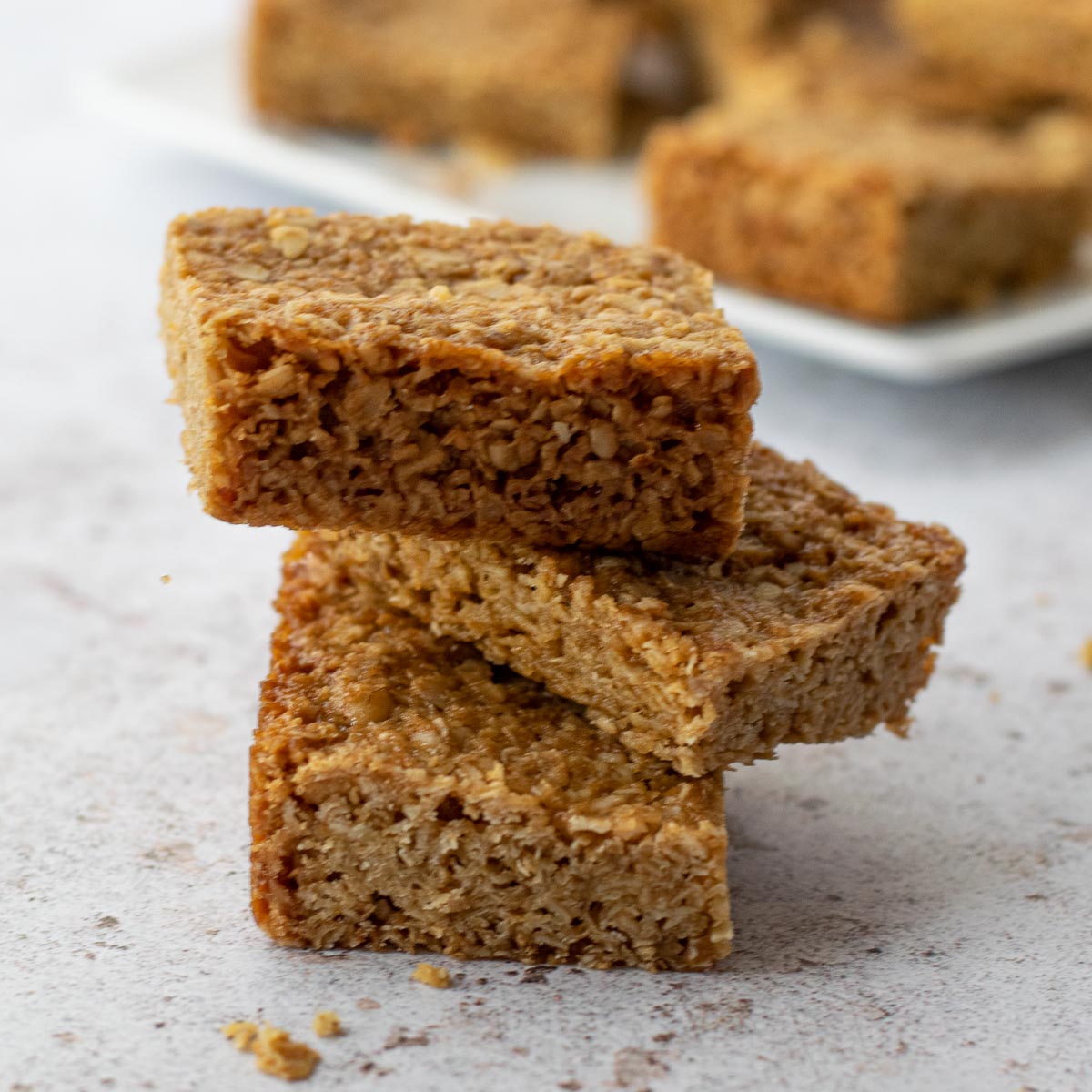 How long do flapjack biscuits keep?
Store in a biscuit tin in a cool place (not as cold as the fridge) for 2-3 weeks.
What else do you need to make Flapjack?
20cm square traybake tin - Perfect for most small traybakes. I use this tin a lot!
Lining the tin with a baking parchment square makes it easy to remove the flapjack. Or if you use the tin a lot, try using a piece of magic liner, cut to fit, which is washable. Keep it in the tin so you know where to find it!
If you like this...
...Why don't you try:
Pin for later
Hover over any picture on the page and hit the Save button to pin the image to one of your Pinterest boards.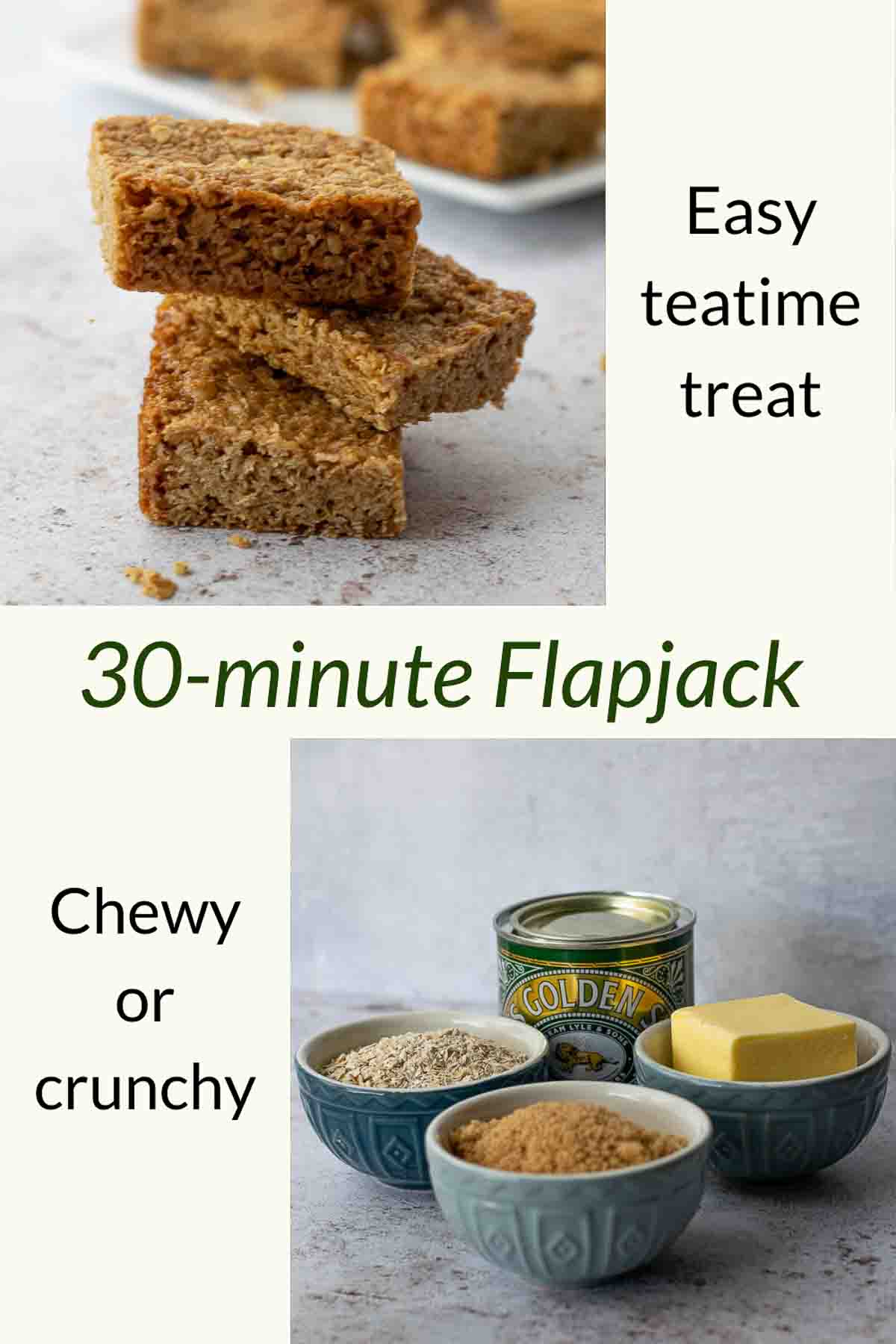 Recipe