All Slow Cookers perform the same function: they cook food on a very low heat. Most cookers have two heat settings for cooking, but then they vary - considerably. This guide to buying a Slow Cooker helps you decide which features you want to narrow down your choice.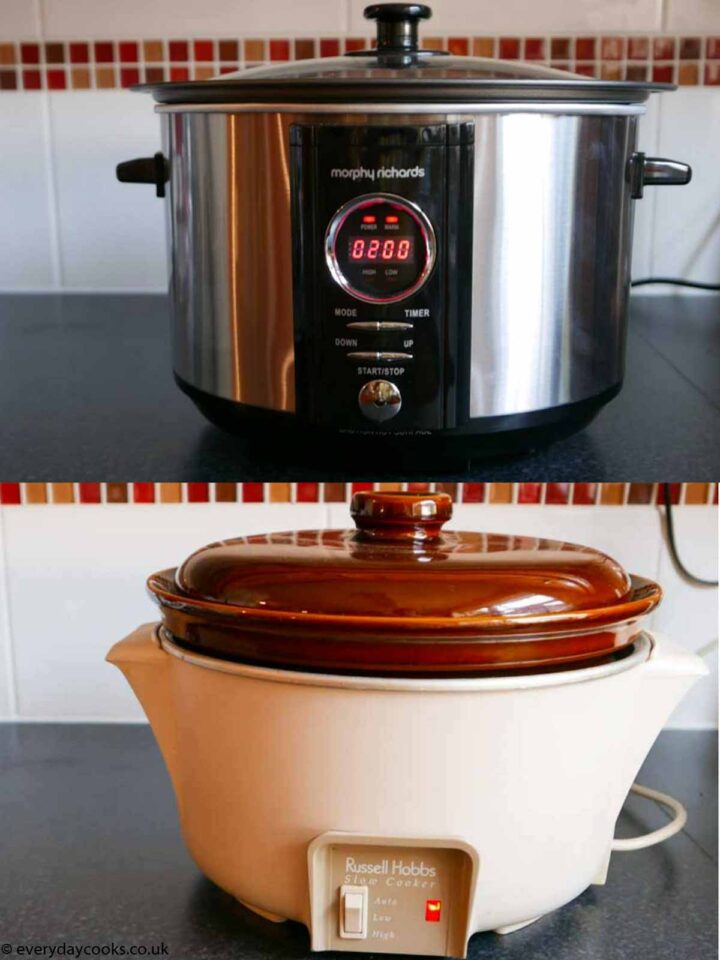 I've had a slow cooker for years - decades actually - and at times it's been in weekly use and then there are years when it comes out at Christmas for mulled wine and maybe for chicken stock - or maybe not.
I recently decided to upgrade my old crockpot to a newer model with a smaller footprint and with a dishwasher-safe pot. A quick search on Amazon for Slow Cookers totally flummoxed me with the array of options now available and a range of prices from under £20 to almost £200.
After weeks of deliberation, I made my choice and decided to put together a few of the points to consider when you're buying a Slow Cooker.
1. Size - Capacity of the Slow Cooker Pot
1.5-litre - If space is at a premium or you're usually cooking for 1-2, this is ideal - but you won't get a chicken in it
3.5-litre - This is the size I use. It's big enough for a casserole for 4-6, including vegetables and I can get a 1.5kg chicken or a gammon in it
6.5-litre - If you have a large family, like to cook plenty for the freezer, or often feed 6+ people I would buy this. You don't have to fill it if you are cooking something smaller.
2. Digital vs Manual Timer
Digital timer pros
You can programme the cooking time as well as the heat setting
Usually has an automatic KEEP WARM function
Manual timer pros
Simple to use
Usually cheaper than digital
You can delay the start time by using a timer on the plug socket or a remote control
The cooker will stay on until you turn it off.
3. Metal Pot vs Ceramic Pot
Metal pot pros
You can put the pot on the hob so you can brown the meat in it
It won't break if you drop it
Usually dishwasher-proof
Usually lightweight.
Ceramic pot pros
Looks better on the table - no need to transfer to a serving dish.
Ceramic pot cons
You have to be careful not to put hot liquids into the cold pot or cold liquids into a hot pot, in case it cracks.
4. Price
You get a good choice of a basic Slow Cooker for £20-50. You pay more for a digital timer or a larger capacity.
Otherwise, it's down to what you like the look of and whether you want it to be more than just a Slow Cooker.
Multi-functions
Many of the higher-priced cookers (over £100) have other functions, e.g. as a pressure cooker. If you want both and you don't want to store two large pieces of equipment, this is a consideration.
5. Extras
Autocook function
AUTO cook (HIGH to get up to temperature then switches to LOW).
Keep warm function
Keeps the food warm once cooking has stopped.
Glass lid
In theory, useful to see what's going on, but it can steam up.
What did I buy?
I wanted a digital timer and a 3.5l cooker with a glass lid. I also wanted a metal dish so that I can brown the meat in it. So I bought a Morphy Richards slow cooker that does all that and that I like the colour of (brushed steel).
What I found was that once I had decided on size/ temperature control/ type of dish, the choice was narrowed down considerably and it was quite easy to make a decision.
Helpful Extras
If you have a ceramic pot or your metal one doesn't clean easily, you could try slow cooker liners, which cut down on the washing up. They're also useful if you're cooking a joint or a whole chicken so that you can get it out of the pot easily!
Slow Cooker Recipes
Some slow cooker recipes to try:
See all Slow Cooker/Crock Pot recipes