On chilly evenings when you need something simple and hearty, try Slow Cooker Lamb Shanks in Red Wine. Ideal for supper guests when you've been out all day.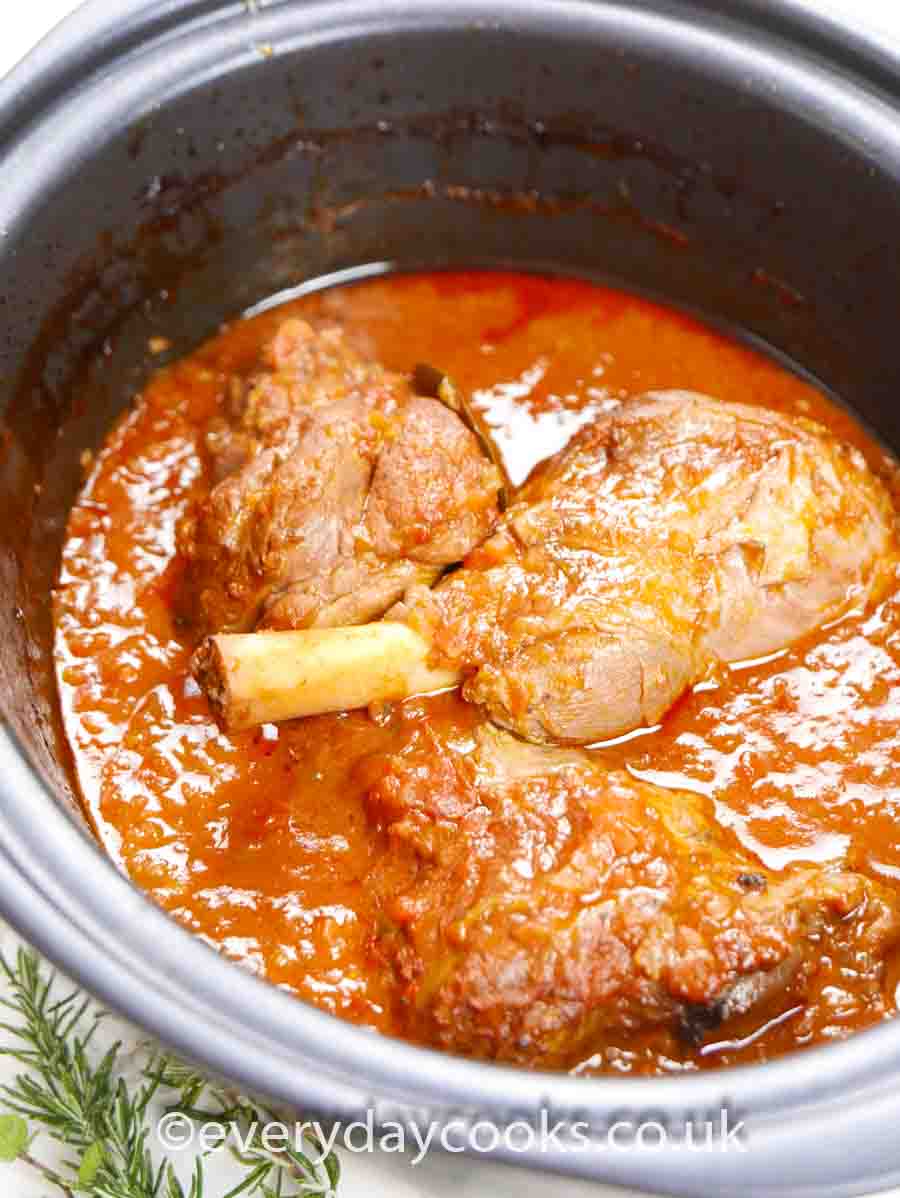 One of the pleasures of cooler weather is having a hearty casserole for dinner and Slow Cooker Lamb Shanks are ideal. The flavoursome, tender meat just falls off the bone and will impress dinner guests or delight your family.
Serve with mashed potato and peas or broccoli.
Key Ingredients in Slow Cooker Lamb Shanks
Lamb Shanks
The shank is the lower part of the leg, front or back. It's a relatively cheap cut of meat because it needs a long, slow cook to be at its best.
Fortunately for us, slow cookers, or crockpots, do that job perfectly while we're doing something else.
Onions, Carrots, Celery
These three vegetables together, chopped very small (or blitzed in a processor) make a classic mirepoix. The usual ratio is twice as much onion as carrot and celery, as used here, although I've added some garlic for extra flavour.
The mirepoix is made by gently frying the vegetables until they are soft and then using them as the basis for the sauce. This way you don't get too much thin liquid in your dish.
Chopped Tomatoes
With canned tomatoes, you get what you pay for. I've tried many brands of tomatoes, looking for one that isn't full of thin liquid. It can be a bit of trial and error to find a good one.
My current favourite brands of tomatoes are Tarantella and Napolina, which I buy by the dozen as I hate to run out.
Red Wine
It doesn't need to be special wine, but either buy a bottle of basic good plonk or use the end of a bottle that's open.
If you have leftover wine you can freeze it in an ice-cube tray or small containers to use in casseroles.
Stock
For preference make your own (e.g. Slow Cooker Chicken/Turkey Stock) or use a good quality ready-made stock or stock concentrate.
Herbs
Fresh rosemary and thyme with a bay leaf are best if you have them.
Use dried if you must - or think about growing a rosemary bush in a pot outside the back door!
How long do you cook Lamb Shanks?
8-10 hours on LOW or 6-8 hours on HIGH. Really, the longer you cook Lamb Shanks the better, so this dish is ideal for evenings you will be late home.
Re-heated Lamb Shanks are even better, so cook as much as your slow cooker will hold and freeze the rest for another day.
How do you make Slow Cooker Lamb Shanks gluten-free?
The only ingredient containing gluten is flour, so use a gluten-free flour such as Freee Plain Flour (which used to be Doves Farm) and which you can buy at most supermarkets
What else do you need to make Slow Cooker Lamb Shanks?
If you like this...
...Why don't you try:
Recipe