Slow Cooker Apricot Chicken Casserole is a one-step recipe, without any pre-cooking. Chuck the ingredients in and leave to cook all day for a tasty, aromatic chicken supper.
Slow Cooker Apricot Chicken Casserole
Continuing with one-step slow cooker recipes, here's one for Apricot Chicken Casserole. The chicken joints are coated in spiced flour to give a good flavour and to thicken the sauce. The apricots will also soften and start to break down which adds to the sauce and gives a touch of fruitiness without much sweetness.
I like fruit in casseroles, but I don't like sweet meat dishes. The odd teaspoon of honey is fine, but any more and it really doesn't appeal. There isn't any sweetener in here, although that teaspoon of honey might be quite nice.
Potatoes and vegetables
Talking to my daughter about slow cooker recipes, she said that she always likes it to be a complete meal, so that she can just dish up and eat. She doesn't mind the odd bit of prep, especially if it can be done the night before, but she doesn't want to cook when she gets home. I can sympathise.
That's exactly how I felt (and still feel). In the evening, before dinner, is not the time that I want to be cooking - even peas can be a challenge some days.
So there are plenty of vegetables in this casserole, including potatoes. I'm using new potatoes so they don't have to be peeled, but they don't need to be small potatoes for this recipe as they're cubed.
There's also a pepper, onion and some baby sweetcorn, which cook surprisingly well in here. They hold their shape and some texture. The only thing to be careful about is making sure they're under the liquid level - or at least under the chicken. They still taste fine but they can look a bit browned off if they are left exposed.
Prepare the night before
The night before you can do most of the preparation:
Chop the onion, pepper and apricot and put in a plastic box in the fridge
Cut up the chicken and coat in the spiced flour. Leave in a covered dish in the fridge
You'll need to heat the stock on the day when you put everything together. While it's heating you can chop the potatoes, which don't keep well overnight. So you can reduce the preparation on the day by about 10 minutes. And we can all get up 5 minutes earlier, so no excuses!
Helpful Tools
Slow Cooker - obviously that's pretty helpful here. I looked at Slow Cookers for ages before buying a digital Morphy Richards 3.5l version.
What I like about this:
It will automatically keep warm for 2 hours after it finishes cooking
The pot can be used on the hob, so when I do want to brown meat or vegetables beforehand I don't need to use a saucepan.
Drawbacks:
If you want to use a timer to switch the cooker on, you need one with a manual timer, not a digital timer
No AUTO cook (HIGH at first then switches to LOW), but I haven't found that to be a problem
Slow Cooker Liner - not essential, but keeps the cooker clean.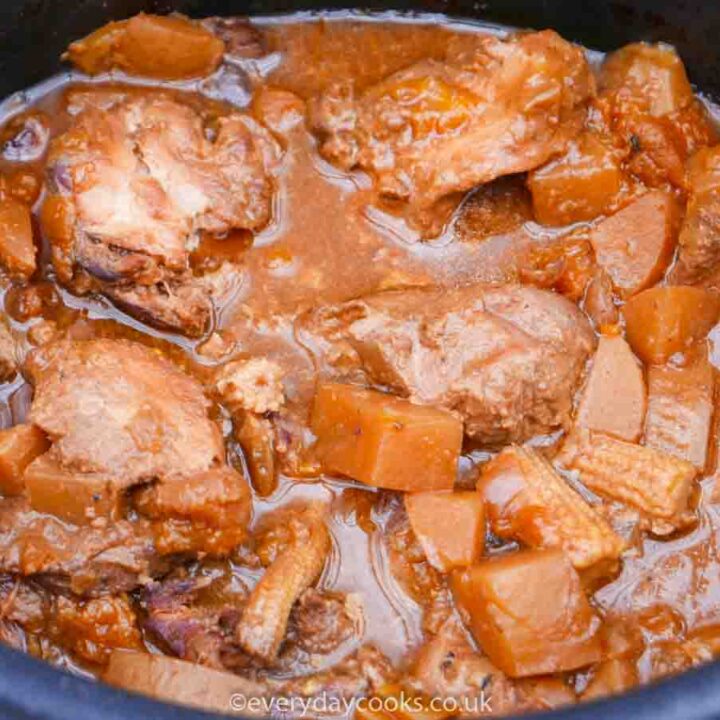 Print Recipe
Slow Cooker Apricot Chicken Casserole
Slow Cooker Apricot Chicken Casserole is a one-step recipe. Chuck the ingredients in and leave to cook all day for a tasty, aromatic chicken supper.
Ingredients
250

ml

chicken or vegetable stock

1

medium onion

125

g

dried apricots

125

g

baby sweetcorn

1

yellow pepper

400

g

new potatoes

2

tablespoons

flour

(30ml)

1

teaspoon

garam masala

(5ml)

½

teaspoon

ground cinnamon

(2.5ml)

½

teaspoon

salt

(2.5ml)

600

g

skinless, boneless chicken joints
Instructions
Heat the stock - or make up a stock cube with boiling water

Chop the onion into small pieces

Optionally cut the apricots and sweetcorn in half

Chop the pepper into pieces - about 1cm x 2cm

Mix the apricots and vegetables, except for the sweetcorn, together

Chop the potatoes into 1 cm cubes

Put half the vegetables in the cooker, then the sweetcorn, then the rest of the mixed veg

The sweetcorn will darken if it's left exposed - but it still tastes okay

Cut chicken joints into pieces of about 50g.

Large thighs may need cutting in half. Cut breasts into 2-3 pieces

Mix the flour with the spices on a large plate or dish and coat the pieces of chicken and add to the cooker

Pour the stock over the chicken. Put the lid on and cook for 8-10 hours on LOW or 5-6 hours on HIGH

If you prefer a thicker sauce, mix a teaspoon of cornflour with a little cold water and stir it in
Notes
Everyday Cooks tip:
To prepare the night before:
All the vegetables except the potatoes can be prepared and left in a plastic box in the fridge overnight
The chicken can be prepared and put in a covered dish in the fridge overnight
In the morning, heat the stock and chop the potatoes, then assemble the casserole