Cooking lamb chops in tomato sauce is easy and one of my all-time favourite meals. After a bit of chopping and browning, you leave it to itself for an hour - or longer if you like. Dish it up with mashed potato and peas.
Lamb Chops in Tomato Sauce
This is one of my mother's stand-by recipes - and it's what I always ask for when I go to visit. I know it's easy for her to make and we both love it.
I try to eat red meat a couple of times a week to keep my iron levels up. Often it's beef or lamb mince, or a steak, but what I really love is lamb. I almost always choose it when I go out to eat. There's something about the combination of meat and fat, the flavour and texture, that I can't resist.
Lamb Chops - fresh or frozen
It doesn't matter if your chops are still frozen - you follow the recipe in the same way and just add half an hour to the cooking time.
How many lamb chops per person?
I use two lamb chops per person, but children, or anyone with a small appetite, may only want one. This recipe also works well with lamb steaks - but you will only need one per person.
Lamb chops vary in size according to the cut so you need 200-250g per adult.
Use the fat from the chops
I know there's a trend to reducing fat on meat, but that's where the flavour is and I'm a big fan of flavour.
If you prefer less fat on your chops, cut some of it off but don't throw it away. This recipe doesn't add any extra fat, so you will need the lamb fat to brown the chops and vegetables. Once that's done you can discard it.
Tins of chopped tomatoes
With canned tomatoes, you get what you pay for. I've tried many brands of tomatoes, looking for one that isn't full of thin liquid. It can be a bit of trial and error to find a good one.
My current favourite brands of tomatoes are Tarantella and Napolina, which I buy by the dozen as I hate to run out.
Other ingredients
One reason Mum and I love Lamb Chops in Tomato Sauce so much is because it's very versatile. At it's simplest it's just lamb and onions with the flavourings.
I like to add red or green pepper and mushrooms because it ups the vegetable count, but I will also make the basic recipe if that's all I have and cook more vegetables to go with it.
How do you make this recipe gluten-free?
Check your Worcester Sauce label. If it's gluten-free it should say so. Biona make a GF Worcester Sauce.
What else do you need to make Lamb Chops in Tomato Sauce?
Splash Screen – Reduces fat splashes when you're browning the lamb chops
If you like this...
...Why don't you try:
Pin for later
Hover over any picture on the page and hit the Save button to pin the image to one of your Pinterest boards.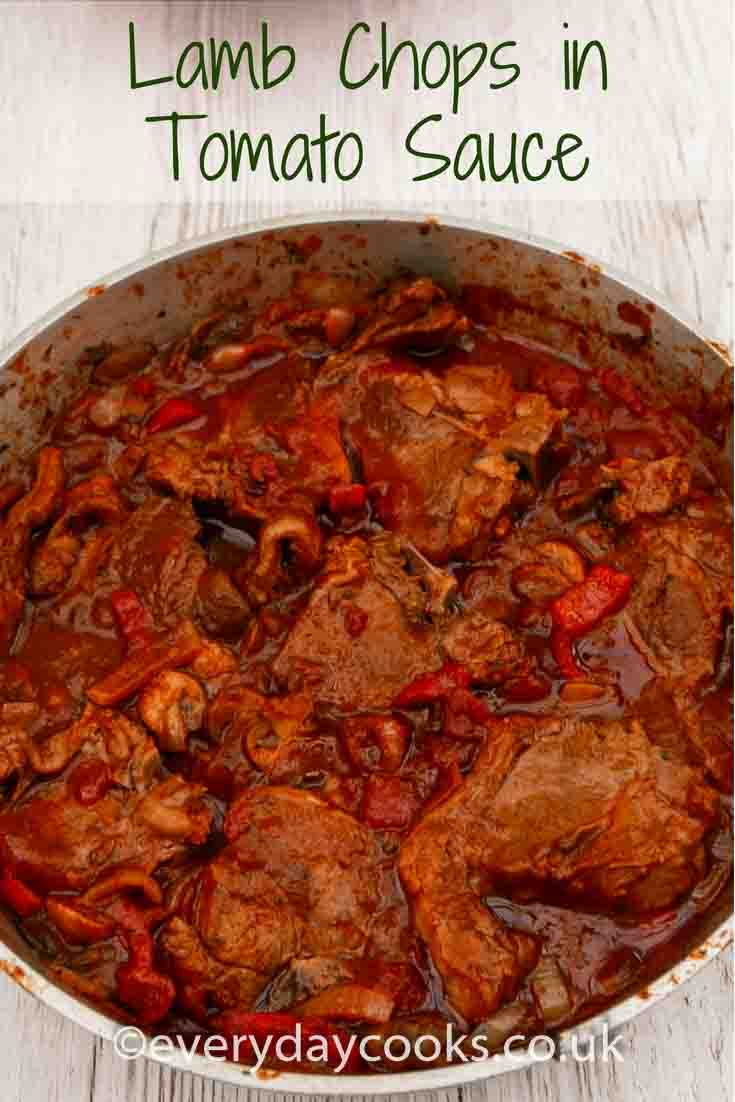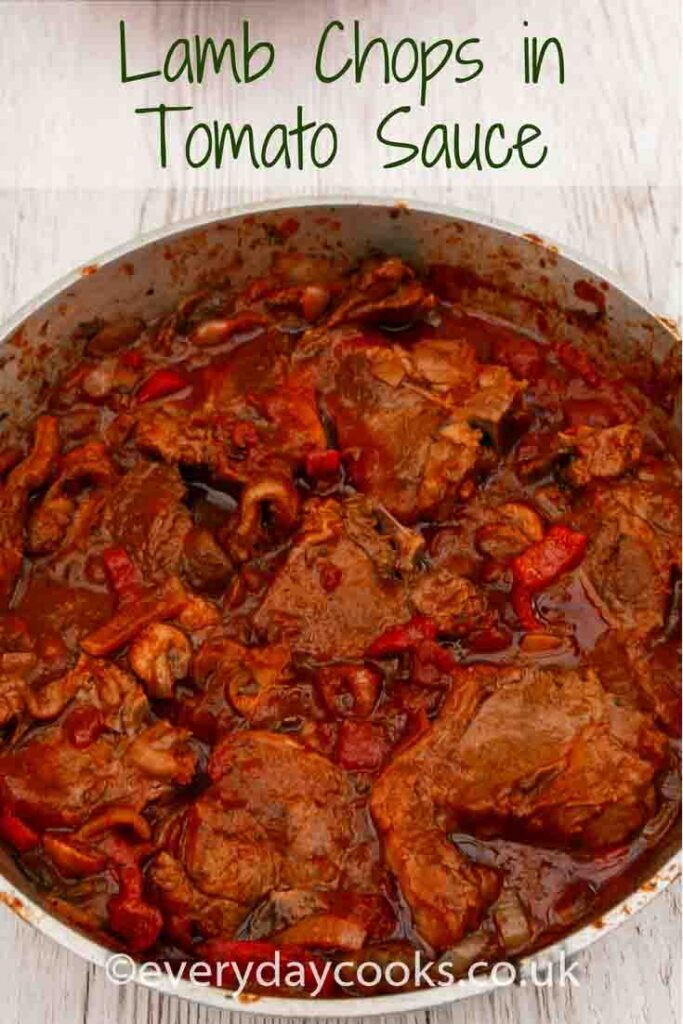 Recipe