If you like rice pudding, you'll love creamy, comforting Slow Cooker Rice Pudding - a one-step recipe that takes 5 minutes to prepare and cooks all day.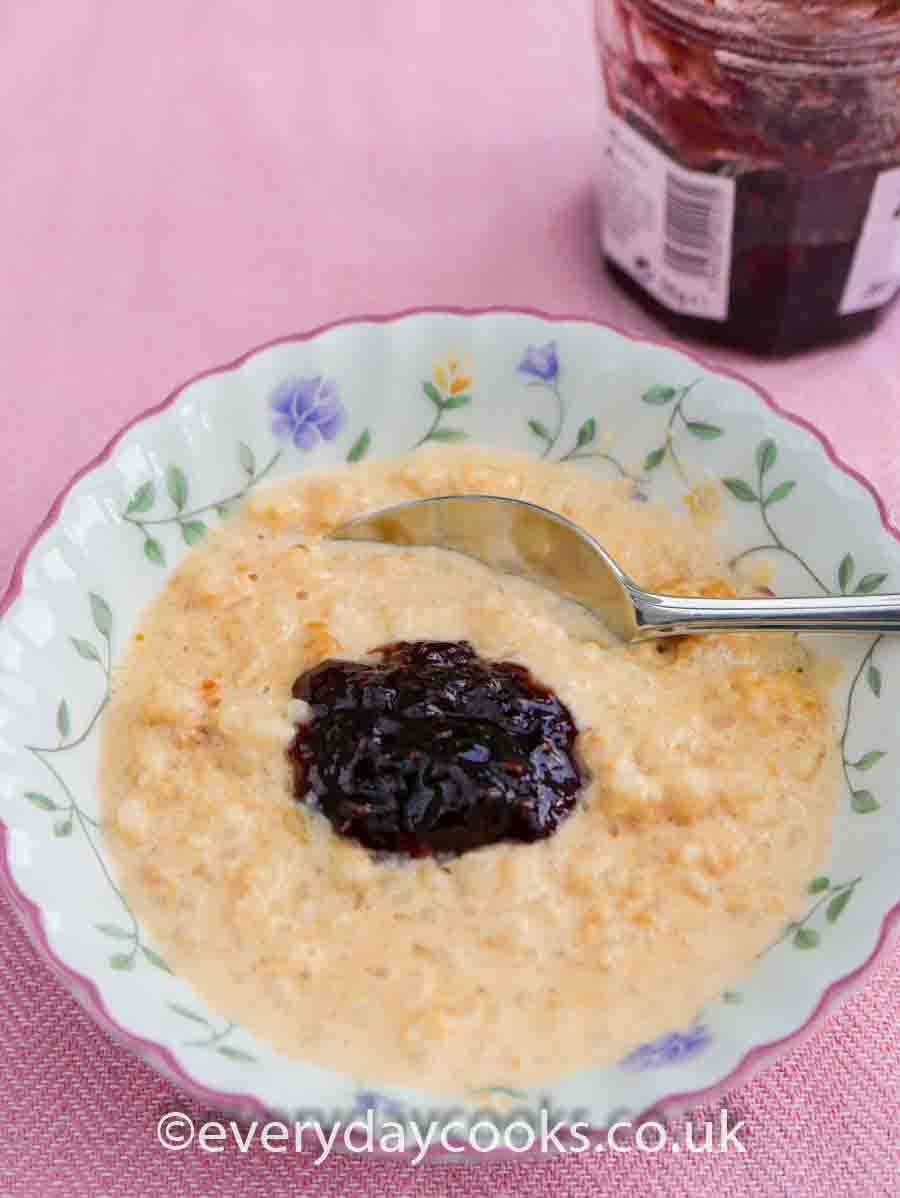 Slow Cooker Rice Pudding
Why use a slow cooker for puddings anyway?
I've been a bit sceptical about puddings in the slow cooker because, for me, the point of a slow cooker is to make life easier and I'm not always convinced that it makes much difference with puddings. The exception is Rice Pudding, which takes about 2 hours to cook in the oven.
That is the worst sort of timing for me because I'm rarely in the kitchen thinking about pudding 2 hours before eating. On the other hand, I can spend 5 minutes in the morning chucking five or six things in the slow cooker and leaving it to cook all day.
And if I'm really short of time - or just not that great in the mornings - the dry ingredients can be weighed out into the cooker the night before and the liquids measured into a jug in the fridge ready to be poured into the pot in the morning.
What sort of rice is in Slow Cooker Rice Pudding?
You need short grain rice, often labelled as pudding rice, for any kind of rice pudding. The grains are short (hence the name) and starchier, so they stick together better and produce a creamier dish. You can use this rice for sushi (as if I'd be making that!) or risotto, so it needn't sit in the cupboard for months (or years) if you don't make many rice puddings.
Why is there evaporated milk in Slow Cooker Rice Pudding?
You could just use milk - and for a milk pudding, whole milk gives the best flavour. Adding some evaporated milk gives the creamy flavour and texture that you would get from cooking rice pudding in the oven, where some of the milk evaporates during the cooking, but which doesn't happen in the slow cooker. Evaporated milk is just milk that has had about 60% of its liquid removed, so substituting some evaporated milk gives you the traditional flavour.
What else do you need to know?
If you like the skin on a rice pudding, you do get one here, so that's good news. If not, give it to someone who does like it.
I've cooked this on LOW for about 8 hours and on HIGH for 4 hours, and I reckon the longer, lower cook is marginally better. Both are good, but if you've got the choice, put the pudding on in the morning and leave all day
When the rice pudding is done, it can look a bit milky. Just stir it all up together and that goes away.
Slow Cooker Rice Pudding is brilliant with raspberry jam.
Helpful Tools
If you like this...
...Why don't you try: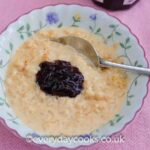 Print Recipe
Slow Cooker Rice Pudding
Slow Cooker Rice Pudding is creamy and comforting. It takes 5 minutes to prepare and cooks all day.
Ingredients
25

g

butter

1

small can evaporated milk

(170g)

850

ml

milk,

approximately

100

g

short grain pudding rice

50

g

caster sugar

1

teaspoon

vanilla extract

(5ml)
Instructions
Pour the evaporated milk into a measuring jug. Pour in milk to make 1 litre of liquid

Put all the ingredients in the slow cooker and stir.

(Combined milks, butter, rice, sugar, vanilla extract)

Put the lid on and cook for 6-8 hours on LOW or 4 hours on HIGH

Serve with your favourite jam.
Notes
Everyday Cooks Tips:
Ingredients:
Milk. You could use all milk if you don't have any evaporated milk. Whole milk gives a creamier flavour and texture.